2 July, 2023
Ag students benefit from land purchase
AGRICULTURAL students at Malanda State High School will now be able to gain better knowledge on the beef industry after the purchase of an extra 16 hectares of land.
By Brigitte Daley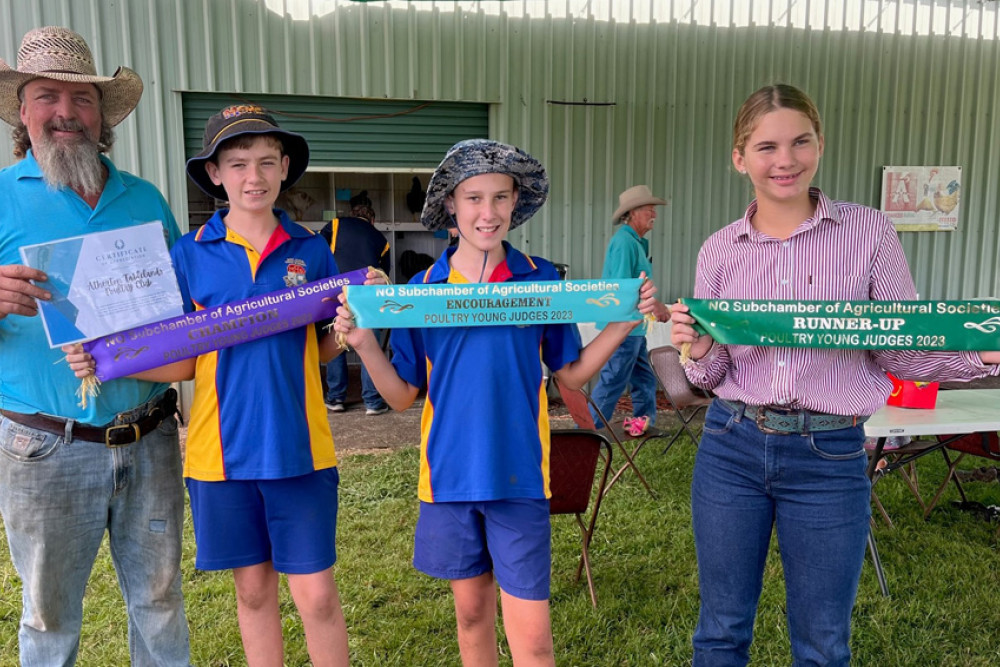 Previously, the school leased 32 hectares with the remaining 16 hectares of land subleased to the Atherton State High School to assist them with their Agriculture program as well.
MSHS Agriculture teacher Dave Kilpatrick said when he commenced teaching there was only 2.5 hectares to work with in front of the school.
"This meant that only very limited numbers of cattle could be kept there," Mr Kilpatrick said.
"For this reason, Lowlines were selected as for every two large, framed animals, three Lowlines could be run instead."
MSHS has recently established a Simbrah stud, a breed that is not readily found on the Atherton Tablelands and is a very popular breed in southern areas of Australia.
The new breed will generate a lot of interest amongst producers in the region and was developed to boost the performance of northern Australian beef herds.
Developed through structured crossbreeding of the Simmental and Brahman, the Simbrah combines the best of both parent breeds. The Simmental is renowned for its superior weight gain, fertility, carcass yield and temperament qualities whilst the Brahman has proven popular in northern environments for its heat, tick and disease resistance.
The school's first Simbrah DZT Tansy was purchased from a stud in Charter Towers and another three Simbrahs have been purchased and will arrive shortly from Esk in Southern Queensland. As a result of the Simbrah stud being established and expanding, the school's Lowline numbers will be reduced from 15 head to around six head with the number of Simbrahs eventually growing to 15 head. The Lowlines will still have an important role to play at the school and will be available for younger, smaller and inexperienced students to work with.
"The most rewarding aspect of being an agriculture teacher is seeing students doing things that they thought they couldn't do," Mr Kilpatrick said.
"There is a job for everyone in agriculture.
"From the traditional ploughs and cows right through to the technology of Precision farming and Robotics, agriculture is a leading adopter of technology and advancements in sustainable production."
MSHS is enthusiastically gearing up for the show season, with its two show teams. It has a Cattle Team and a Poultry Team which will be showing livestock and birds at both the Malanda and Atherton Shows this year.
"It is an extra-curricular activity which sets MSHS apart from other High Schools," Mr Kilpatrick said.
"Many students at MSHS have a genuine interest in these areas, giving up their lunchtimes, weekends and even part of their holidays to participate in the teams.
"It is not compulsory for students to participate, however a lot of students enjoy becoming involved in them. The purpose of the MSHS Cattle and Poultry Teams is to give students the most rounded and fullest education possible.
"It also gives students a valuable opportunity to further their education and enhance their 'hands on' skills in these areas.
"The Cattle Team has been showing cattle ever since I have been here which has been for 11 years now. The Poultry Team has been going for the last three years.
"When Year Seven came to High School, the Poultry Team was established to allow for younger and smaller students to have 'hands on' contact with animals."
Students who want to be in the school's teams have to attend the Rabobank Cattle Handling & Judging School and the Atherton Tablelands Poultry Club Show as prerequisites if they want to be show team members.
"It shows that they have the commitment to be in the MSHS Teams," Mr Kilpatrick said
"For new students, it allows them to develop the skills that they need to contribute to the team that they want to be in.
"It also gives the students the opportunity to experience a lot of practical learning and form new contacts."
This year MSHS has 23 students participating in its Cattle Team and nine in the Poultry Team. The school will exhibit 14 head of cattle comprising of Lowlines, Simmentals and a Simbrah and 12 birds comprising of Australorps, Rhode Island Red Bantams and Silver Laced Wyandottes.
Most Popular