31 October, 2022
Bull ride set for nail biting finish
THE title for Great Northern Bullriding Series 2022 Champion is up for grabs as just a few points separate the top two riders, with the only thing standing between them and the title being some of toughest and rankest bulls in the north.
By Rhys Thomas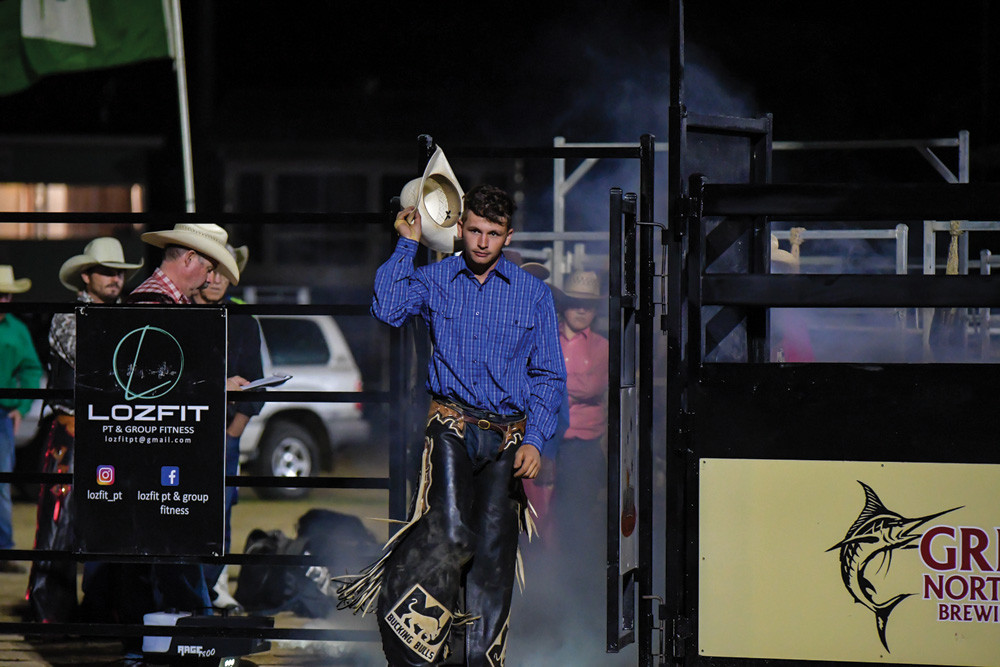 For the first time in the event's his-tory, the finals of the Great Bullriding Series will be held in the same town two years running at Atherton's Mungali Creek Dairy Stadium this Saturday night.

The final is set to be a nail-biter with 14 points separating the current number one rider Lane Mellers from Mareeba boy Wyatt Milgate and Mount Molloy's Jayden Britten following in close behind at third in his debut year.
Great Northern Bullriding Series spokesperson Peter Brown said a bull ride like this year's final does not come along often and just a few points separating first, second and third, it will certainly come down to the wire.
"You've got Lane Mellers, a current Australian bull riding champion who has been to Texas and done a scholarship over there – he is a very good bull rider," Mr Brown said.
"Second is local cowboy Wyatt Milgate and this will be his last sea-son with us before he heads to America."
While the riders may be some of the best in the circuit, The Great Northern Bullriding Series has pulled out all the stops and brought two of the most infamous bulls to Atherton for the finals – Pandemonium and Slide Out.
Pandemonium has been described as a gentleman when not spinning around ferociously like a tornado because after the cowboy inevitably falls off, he wanders right back into the yards with no fuss.
Slide Out on the other hand doesn't play well with others and has "smoked" some of the protection clowns on more than one occasion.
"Pandemonium is just a pure gentleman but he is one rank son of a gun – he is a good bull, there is no rubbish in him," Mr Brown said.
"Whereas Slide Out, he will bite you, strike you, kick you, poke you – he is just not a very nice bull and he does not play well with others.
"He has smoked our clowns a couple of times and I think in Atherton last year he took one of our clowns down."
Mellers began riding at the age of 10 when he got on a calf during a local rodeo where he got fourth, winning around six dollars and from there, he was hooked.
Now in his first ever season with the Great Northern Bullriding Series, the cowboy is leading the charge.
"Even though the title could be lost or won on the night I am not too worried, I just have to focus and do my ride," he said.
Mellers has identified Pandemonium as the bull he wants to conquer, saying he has previous experience riding bulls of the same calibre.
"I do want to get on Pandemonium and I do have experience riding bulls like him before, I want to add another to my list," he said.
Following the same sentiment is Mareeba's Wyatt Milgate, a previous Great Northern Bullriding Champion who has had several chances on the back of Pandemonium.
Milgate nearly completed an eight second ride on the bull just a few months ago in Innisfail and reckons he has him all figured out.
"A couple of months ago I was re-ally close, 7.6 seconds or something like that so I feel like this is the one – I reckon I've got him figured out," he said.
"I am feeling pretty confident in myself and it has been a long year but I have been training hard.
"I'm focused on riding my bull for the eight seconds and not really worried about the competition, Lane is a good fella, in my eyes it doesn't matter who wins just as long as I can cover my bull.
"All the trophies and the prize money come naturally when you just focus on the job at hand."
Tickets for the final are still on sale and can be bought on the try booking website by searching "Great Northern Bullriding Series Finals Atherton".
The gates open at 5pm with the first bull set to come out of the gate at 7pm.
Most Popular