22 September, 2022
Chopper pilot contributes chapter to northern history
THEY exist in every walk of life – the one that all the industry's best look up to – the legend's legend.
By Sally Turley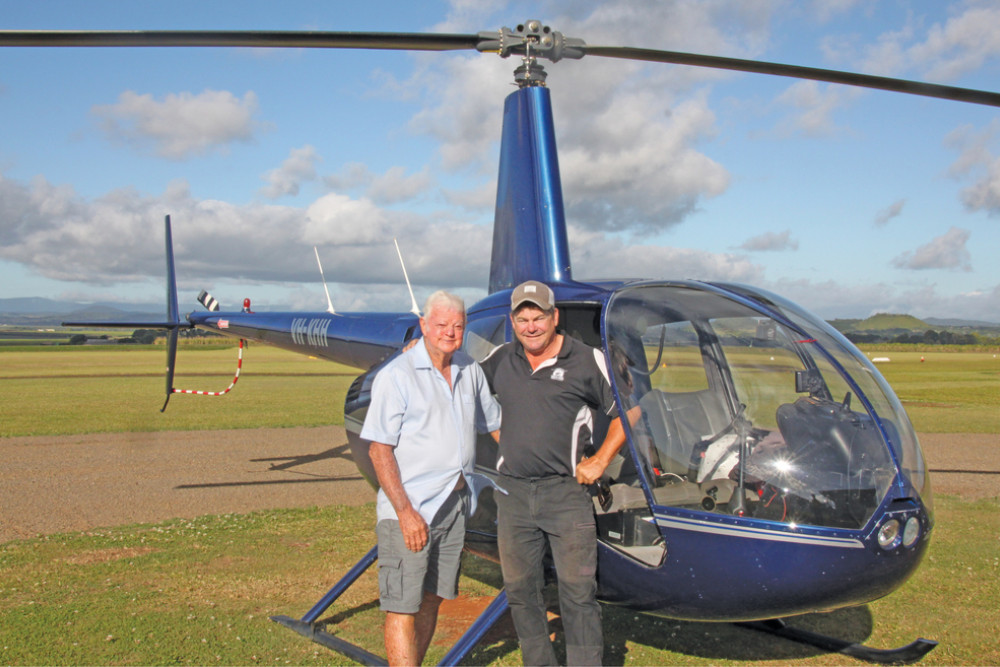 In the northern Australian aviation sector, Mareeba's Barry Dick is that man. Admired and respected by all who have known him, his life deserves recognition, but is far too big to be captured in a newspaper article.

Born and raised in Port Macquarie, the son of an oyster farmer, Barry launched himself into a life so large that its events were eventually to have a significant impact on many aspects of the North Queensland way of life.
Following a distinguished aviation career, he established the north's first helicopter flying school in Mareeba in 1988 and went on to train, endorse or review almost every northern pilot, working both in and out of the cattle industry.
Local legends like Terry Black, Danny Bird, Bunjie Scott, Kenny Simms, Brian and Colin Hughes, Gerry Wheedon, Mike Tully and Ken and Chris Atkinson came to the Mareeba flying school to qualify as pilots, have their licence endorsed or, in the case of Terry Black, work as an instructor at the school.
Brought up in a family of sailors, Barry knew from an early age, that while he loved the ocean, he dreamed of mastering a different medium. At 16 years of age, he joined the RAAF (Royal Australian Air Force) with a plan to become a pilot.
The Air Force assured Barry the best way to learn to fly was by first completing his apprenticeship as an aircraft engineer, so he could better understand the planes he would later command.
He graduated as an Aeronautical Engineer in Wagga Wagga in 1961, before doing detachments to Borneo, Thailand and Singapore servicing planes from his base in Malaysia, where he first met life-long friend and "father of the helicopter mustering industry", Rex Budd.
Some four years and a list of delays and excuses later, the Air Force looked no closer to putting Barry inside a plane, so he switched track to the Army who, ironically, put him back through the Air Force's flying school for a couple of years training before he served as a helicopter pilot in the Vietnam War.
His posting, as a reconnaissance pilot flying under enemy fire in a team of 12, two of whom would not make it out alive, put him back in touch with friend, Rex Budd, gunship commander and the first pilot to reach 1000 flying hours over two tours of duty in Vietnam.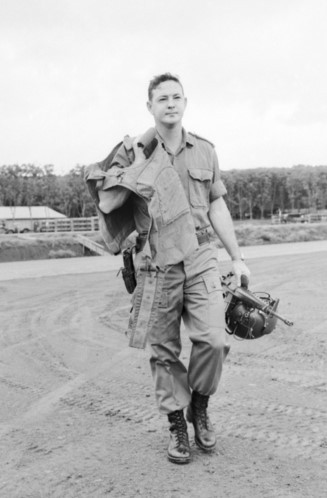 Mr Budd returned to Australia in the early 1970s and started helicopter mustering cattle at Wrotham Park's outstation, Gamboola, which was under the management of Kay and Gary Dollard.
In the meantime, Barry Dick, also returned home and experienced his first association with North Queensland as part of the Army Survey Corp, spending six months ferrying their map-making team around the remote cattle stations of the Peninsula.
Starting out at Cooktown, he visited many properties, including the 2300 square km "Rut-land Plains" Station in the Gulf of Carpentaria, before running into Rex Budd again at Gamboola and going chopper mustering with him there in 1974.
"He was poetry in motion," Barry said.
After serving with the Survey Corp in New Guinea, Barry did a stint with the Accident Investigation Unit, before leaving the Army in 1980 and spending four years flying charter flights above the Tropic of Capricorn from Rockhampton across to Alice Springs and north to Darwin for Air Mt Isa.
Barry gained his mustering endorsement on one of Australia's largest cattle stations, the 12,212 sq km "Brunette Downs" with trainer, John Hall, before setting up a flying school for Air Mt Isa, doing the bulk of the training during his "down time" in the wet season.
Barry's next challenge was working for the first company in Australia to fly marine pilots, usually in a challenging night IFR (Instrument Flight Rules) operating environment, from Hamilton Island out to the Hydrographers Passage boarding ground, around 200km off the coast of Mackay.
This initiative was a game-changer for ships that had previously sailed south to Rockhampton to circumnavigate the Barrier Reef, at the cost of around $10,000 a day. For almost five years, Barry delivered specialist mariners onto ships to manoeuvre them through difficult channels in the reef.
Then it was stints of volunteering as a North Queensland rescue helicopter pilot, commercial charter work, flying groups of 10 passengers in Bell 212 and 412 helicopters into mining camps in Papua New Guinea, the Solomon Islands and Timor and flying coast watch operations out of Thursday Island, Gove and Darwin, before performing more marine pilot transfers out of Karratha, Western Australia.
Barry said while he enjoyed "popping up and having a look around" all over the country, he had also been looking around Australia for a good place to settle down and make his next project idea a reality.
"I knew I was finally ready to set up my own school and Mareeba had the ideal climate, with plenty of fine flying days, it had good facilities and was located in the middle of the far northern cattle industry," he said.
"I opened Queensland's second chopper training school, the Mareeba Helicopter Flying School, in 1988 and began training a mixture of local clients, many from nearby cattle stations, and others that came from all over Australia and even New Caledonia."
That client list included names like Australian cattle king, Peter Sherwin, at one point the largest landowner in the nation, who trained with him for a while on Brunchilly Station in the Northern Territory.
"The bush people were lovely to work with and most of the pilots I trained, have stayed a long time in the industry. I will always remember how excited all my students were to get through their training. It has been wonderful and I wouldn't swap any of it," Barry said.
"But you can't fly 20,000 hours without a few incidents along the way. I remember dropping 100 feet through the New Guinea forest canopy in a freight-filled Hughes 500 when I couldn't out-fly a hill and managing to land the chopper's four occupants without injury on the jungle floor.
"I have had engine failures in single and twin-engine planes, have had to land in a parking bay and in a paddock outside Mareeba. But that's all par for the course.
"You don't have to be a brilliant pilot – as long as you are reasonable at stick and rudder – but you do need to be a good thinker to keep flying a long time and I don't believe you have to be a good cattleman to be good at mustering them – just a good communicator.
"As long as you recognise your lack of experience and are prepared to land and ask the person on the ground, 'how would you like me to do this', you should be okay."
Barry said his own first solo muster was a total disaster.
"It was just a small mob of cattle on a small place west of Mt Isa. The 200 head went in 200 different directions and I lost the lot," he recalled.
"Feeling like a total failure, it was only later the unperturbed grazier told me he had already tried mustering the mob with bikes and horses with the same result.
"My second muster on the Northern Territory border was a dream in comparison, every beast literally ran straight into the yard and I soon learned that while mustering mad cattle, it's best to just sit back about 1km off them and manage them from a distance."
These days, the still fit 80 year old spends his time learning the ukulele, gardening, brushing up on his amateur watercolour artist skills and per-forming secretarial duties for the Far North No-mads club.
Club members meet monthly in different locations around the region and while Barry has already travelled the Great Ocean Road, to Coober Pedy and Broome, he said he and his friend Linda Wells were looking forward to taking their motor home further afield to "somewhere we haven't been".
Most Popular