19 May, 2023
Councils combat Gamba Grass
MEMBERS of the Mareeba and Tableland councils recently joined together with other local council workers across the region in a taskforce to combat the invasive weed Gamba Grass that has spread throughout in the Cook Shire.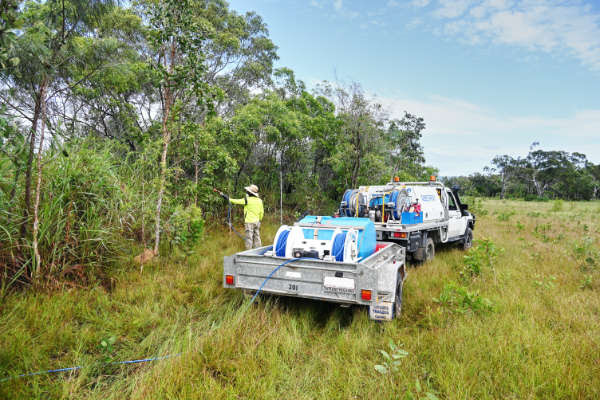 The Gamba Grass Task Force hit the roads around the Cook Shire to spray the invasive weed that threatens local ecosystems and exacerbates wildfires.
Gamba Grass is a fast-growing, invasive plant species with the potential to transform local ecosystems and fuel fires with intensities well above that posed by other exotic grasses.
A convoy of utes driven by representatives from local coun-cils and other agencies attacked the grass found at properties, roadsides and reserves as a continued, coordinated response to managing the species.
"This year's work builds on the first task force collaboration last May," Cape York NRM's Coastal Ecosystems coordinator Dave Preece said.
"It will cover areas around the Annan/Endeavour catchment, and adjoining sections of the Jeannie and Normanby catchments."
Mr Preece said it was a fantastic team effort and was a great success.
Groups involved in the task force came from the Far North Queensland Regional Organisation of Councils (FNQROC) which includes members from the Hinchinbrook, Cook, Mareeba, Douglas and the Tableland shires, in addition to crews from Biodiversity Queensland, Queensland Department of Resources, Queensland Parks and Wildlife Service, Jabalbina Rangers and Balnggarrawarra Rangers.
"We had a terrific response last year and the treatment and presence of crews really brought the issue of Gamba Grass to the public's attention – this year was no exception," Cook Shire Biosecurity and Local Laws manager Darryn Higgins said.
"We know what this weed can do, as we've seen in the Northern Territory the potential it has to spread and fuel fires which impact infrastructure and threaten lives.
"We don't want a repeat of that here."
Most Popular