8 March, 2023
Easier days ahead for girls
"Women supporting women" is an important aspect of #embracingequity in the opinion of Mareeba woman Lesa Moro, who has dedicated hours of volunteer time creating reusable period packs for women in lower socio-economic countries. For International Women's Day 2023, cadet journalist Ellie Fink spoke to Lesa about Days for Girls and the incredible impact it has had on women who don't have access to basic sanitary needs.
By Ellie Fink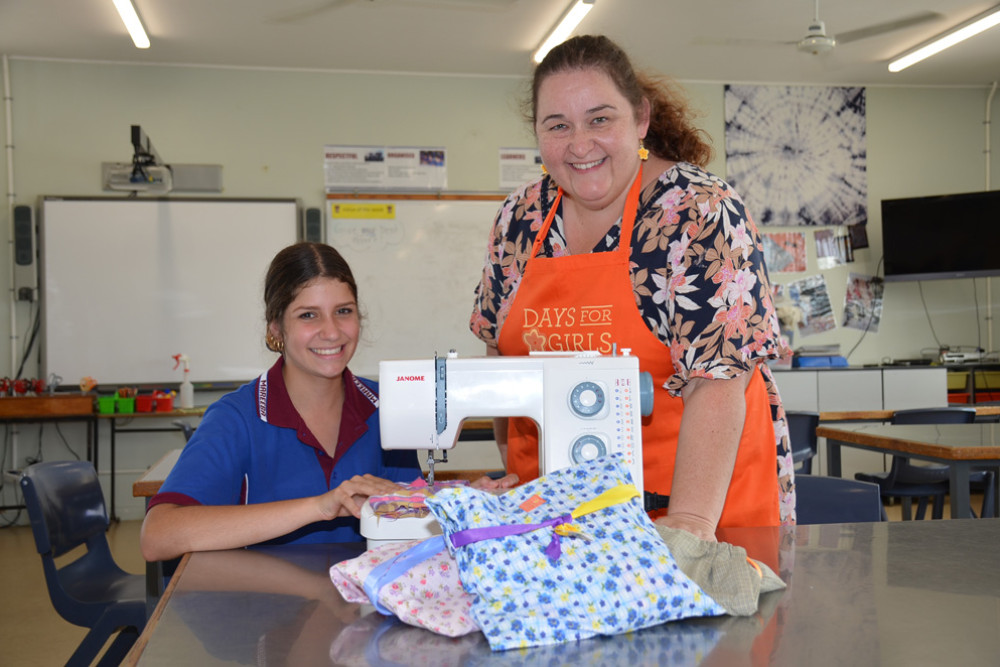 NO matter who she is and where she may live, a woman deserves her dignity and Lesa Moro has taken the next step to preserve that dignity by helping women gain access to essential sanitary products in disadvantaged countries.

After hearing about the Days for Girls non-for-profit organisation through news media, Lesa was inspired by the cause and knew she had to get involved as an educator and as a woman.
Days for Girls, based in America, was created in 2008 when founder Celeste Mergens visited Africa and realised girls were not going to school whilst they had their period, missing out on a week of their already limited education.
From that experience, Celeste got to work inventing the Days for Girls pack, which includes a 100 per cent cotton reusable pad, soap and a carry pack, and begun sharing her story and creating a volunteer-base across the world.
Being an educator, Lesa is passionate about reserving the dignity of her female students through every part of their menstrual cycle and could not believe young women in developing countries would stay at home in fear of embarrassment from other peers because they were bleeding.
"The girls were staying home from school and because of that they were missing out on their education which was simply not fair," Lesa said.
"Why should a girl have to miss out on school because of the way her body is designed?"
"I am an educator and education is the most important thing that can change a person's life and I know that if you invest in education in a community of women, particularly in developing countries, it makes a huge impact."
Reaching out to the local craft shop that was in Mareeba at the time, she was able to secure the off-cuts of fabric and pull together a small group of ladies in the school's sewing room to begin creating the packs to be sent across the world.
A decade later, Lesa has inspired 50 other local women from all walks of life to help create the Days for Girls period packs, meeting every month with hopes to make a difference to at least one woman's life.
"We, ironically, get together once a month for our sewing events and at the start there was maybe four or five of us but now, we have up to 50 people here," Lesa said.
"A lot of the ladies who come to Days for Girls aren't necessarily sewers – they collect stuff like fabric or help put all our packs into the data base or even just spreading the word."
Since the beginning of Days for Girls Mareeba, Lesa has helped thousands of women from the Middle East, Papua New Guinea, India, Nepal, Cambodia, and East Timor.
As a part of the program, she has also visited the communities herself to help provide education to the girls about their menstrual cycle, how to use the packs and how to feel safe and dignified during their periods.
She believes these packs and educational talks have made a huge impact on small communities and she hopes those who receive them will feel safer and more secure during menstruation.
"Myself and two other women from the Days for Girls group have done the health training and therefore we are able to deliver the kits we have made and talk to the girls about what is in the kit and about their menstrual cycle – it is really amazing stuff," she said.
"It is really powerful when you invest in women and give them the education to understand their bodies, their health and we know they pass that knowledge down through generations."
As well as contributing to Days for Girls, Lesa has taken the next steps to ending the period stigma at Mareeba State High School, being one of the first schools in Queensland to install a Share the Dignity vending machine in their girl's bathroom.
The initiative has been received well by students at the school, with the girls taking an advantage of the free period products, sharing them with their friends and family who need them.
Lesa believes this initiative has not only helped young women when they find themselves in strife but has also started the conversation when it comes to menstruation without the "taboo" that is associated with it.
Mareeba High School student and member of Days for Girls Velenia Musso has been by Lesa's side through the Share the Dignity initiative and believes the work they do is crucial in helping women all over the world.
"I started coming in Grade 7 and I was really inspired by the work Days for Girls do," she said.
"(Lesa and I) have been able to discuss ideas and paint the big picture by organising fundraisers and putting the word out there because not many people know what we do."
Days for Girls kicks off every first Saturday of the month at Mareeba State High School's sewing room. To get involved, contact Lesa on 0419 741 101 or follow their journey on the "Days For Girls Mareeba QLD Australia Team" Facebook page. 
Most Popular