19 July, 2022
First boost to $15,000 goal
A GENEROUS donation of $1000 has been made to the Mareeba Animal Refuge by the team from Mareeba Toyota and Hansen Ford – a big boost to help the facility to reach its $15,000 fundraising goal by November.
By Ellie Fink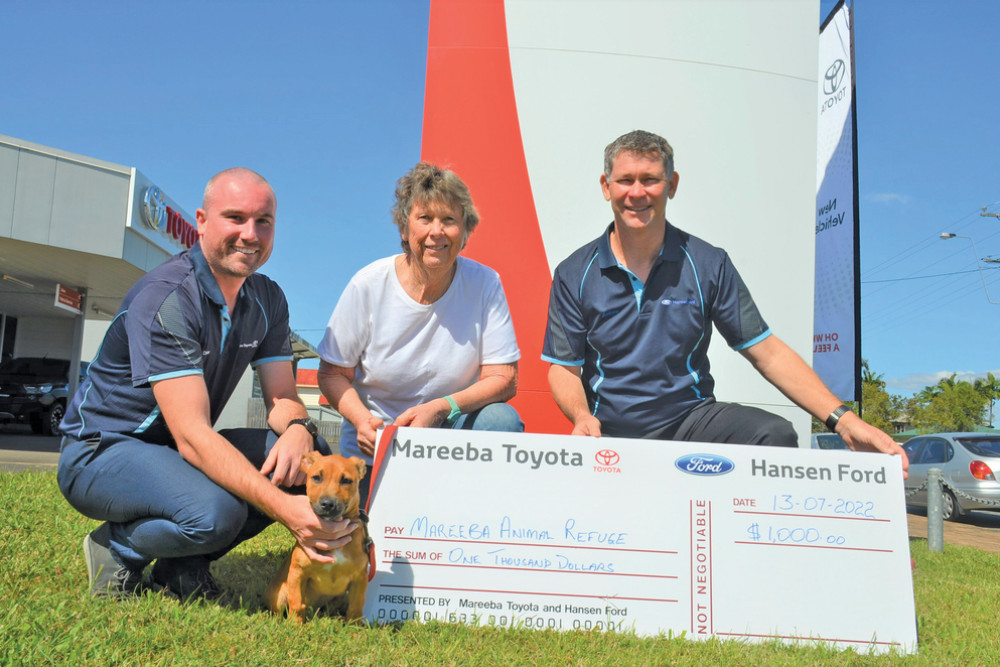 With the one of the biggest influxes of pet surrenders ever, the refuge is struggling to keep up with a significant increase in vet bills and have called on the community for help.
As such, the refuge has set a target of $15,000 to mark its 15th year of operation, with every cent donated going towards pet's essential care. 
Heeding the call for help, Mareeba Toyota sales manager Andrew Ford took no time at all to donate to the refuge. 
"We try to put money back into the community, especially to small organisations that are struggling to get the funding and sponsorship they need," he said. 
"The Animal Refuge is always on my list of organisations I like to help out and I know they are always chasing funding."
Refuge manager Jennifer Walsh humbly accepted the support of the local dealership, expressing how grateful she was for the donation. 
"This donation goes such a long way towards our vet bills which is one of our biggest needs," she said. 
"It is the thing that keeps us under the pump, and we are trying to raise enough money to keep helping these animals, especially the few we have had recently who have very unusual and expensive problems."
With the kennels and cattery filled to maximum capacity, the refuge also held an adoption day at Fantasy Tails pet shop over the weekend to help get kittens rehomed as soon as possible. 
Four adoptions and one adoption trial took place with Doreen the kitten being adopted by Cath, Lorelei being adopted by Macey, Rainbow and Sangha being adopted by Sheree and long term resident Wanda now being trialled by Cheyenne.
A total of $110.50 was raised from cakes, money boards and general donations to help assist with vet bills and other essential needs.

Most Popular