19 February, 2023
Mareeba teenager set to fly high
Mareeba teenager Marcus Stallan-Caamano is one of 26 students taking part in a nation-first program aimed at boosting the local aviation industry.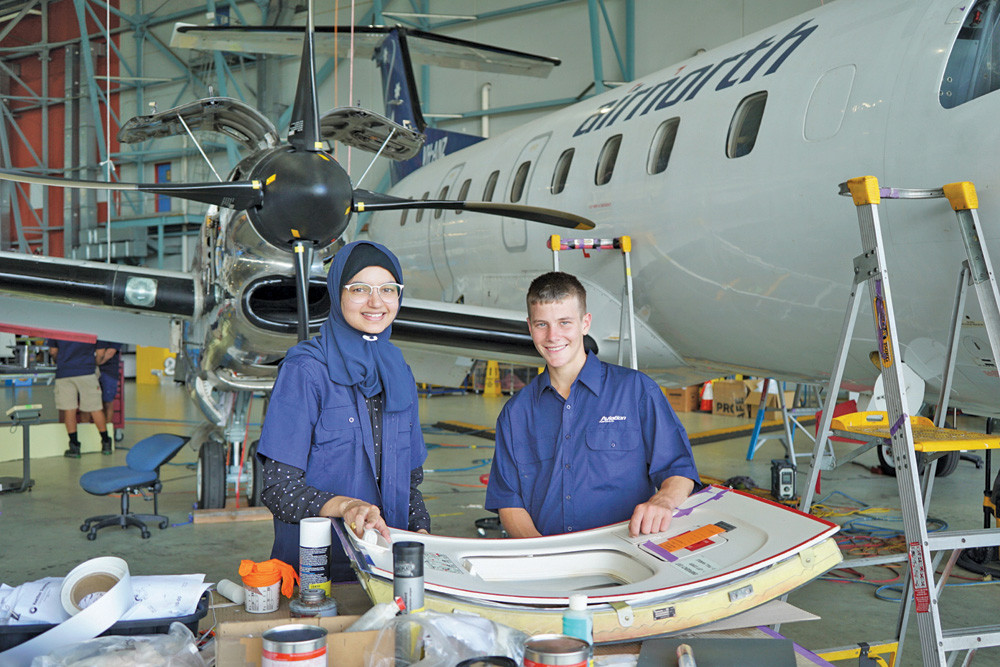 The inaugural cadetship launched last week Jet Aviation and Skytek with, Aviation Australia as the training provider, aims to tackle the skills shortage of Licenced Aircraft Maintenance Engineers (LAMEs) in Cairns caused by the Covid pandemic.

The 10-month program was fully developed locally to support Cairns aviation and with the purpose of ex-tending across Australia. A cohort of 26 – including men, women, school leavers and mature-age learners – have been accepted into the fully-subsidised program.
At just 16 years of age, Marcus is the youngest participant in the program.
The teenager, who enjoys helping his grandfather fix engines on their family farm, said he was keen to expand his mechanical knowledge.
"I've always been interested in this kind of work, so once a spot opened up, I hopped straight on it," Marcus said.
"I'm excited about the practical work and getting on board for some work experience.
"Once the program is done, I see myself working full-time, getting all my licences, and working on jet engines.
"I'm interested in every part of the course, especially learning about aeroplane engines."
According to the Regional Aviation Association of Australia, there has been a rapid decline in employment and retention of LAMEs since 2014 and the situation had now a crisis point, with maintenance licencing dropping from 297 yearly in the early 2000s to 135 in 2021.
Aviation Australia Business Manager for North Queensland Chris Pigott said the cadetship was designed to accelerate skilled specialists into jobs.
"For the first time in Cairns and Australia, we're kicking off a Licenced Aircraft Engineer program," he said.
"Since Covid, there's been a huge shortage of LAMEs, so the training we were doing before Covid we had to change it to fit the industry.
"We've got two companies on board, Jet Aviation and Skytek; both have put their hands in their pockets and, along with Queensland Government, will fully fund the training for the participants.
"We'll be accelerating the training of all the applicants so they can enter the aircraft industry – they'll have job guarantees if they meet the criteria and be fast tracked to become LAMEs.
"It's a very exciting program - it's never been done before, and it shows that if you listen to the industry and work with industry, anything can happen," he added.
Mr Pigott said the program would allow applicants to have real-life experience that would prepare them to transition into the aircraft industry easily.
"These cadets will be working closely with industry throughout their practical and theoretical training," he said.
"They will be able to learn on real aircrafts instead of a simulated environment.
"The industry is experiencing huge growth, and this program will help to keep up with the demand."
One of the few women in the group, Khalisah Mohammed, said she was excited to represent women in such a male-dominated industry.
"With the pandemic and seeing how the world changed, I came across avionics and decided that I would do this," she said.
"I'm very excited because Aviation Australia has been very accommodating – the opportunities are there for the women to pursue, and I really want to be a part of that.
"I can't wait for the practical part of things, theory is going to be intense, but I just can't wait to get my hands dirty."
On completion of the 10-month cadetship, students who meet the criteria will transition to being employed with either Jet Aviation or Skytek.
Trainees who meet the selection criteria for an apprenticeship can expect to become a qualified LAME in four years while training and working locally.
Mr Pigott said the program had the potential to become a statewide model.
"This program is going to be a success, and it can be rolled out everywhere," he said.
"There's a critical worldwide shortage of LAMEs, and Cairns is particularly struggling, so we could run this program for 10 years until we fill the gaps."
Most Popular