28 April, 2023
Millaa thriller is product of the land
FOURTH generation dairy farmer Georgina Humphries, turned stand-up comedian, is passionate about rural issues and finds humour in everyday rural life. Her name Georgina even means farmer.
By Brigitte Daley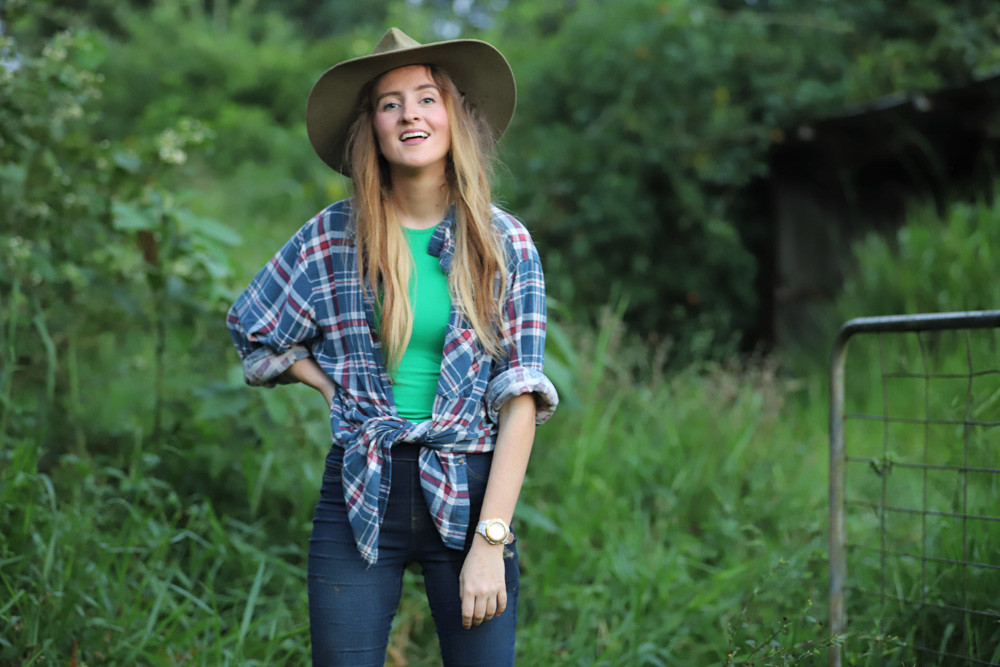 Her strong involvement with the land has seen her work in the dairy, milking buffalo and egg production industries.

Born into a pioneering dairying family which took on a new twist when her parents established Queensland's first ever milking buffalo operation (only the second in Australia at the time), 25-year-old Georgina's upbringing has been nothing short of unconventional.
Having grown up on the home dairy farm, she was four and a half years old when the milking buffalo operation was established in Millaa Millaa.
It was there where she had her first taste of "extreme milking", assisting with milking buffalo and rearing buffalo calves, and later, on her father's farm in Koroop, Victoria.
Georgina's taste of the limelight be-gan at an early age when she was six years old and rode a buffalo when a "Surfing the Menu" segment featuring Curtis Stone and Ben O'Donoghue was filmed at her parents' buffalo farm.
It was when Georgina was in Year 10 at Malanda State High School that her comedy career first started taking off.
She was performing in a school va-riety concert around the same time her father was undergoing a major expan-sion phase in his buffalo operation.
She commented in her stand-up comedy routine that for the next Hal-loween, she was going to dress up as something very scary to frighten her father.
She then told the audience that she wanted to get dressed up as the scariest thing imaginable and then quipped: "Next year I'm going to get dressed up as the Westpac Bank Manager!"
After finishing high school, she moved to the "Big Smoke" of Brisbane to pursue her comedy career. Her "real life" humour encapsulates the essence of life in rural areas.
Having hailed from the small dairying town, she quickly became known as "The Thriller from Millaa Millaa" in comedy circles.
Georgina is very proud of this refer-ence as she has a strong love and connection for her home town which she is determined to "put on the map".
"I moved to the city where I regularly perform in Brisbane and across Queensland telling small rural town stories and tales of growing up on the land to big city crowds," she said.
Georgina worked at the Mungalli bio-eggs operation in Millaa Millaa for three years.
Growing up, she enjoyed breeding and showing chickens and won championships with her birds at Malanda, Atherton and Cairns Shows.
Her strong love of chickens features prominently in her comedy.
Commonly referred to as "the Spring Chicken of the Brisbane comedy scene", she has been loved by audiences in Melbourne, Sydney and across Queensland.
No stranger to the broadcasting industry, she was asked twice to be on the popular television series "Farmer Wants a Wife" but declined as she was focused on her career.
Last year, she travelled to outback Queensland with a tour that saw her bring free stand-up comedy to Einasleigh, Croydon, Karumba and Burketown.
"All shows are free but the yarns I've already heard from some of the locals while organising this have been priceless," Georgina said.
It also saw her become one of the first female comedians to perform in the Gulf of Carpentaria.
Later this year, she will be visiting regional areas and conducting professional development workshops for young rural students.
Georgina will also have the honour of being the Master of Ceremonies for the Celebrity Milking Competition at this year's Malanda Show.
Not one to shy away from the chal-lenges of rural life, Georgina was bucked off a buffalo when she was only nine years old!
Now she is going from "get bucked" to "get clucked!"
"This is my first time bringing a show interstate, my show is called 'Get Clucked!' which is themed
around growing up on a farm, working in agriculture and my love for showing poultry," Georgina said.
"It would mean the world to me to get the word out to other people who could relate to farm life and to people who have never gotten the chance to experience rural life first hand."
Fans of all things farming and pastoral will delight in her comedy.
Georgina will be performing at the Melbourne International Comedy Festival until the end of April.
Most Popular