2 May, 2023
Missing man, Lakefield
TWO crocodiles have been located and euthanised by Department of Environment and Science (DES) following an incident in Lakefield over the weekend.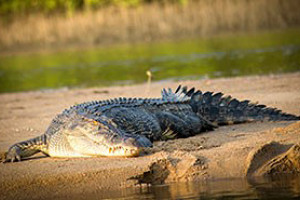 A search and rescue operation took place at the Kennedy River, Rinyirru (Lakefield) National Park for a man who went missing while fishing.
Emergency services were called to Kennedy Bend camping area at approximately 3.30pm on 29 April  following reports a 65-year-old Laura man had disappeared.
"Queensland Police Service and Department of Environment and Science (DES) continued their search overnight for the man missing in the Kennedy River," a spokesperson said.
"DES wildlife officers located and euthanised two crocodiles (4.1m and 2.8m) believed to be involved in the incident upstream from where the man was last seen.
"QPS and DES will aim to conduct a necropsy on those animals this afternoon, after which police will prepare a report for the Coroner.
"Under the Queensland Crocodile Management Plan, problem crocodiles are removed from the wild."
Most Popular