17 November, 2023
New book tells of local's adventures
A LOCAL man has released his first book, telling the tales of his adventures across Australia and beyond.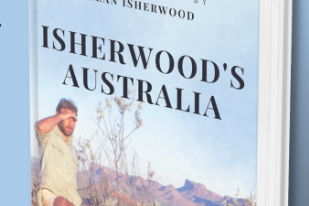 Allan Isherwood has released his autobiography Isherwood's Australia, telling the stories of his time travelling the world and the lessons he learnt along the way. 
The book, according to publisher Crystal Leonardi, is an outstanding example of how one man's individual journey, combined with a rich family tradition of sharing stories, can unite generations in a stunningly relatable and compelling way.
Alan showcases many aspects of his life through the autobiography, including his childhood friends, First Nations leaders and elders and other rich characters from 20th-century Australia and beyond.
Living and working as a teacher, from remote and isolated First Nations communities in North East Arnhem Land and Central Desert to Cape York and Torres Strait, and Guadalcanal. Alan and his family have lived on the Tablelands since 1989. Alan has spent time in China, USA, Denmark, Central Switzerland and the UK. 
Alan and his wife, Rose, introduced their daughters Miya and Sara to their ancestral homes in Derbyshire and Sar Chung.
A former Australian political figure, Alan now spends his time in his family home, a Queenslander set amidst the rainforest sanctuary on Mazlin Creek in Atherton. Alan can often be spotted quietly strolling under a rainforest canopy and enjoys long-distance swimming in solitude at Lake Eacham and Etty Bay.
He enjoys conversations with the chooks and growing organic fruit and veggies and making Cornish pasties. In a dry season, on a cool, clear moonlit night, you're likely to find Alan out the back, by the open fire, being a DJ or in lively conversation with friends and family.
When all is quiet, and everyone's gone, Alan often stays on to enjoy the soft warm glow of the coals.
Alan's book will be available to purchase from Under Blue Skies Bookshop in Mareeba or from www.crystalleonardi.com/bookshop 
Most Popular