1 October, 2022
New life for carcase competition
THE Byrnes family have resurrected the Rocky Creek Abattoir's Best Beef Awards' carcase competition which will be held at their Tolga facility from November 9-12
By Sally Turley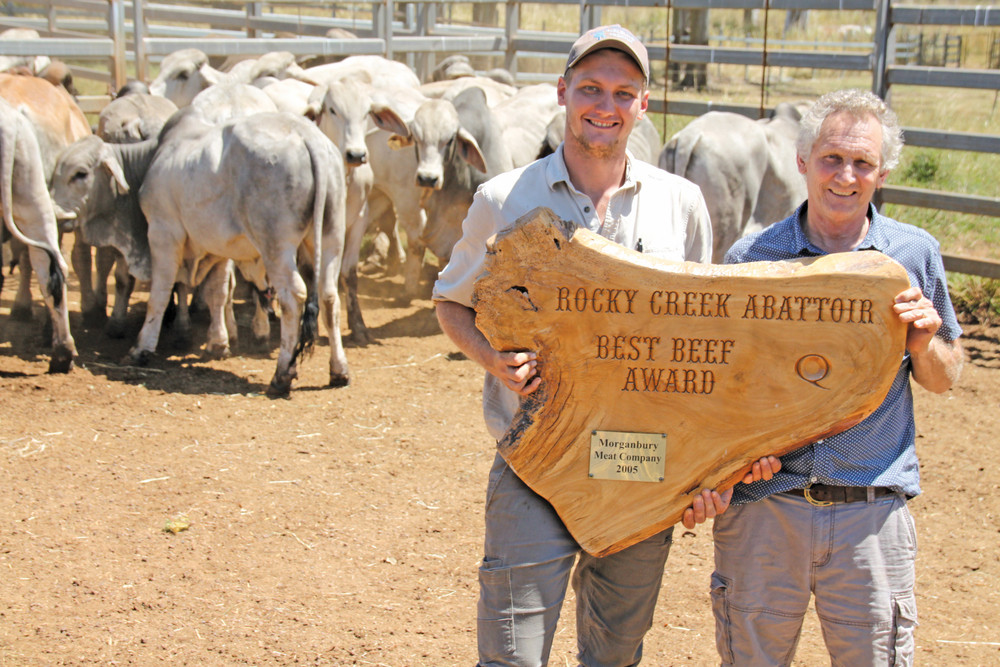 Introduced by Victor Byrnes and his team in 2000, the competition hasn't been held since 2005.

All butcher shops from Ingham to Cairns and across the Tablelands, who are customers of the abattoir, have been invited to put their best producers' cattle forward in this battle to see which business is supplying the finest quality beef to their customers.
"This is a great way for butchers and wholesalers to work with their suppliers to promote their businesses and their producers' efforts at the same time. The winners across the competition will be identified as the industry's best in Far North Queensland," Cailan Byrnes said.
"An MSA (Meat Standards Australia) grader from Sydney will be on-site to score the pens of three heifer or steer carcasses, on eating quality, lean meat yield, ability to meet carcase specifications and compliance with weight range categories."
In reflection of the different modes of butcher shop operation and customer preference, the competition will run across 3 weight categories – 240.1-280kg in Class 1, 280.1-320kg in Class 2 and 320.1-360kg in the heavier Class 3 division.
Other than weight, all other specifications will be consistent across the classes. The cattle must possess a minimum of 3mm rib fat and P8 fat of 5-22mm; have adequate fat distribution; a pH of below 5.71, show good weight for age; be preferably HGP free and have low hump height/Brahman content.
The cattle will be judged out of a total of 100 points, 50 of which will be allocated to Eating Quality, Lean Meat Yield will be worth 40 points and the remaining 10 will relate to meeting Market Specifications. The evenness of pens could be important in a close-scoring competition.
Conditions of entry include that stock must be delivered to the abattoir by Wednesday 9 November for processing on 10 Novem-ber; the cattle must be pasture fed; presented in pens of three and consigned to the producer's butcher or wholesaler for judging on 11 November.
The cattle must have been run together as a mob for 3-4 weeks prior to entry and they must be clearly marked to display which class they are being entered into. Carcase viewing, featuring a butcher and producer's "pick the best carcase competition", will be held in conjunction with morning tea, on Saturday, 12 November from 9-10am.
Producers can enter multiple pens if they choose and all producers, butchers and interested parties will be invited to a presentation dinner where the results will be announced and prizes awarded on Saturday night.
Business expansion and the demands associated with the purchase of northern breeding properties in a move towards vertical integration across the company saw the carcase competition being sidelined for the last 17 years but Cailan Byrnes could see many good reasons to revive it.
"We buy from a lot of producers and we want to ensure they have a good understanding of the desired end result in the 'paddock to plate model'. I will also be inviting interested students from local
schools to attend the carcase assessment process," he said.
"We will probably start off fairly small with the first competition and gradually build it up. It will just be good to show how great a product we can produce from the region's volcanic soils and to bring all our producers and butchers together in a relaxed, social environment."
After a break away from the family company to pursue a degree in Electrical Engineering, Cailan came back to the fold three years ago and now runs the day-to-day operations of the plant, ensuring their butchers and restaurants are happy with their branded product, "Tableland Blue".
Cailan's current focus on using Ph testing to improve the consistency and quality of their product and using ossification testing to achieve more accurate ageing of cattle ties in well with the education component of the carcase competition.
"We want school leavers and young professionals to see the range and depth of opportunities that exist in the beef processing sector," he said. "There are a lot of science-based jobs in quality control and engineering as well as jobs in marketing and human resources."
Cailan said while processing numbers were good, he would like to increase the number of cattle going through the plant.
"We are always looking for cattle and have worked to build relationships with our producers and suppliers over the years.
"We pull our weaners off early and cart them down from our Peninsula blocks at 200kg, then fatten them on our Upper Barron and Malanda properties.
"They form the base of our supply, the balance we buy direct from our suppliers and from out of the Mareeba saleyards."
Most Popular