3 October, 2023
Paniagua putting on a show
He was bought in an online auction for $600 and racked up more than $280,000 in earnings on the racetrack, but Paniagua is now enjoying the richness of retirement in a different arena.
By Andrew Smith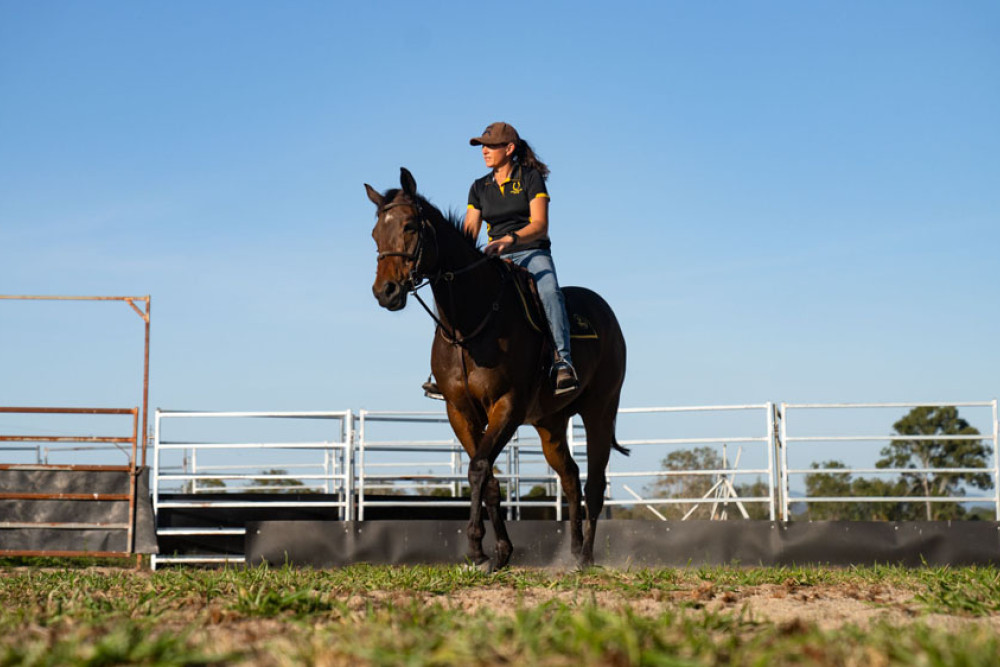 The gelding's glittering career netted nine wins from 23 starts, including a golden run in 2020 that saw him claim a Cairns Cup and Country Cups Challenge Final at Doomben.
There were wins also in Magic Millions Guineas in Townsville and Mackay, as well as starts at Eagle Farm, the Gold Coast, Atherton and Rockhampton.
But, it's a small property just outside Mareeba where Paniagua is now enjoying life after racing in the hands of his former trainer Alex Malliff and wife Kellie.
Retiring the seven-year-old in 2022, they are focused on turning the horse they now call "Frypan" around the stables into a champion showjumper.
"He did wonders for us on the racetrack…(in mid-2022) he unfortunately had an injury, he started to do his tendon," Kellie said.
"It wasn't bad but he just showed a couple of signs so we retired him straight away because he's been very good to us.
"He sat in the paddock here with us for 12 months, had heaps of time to recover and then he had a little bit of a wild, last-minute throw in the deep end starting his jumping career.
"There was a spot available in the David Finch clinic that the North Queensland Showjumping Club had organised and I said 'oh well, give him a couple of rides and we'll just put him in the small class at the clinic and see how we go.'"
Saddling up on their former champion, Kellie recalls the Tycoon Ruler-Danni Sharleen product took to the new discipline like a duck to water.
"He actually shocked me a bit – he was a bit nervous when I first got on him at the clinic and he was sort of looking around and didn't want to stand still," Kellie said.
"But I reckon it was 20 minutes and he's standing in line, leg resting with the other horses, like he's been doing it forever.
"In the jumping world there's a lot of standing around, waiting in between events – it does take them time to learn the patience of waiting.
"They're always on the go in the racing industry, everything is about getting from A to B as fast as possible obviously.
"But just with the outing I've given him it was like he'd always been doing it so fingers crossed he's just going to slot into the jumping life nicely."
Finishing last in his first two outings in Toowoomba in 2019, Paniagua was put up for sale in an online auction and it was the sole bid from Alex that secured him.
Under Malliff's training, Paniagua then went on to post eight straight wins including the Cairns Cup and Country Cups Challenge double.
The Mareeba trainer said he was not surprised by his former star's easy transition from racing into the new discipline.
"He was a ripper for us on the track, he won just about everything we put him in and he pretty much paid for this place so he's got a home here for life," Alex said.
"Luckily for us, Kellie's a really handy showjumper and he's a pretty handy showjumper himself.
"I was fortunate enough to have the afternoon off when Kellie took him to his first clinic and I went across, obviously got there a bit late.
"I hadn't seen him go around at that stage but there was a buzz about him, everyone was talking about how good he was and what a natural … I was really rapt that he's going good."
Paniagua's showjumping future definitely looks bright.
Kellie has a long history working with ex-racehorses, estimating that she has helped upwards of 60 horses in their transition into retirement.
She is making the most of the Queensland Off-The-Track Program that supports a high-quality first transition for standardbreds and thoroughbreds from racing or breeding activities.
"I have done a lot over the years and Alex's stable at the track has grown a lot," Kellie said.
"I think anything Alex retires we will bring them home and see if they'll be suitable for the line of showjumping that I do, otherwise we'll try and find them a nice home.
"Rebecca Henry is a registered OTT Acknowledged Retrainer in Mareeba so we have a couple of options but I love taking them off the track and seeing what they can do."
"Whether it's showjumping, dressage, they're going into polo – there's a heap of them barrel racing at the rodeos now.
"We actually bred a little fella that didn't work out at the track, he only had a couple of starts but a friend of mine is now barrel racing him and getting him ready for the rodeos next year.
"There's really not much they can't do, they're very versatile."
Alex was also full of praise for the QOTT program that has helped boost opportunities for racehorses transitioning into retirement.
"It's of the utmost importance, nobody in racing does it for any other reason that they love horses," he said.
"That doesn't matter whether they stop racing with us, we still love them and we want to find them a happy home and make sure that everything's done right moving forward."
Most Popular