12 May, 2023
Region's best take on district cross country
OVER 600 of region's best cross country racers went head to head last week at the 2023 Tablelands 10 – 19 years Boys and Girls Cross Country Carnival in Yungaburra.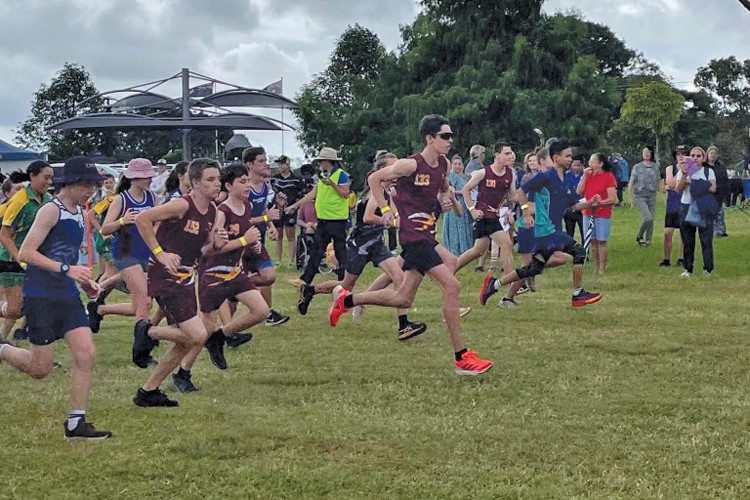 School students from as far as Cooktown and Croydon travelled to the Avenue of Honour to compete, with a total of three records broken throughout the day.

Charlie Wilson of St Joseph's School Atherton broke the 11 years girl record with a time of 11:47:12 for the 3km course whilst Ash Maye of St Thomas' Mareeba broke the 11 boys record with a time of 11:43:81 for the 3km course.
Malanda State High School's athletic champion Erika Koleman smashed the 16 years girl record with a time of 15:33:81 for the 4km course.
This year, the inaugural Athletes with Disabili-ties Races (AWD) were implemented in the event, allowing students with disabilities to compete.
This event organised by Nicole Turner and Duncan MacGregor from Atherton State High School allowed students who wouldn't normally be able to compete to do so.
Students who placed in the top 8 have been selected for the 2023 Tablelands 10 to 19 years Boys and Girls Cross Country Team that will participate at the Peninsula Cross Country Championships being held on Tuesday 16 May at the Avenue of Honour in Yungaburra.
The Results:
10 years girls
1. Claire Parker of St Joseph's Atherton
2. Olivia McLellan of St Joseph's Atherton
3. Natalie Reynold of St Joseph's Atherton
10 year boys
1. Brave Wood-Johnson of Biboohra State School
2. Ernst Osbourne of St Thomas' Mareeba
3. Zack Pedersen of Georgetown State School
11 year girls
1. Charlie Wilson of St Joseph's Atherton
2. Alice Poljanec of Malanda State School
3. Arabella Howe of Yungaburra State School
11 year boys
1. Ash Mayers of St Thomas' Mareeba
2. Maia Pesio of Cooktown State School
3. Ethan Hill of Yungaburra State School
12 years girls
1. Ella Mayes of St Thomas' Mareeba
2. Grace Raleigh of Cooktown State School
3. Isla Winton of Endeavour Christian College Cook-town
12 year boys
1. Harley Sweeper of St Stephen's Catholic College
2. Khy Allen of Malanda State School
3. Julius Parsons of St Thomas' Mareeba
13 year girls
1. Kira-Pearl Dalgety of Atherton State High School
2. Emily Ginn of Malanda State High School
3. Jacinta Teahan of Malanda State High School
13 year boys
1. Tiarnan Carey of Malanda State High School
2. Theodore Little of Jubilee Christian College
3. Finnegan Rae of Distance Education
14 year girls
1. Bronte Grose of Malanda State High School
2. Indi Palmer of Malanda State High School
3. Sophie London of St Stephen's Catholic College
14 year boys
1. Jonty Coutts of Malanda State High School
2. Harrison Roos of St Stephen's Catholic College
3. Parker Sims of St Stephen's Catholic College
15 year girls
1. Rachel Kidcaff of Malanda State High School
2. Shayla Jerome of Dimbulah State School
3. Amber Kattenberg of Atherton State High School
15 year boys
1. Lucas Kattenberg of Atherton State High School
2. Beau Evans of Malanda State High School
3. Student from Ravenshoe State School
16 year girls
1. Erika Koelman of Malanda State High School
2. Yasmin Rae of Jubilee Christian College
3. Olivia Koelman of Malanda State High School
16 year boys
1. Flynn Hyde of Malanda State High School
2. Josiah Pixon of Jubilee Christian College
3. Dominic Searfini of St Stephen's Catholic College
17 year girls
1. Emalina Fogale of St Stephen's Catholic College
2. Paige Grose of Malanda State High School
3. Michael Coren of Malanda State High School
17 year boys
1. Alistair Hickey of Malanda State High School
2. Dane Reis of Atherton State High School
3. Nate Mitchell of St Stephen's Catholic College
Open girls
1. Kaylan Toomey of Atherton State High School
2. Sophie Roberts of Atherton State High School
3. Bethany Bailey of Atherton State High School
Open boys
1. Student from Ravenshoe State School
2. Dom Haggarty of Mareeba State High School
3. Harvey Horan of Malanda State High School
AWD 13-19 years girls
1. Payton Collins of Ravenshoe State School
AWD 13-19 years boys
1. Charlee Lane of Atherton State High School
Most Popular