4 September, 2022
Small goats doing a big job
IF you haven't met a Nigerian Dwarf dairy goat so far in your travels, try and correct that omission in the near future because it is rare to find such a combination of charm, productivity and sheer cuteness wrapped in one furry bundle.
By Sally Turley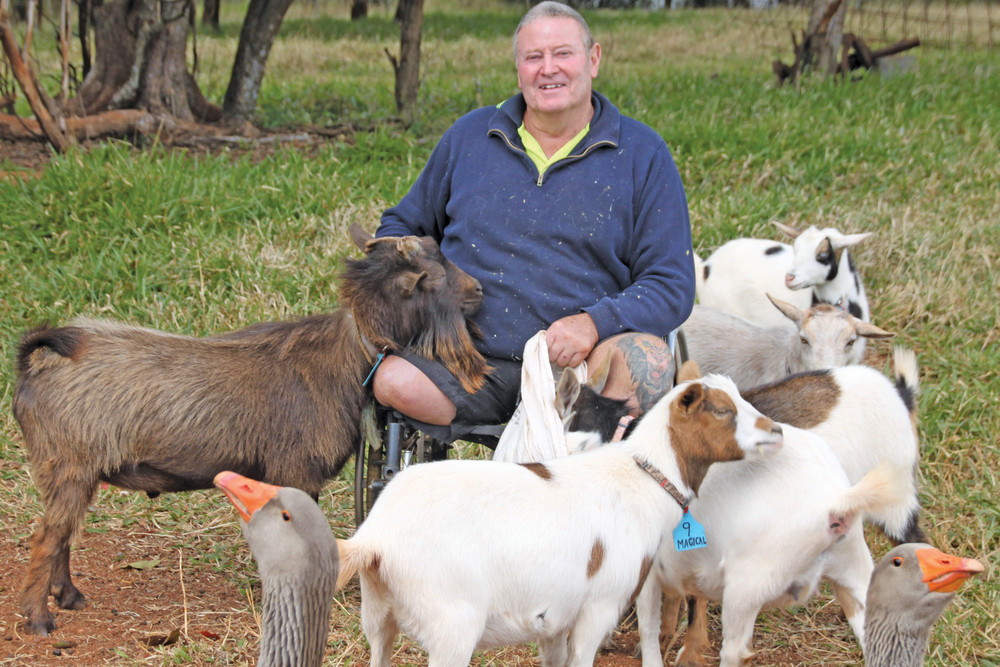 Rob Bliss of "Galaxy Stars" stud at Ravenshoe got into breeding Nigerian Dwarfs 18 months ago. 
He describes them as addictive and watching him surrounded by them as they frolic together, leaping, playing and returning for frequent pats, it is easy to see why.
"They are the greatest timewasters since Facebook," Mr Bliss said. 
"I give them their breakfast every morning and end up spending a couple of hours just enjoying their company. They are delightful and just give me so much joy." 
Joy has been a bit of a scarce commodity in recent years for Rob Bliss. The former New Zealand dairy farmer had been working as a crime scene technician in Western Australia when a freak accident in North Queensland changed his life forever.
He was helping a mate unload a trailer in Townsville when a vehicle slammed into him, crushing and partially amputating both his legs. 
A couple of ex-army men working nearby torniqueted his legs which saved his life and his new nightmare began.
Mr Bliss was in hospital for three months, before being released into four years of rehabilitation, losing his job, his house and his independence in the process. 
"By the time my compensation payment had come through, I knew I couldn't live in town. I had looked at a 40-hectare block outside Ravenshoe and had decided that was where I wanted to start my life again," he said.
"The farm was very run down, with no fences or yards, but it was bounded by a nice creek and graced by just over eight hectares of established gums and pines, offering me not only privacy, peace and tranquillity, but the potential of a future income from the timber.
"Once I got some country fenced, I bought 15 cows in calf to a Brangus bull. They were so quiet I could spray them from my four-wheeler. Next began my quest to source the goats, which were an ideal link back to my dairying past, but in a more manageable form.
"The interstate search for registered animals to populate my new venture took me four years. I was on a waiting list when my daughter saw a buck owned by Nigerian Dwarf breeder, Lesley McDowell, Bundaberg, for sale on Facebook.
"I bought that buck, 'Bojangles', and he fathered the first generation of kids here on the farm. Lesley put me in touch with Perth breeder, Trevor Blight of 'Dandalee Park', and I bought my first six does through him. 
"I paid $6,000 each for two of the does, but they live for 14 or 15 years, produce an average of 3.6 litres of milk a day, and commonly give birth to twins, triplets and often up to five or six kids at a time, after just five months' gestation," Mr Bliss said.
African in origin, these little goats were once used as a feed source for large cats being shipped to American zoos. 
Surviving animals eventually became a zoo attraction in their own right, being bought, bred and refined by collectors until they were accepted into the American Dairy Goat Association's herd book in 2002. 
Now miniatures in confirmation of a standard size dairy goat, the little Nigerians produce the creamiest milk of the entire goat family, with 6-10% butterfat, almost double their nearest competitor, the Nubians at five pre cent, and yield correspondingly higher protein levels than their bigger cousins. 
The extremely smooth and silky cheese produced from the Nigerian Dwarf's milk has made them very popular with artisan cheese makers. 
Their sweet temperament and well-structured udders made them good mothers and easy to milk by hand or with machines. But like all businesses, the establishment costs of buying all his stock and building facilities to house them have been high.
"It costs me $200 a week to feed my herd on lucerne, cracked corn, goat pellets and horse mix and I have just been through the pre-registration Caprine arthritis encephalitis (CAE) and Johnes disease accreditation process," Mr Bliss said.
"I exhibited some goats at this year's Malanda show and am still dealing with the follow-up interest that created. I would like to get my numbers up to 25- 30 really good does for showing and breeding, but have been selling some of the young bucks and will be able to start selling females after the December kidding. 
"People want them for crossing over regular goats to bring down their size, to improve their milking abilities or just because they are actually the ultimate pet in their own right. 
"In fact, demand for purebred does from people wanting to start their own studs has driven prices sky high. I put a crazy value of $11,000 on a doe I didn't want to sell recently and the customer rang me back the next morning agreeing to the price," he grinned.
Riding the crest of the self-sufficiency wave sweeping the country, Rob believes his small-statured, high-achieving stock could be the next big thing, but in the meantime, he said he hopes to share the joy they have brought him with others, particularly those suffering mental or physical challenges in their lives.
Most Popular