16 October, 2022
Spring delivers new generation of warmbloods
SPRING has been busy delivering the results of another year's hard work and planning at Linda McKinnon's Regal Warmblood Stud, near Lake Barrine.
By Sally Turley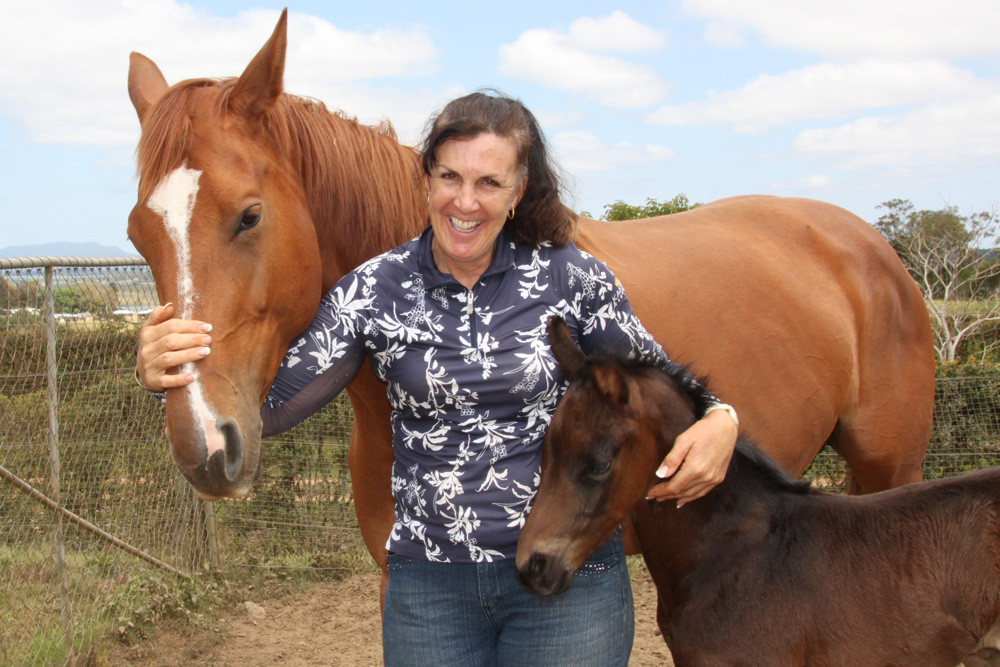 With three new season foals already on the ground and more due throughout October, it is a time of hope and promise.

Using the best bloodlines from Europe and Australia, for the last 20 years, Linda McKinnon has been focused on breeding modern sport horses, primarily orientated to supplying dressage competitors with purpose bred, trainable mounts.
At one week of age, little "Win", daughter of "Fuerstenball", the 2022 top Hanoverian stallion for type and 2018 Danish Warm blood Stallion of the Year, has achieved the trifecta of breeding traits Linda was seeking in her imported frozen semen (IFS) selection.
"Win's longer legs, greater elegance and shorter back coupling – she is the improvement on her dam I was hoping for, plus she has enough spirit to make her quite the little character already," Linda said.
"Her mother 'Wendlyn WD', is a daughter of the much-admired stallion 'Weltmeyer'."
Described as a "breeding stallion sensation" and "a monument of a horse", Hanoverian Ver-band breeding director Dr Jochen Wilkens said that altogether, from the point of dressage, Weltmeyer was the stallion of his time and embodied the modern dressage horse.
A lot to live up to, but as little Win frolics around the scenic hilltops of Russell Pocket Lodge, her lake-side home, all the pressures of competition are still years away.
Linda has been riding, training and breed-ing dressage horses all her life. Growing up in Mudgee, capital of the broad, fertile river valley country in the central west of New South Wales, Linda moved north with her parents at the age of 13 years.
"Mum and Dad bred Hereford beef cattle and grew lucerne on the river flats at Mudgee and we had Australian stock horses on the farm. I learned to ride as soon as I could walk," she said.
Linda's interest in horses stayed with her and after meeting her husband at 20, they bought their 28-hectare Tableland property and she began developing her "Regal Warm Blood Stud" breeding program.
The state-of-the-art breeding facility was built from scratch on "the love of a group of mares with incredible genetics, stunning good looks, superb temperaments and movement to die for".
"We AI all our mares with imported Hanoverian approved semen selected on trainable temperament, excellent movement and sound-ness," Linda said.
Experiencing an increase in popularity in line with the post-World War II growth in recreational riding, warmbloods are a group of middle-weight horses, the breed evolving from crosses of the lighter agricultural and carriage horse types, refined with hot blood (Thorough-bred/Arabian) influences.
"Our philosophy is to breed for trainability, movement and soundness with stallion selection very carefully considered for each individual mare, so we may not always choose young and fashionable stallions, but rather the one most suited to our goals for the mare," Linda said.
"We breed between three and seven foals a year, including "Regal Empire", the rising one-year-old and only Australian foal by stallion performance test champion, Emelio Sanchez.
"Our biggest market for horses is in Victoria, New South Wales and South-East Queens-land and I am incredibly fortunate to have new owners that keep in touch about how the horses are going, their competition results and training progress."
Achievements over the years include many National and State dressage championship titles including most recently "Regal Quick as a Flash", the chestnut gelding by Quarterback (IFS) achieving Queensland Preliminary Champion 2022 in combination with his young rider.
An accomplished dressage competitor her-self, Linda has trained up to FEI (Federation Equestre Internationale) level and won many championships with horses she has bred.
"The process of breeding, foaling, growing on, training and competing on your own hors-es is a long but extremely rewarding journey," Linda said.
"We have had several 'Gold Foals' and some top 10 rated horses in the annual Hanoverian Horse Society national tour. A classifier flown in from Germany travels Australia each February, performance testing the movement and train-ability of young mares.
"The appraisal process is an unbiased assessment, not a competition, which allows me to compare my foals across Australia. It gives me a good gauge and I know that when they score well, my breeding program is on track.
"I have 10 brood mares in the stud at the moment, but I am in the process of downsizing and plan to put a few of them back under saddle.
"I don't retain any entire males – all colts are for sale or gelded from 6-12 months of age.
"We run a boutique agistment facility along-side the stud operation. Of our 26 paddocks, just over half the property is used for breeding purposes.
"The rest have been set up as 1-acre paddocks featuring block shelter sheds and im-proved pastures where horses receive full care and two hard feeds a day.
"Our premium service gives owners peace of mind, knowing their horses are receiving the best care in excellent facilities, whether the owners are seeking a wet season alternative or need a break themselves," she added.
Most Popular