2 August, 2022
Stud Droughtmaster breeder loves industry
THE threat of Foot and Mouth disease breaching Australian borders has stud Droughtmaster breeder Kellie Williams so concerned that she is considering flushing eggs from her top cows as an insurance policy for their family business
By Sally Turley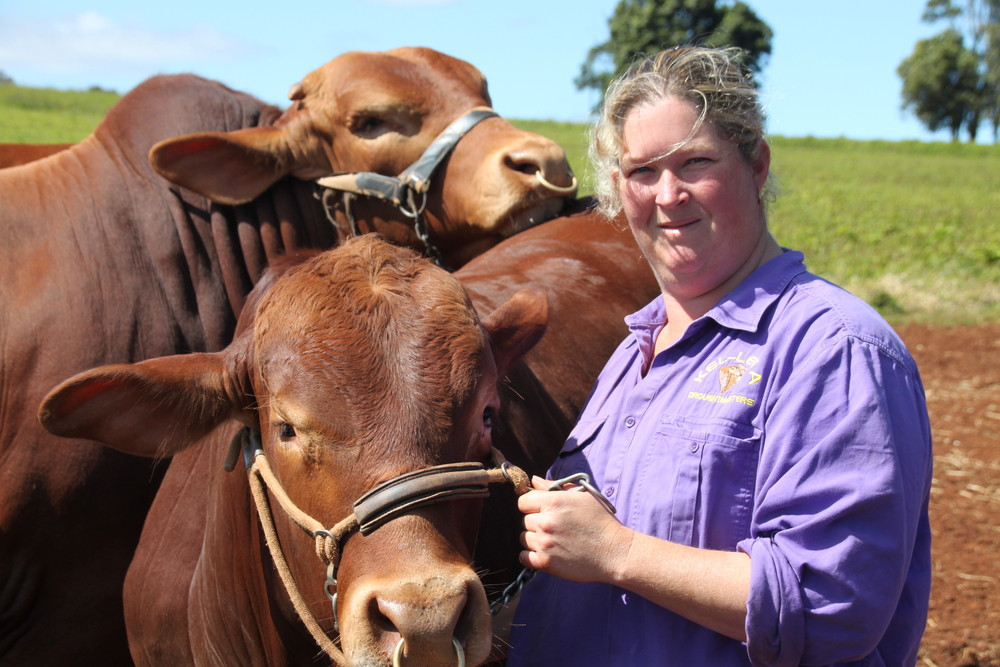 "We have been developing 'Kel-Lee Droughtmasters' genetics since 1991 and I would feel a bit more secure knowing I had some 'eggs in the tank' should the worst happen," she said. 
Kellie has been around cattle and horses since her family moved to a small block at Lake Eacham after she was born and bought their current cattle property on the Barron River when she was just four years old. 
A typical day for Kellie includes a 5.30am start at the Atherton stables, where she has worked as a strapper since she left school and then home around 9.30am to spend the rest of the day doing "all things farm" on their fertile 52ha of Upper Barron cattle country. 
Reflecting on how her love affair with the cattle industry began, Ms Williams believes it probably started with her Pop Barry Cockrem's exposure to cattle people around Mt Isa, while he was working out there as the Stipendiary racetrack steward many decades ago. 
Kellie started showing cattle when she was eight years old and 28 years later, she is more passionate about cattle and more involved in showing than ever. 
She said it was her mum, Jenny Williams, and her Pop who were instrumental in getting the annual Malanda Cattle Handling and Judging School off the ground nearly 20 years ago. 
"They did it with kids like me in mind, to give young Tablelanders opportunities like those that exist in the stud arena down south, to get involved in the cattle industry. 
We are a bit isolated stud-wise up here, and it is important we encourage the kids, as they are our future," she said. 
"I have kept up my association with the cattle handling school, instructing the students there on grooming and leading each year and I sometimes take cattle in from here for them to work with. 
"I am keeping my own education going with an accounting and book-keeping course I am doing through TAFE that I hope will eventually help me run my own business, as well as develop a small business doing bookwork for others." 
Apart from the cattle themselves, Kellie says she loves the whole stud cattle breeding process, putting the genetics together and selecting the semen each year and seeing how the annual crop of calves turn out. 
"Our stud herd was based on Stedon, Mungalla, Kirknie and Bernleigh bloodlines combined with Glenlands, Wylandra, Leverdale and Vale View cows purchased in later years," she said. 
"Kel-Lee", the parent stud is owned and operated by Jeff Williams and his daughters Kellie and Amy, but the girls no also operate their own studs – "Kel-Lee A", owned by Kellie and "Barron Valley Stud" owned by Amy, running 40 breeders in total. "We usually run two single sire herds using two of our own bulls, and run an annual artificial insemination (AI) program with around 10- 15 females to keep the herd's genetics fresh," Kellie said. 
"We have been selling the majority of our bulls out of the paddock to repeat buyers from Cooktown to Tully and have been struggling to keep up to the demand for bulls and heifers during the last few years. 
"When selecting sires for our AI program, we look for early maturing bulls with scale and muscle and while we appreciate the mothering and doing ability and parasitic resistance of the Droughties, it is their temperament that really stands out. 
"In an area of small farms, the temperament has to be right. It also makes them a lot easier to work with in the show ring. We have been exhibiting our cattle for a long time and have had a lot of success around the Far North Queensland show circuit."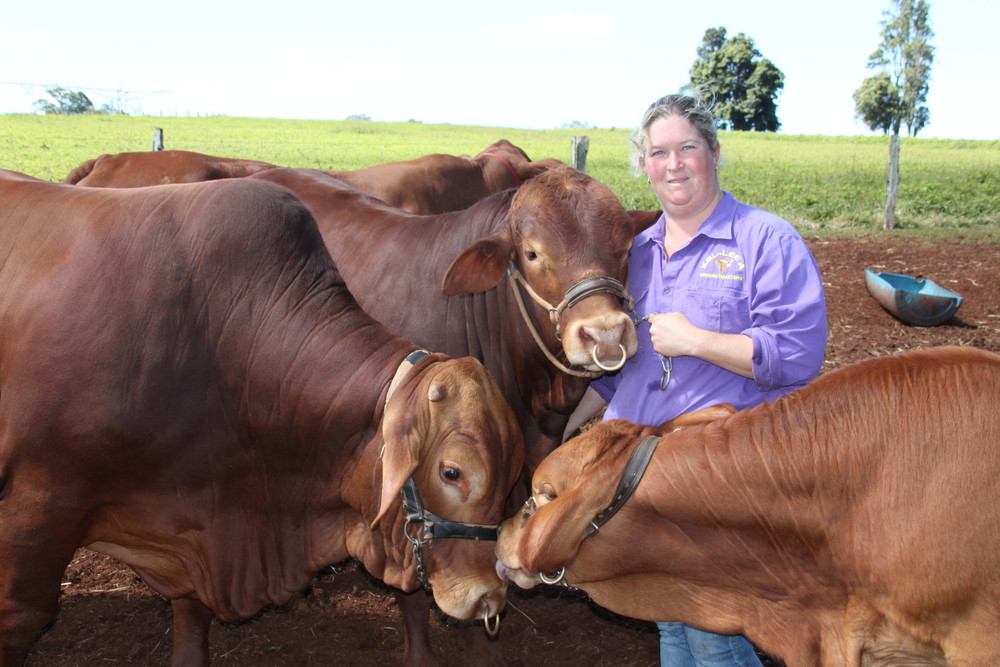 Their sire, "Kel-lee A Why Not", was awarded 2022 Grand Champion Bull of the Cairns Show and they also won the Breeders group at that event. The cattle also did very well at the Malanda and Atherton Shows, winning Tropical Bull and Female titles in several age categories. 
"We won Junior Champion Tropical Bull at both shows, Champion Tropical Bull and Supreme Champion Bull of show at Atherton with 'Kel-Lee A Why Not' and Senior Champion Tropical Bull at both shows," Kellie said. 
"In the female section, 'Kel-Lee A Peyton' was awarded champion tropical female of the Atherton show, we won Reserve Senior Champion Tropical Female, Malanda Show and, Senior Champion Tropical Female of the Atherton Show.
"We will have our show team on display at the Better Beef Open Day. We have been involved with the event since it started. 
"I love how laid back the day is. The cattle are still in their own environment and there is no pressure on the cattle or the people involved. 
"It's just a shame we can't go for a look around at everyone else's cattle on the day, but if the sun's out, we are expecting a good crowd and look forward to chatting with them over a cuppa and refreshments."
Most Popular