5 December, 2022
Tablelands businesses celebrated
NEARLY 80 businesses were nominated in this year's Tablelands Business Excellence Awards, with the winners of seven categories announced at Saturday's gala dinner.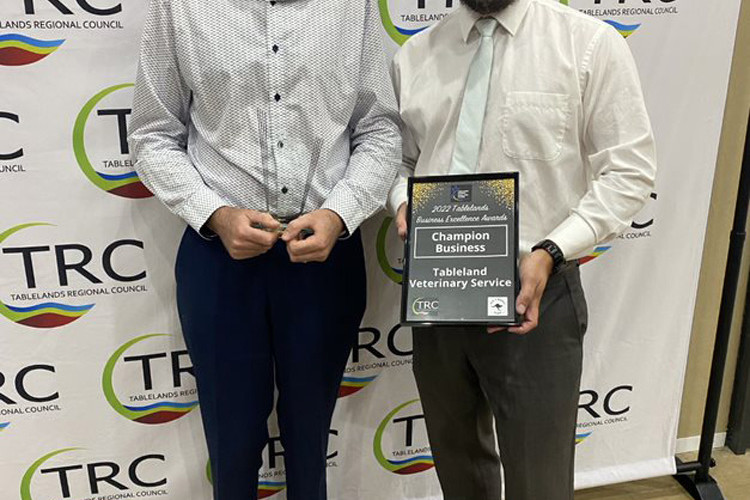 Mayor Rod Marti said the awards reflected the importance of the business community to the region's broader economy which was continuing to grow, helped by a rise in the number of families and young professionals choosing to move to the area.

"Overall, an incredible 78 businesses were nominated by community members — with 122 nominations in total," he said.
"This year has been another one of extraordinary growth for our region. Our expanding economy – valued at $1.4 billion – has grown by 7.3 per cent this year. This is the region's biggest growth as a percentage.
"It's especially pleasing to see 14 of the businesses nominated tonight are new enterprises — all of which add to the diversity of our local economy."
Mayor Marti said more than 2,500 registered businesses supporting close to 9,500 jobs were currently operating in local government area.
In addition to the seven categories, the People's Choice award, which attracted a total of 1900 votes, was also announced, with TDP Graphics winning the gong with 121 votes ahead of Evans Earthmoving Contractors with 101 votes and AA Taylors Treelopping with 89 votes.
Taking out Champion Business of the year was Tableland Veterinary Service.
With a 45 year history servicing the region, the business now has six clinics across North Queensland, with over 90 staff and a turnover in excess of $13 million per annum.
"They have an outstanding workplace culture, recognised with certification by Great Places to Work Australia, with 97 per cent of their team claiming TVS is a 'Great Place to Work'," award presenter Luke Freeman told the audience.
"They give back to the community by providing over $30,000 of pro-bono wildlife care work per year, working closely with the Tolga Bat Hospital, Tableland Wildlife Rescue and Tree Roo Rescue Groups.
"They provide career opportunities for dozens of school-based and other trainees to gain qualifications in veterinary nursing."
The Customer Excellence award went to The Polished Touch – Beauty By Courtney, with clients describing "feeling restored, rejuvenated and very special" after using the service.
Tolga-based agribusiness HTM Complete took out the Technology & Innovation Impact category, mainly due to its development of the "Farm In ONE" app which allows farmers to make informed decisions and manage daily farm operations such as irrigation automation, monitoring and spray schedules.
Given Christmas is only a few weeks away, it was apt that the Atherton Christmas Tree Farm was named the winner of the Visual Stand-out category.
The business was applauded for its brand new Big Red Christmas Barn that made customers "feel like you are stepping into a Christmas Wonderland".
Employer of Choice went to Carinya Home for the Aged for the way the organisation treats its staff and volunteers, including rewards over and above standard award conditions, and active acknowledgment for their efforts.
Topaz Sustainable Timbers took out the Sustainability Contribution award for integrating native revegetation into forestry. The company has planted more than 100,000 trees in 25 years, and salvage most of its timber from tree loppers to give it an extra life rather than being chipped and sent to landfill.
Out of 14 businesses nominated in the New & Emerging Business or Service category, Billycart Brewing Co. came out on top, winning for bringing "something new, innovative and well needed to the Tablelands community".
"The atmosphere is great. The product is fantastic. Their business ethics are commendable, engaging with other businesses within their own to offer a great rounding of services to their customers," the nomination read.
"For the risk they took, the passion and belief they put into the business they deserve to be recognised."
Winners of each category received a $500 Shop Tablelands voucher, trophy and framed certificate. In addition, the People's Choice winner received a marketing package with The Express newspaper valued at $2000.
Most Popular