17 November, 2022
Toot toot! Incoming winner
SAVANNAHLANDER'S driver and guide Wil Kemp's impromptu wildlife talks, friendly humorous service and dedication to the job has earnt him the Tourism Tropical North Queensland's Customer Service Excellence award for 2022.
By Ellie Fink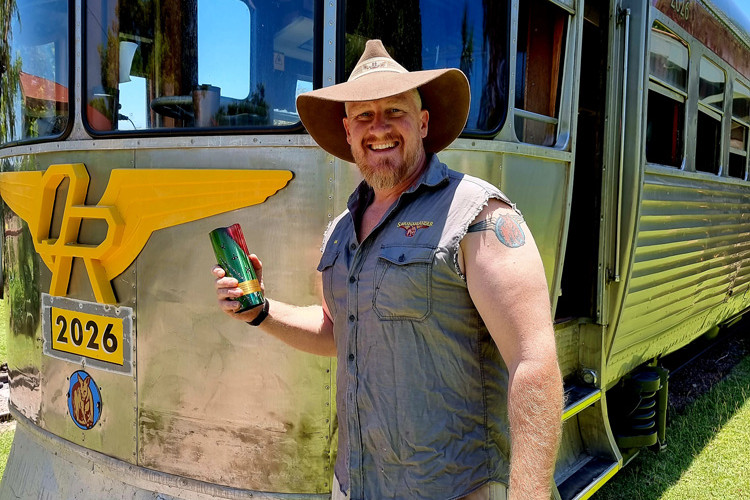 His dedication to providing the best experience onboard the four-day train tour runs so deep that Wil even has a tattoo of the trains' logo on his shoulder.

Being nominated by the Savannahlander business development manager, Wil proved to be a worthy recipient of the award and was beyond shocked when he found out he was this year's winner.
"It was a bit scary honestly, I normally work with the tourists but here there were lots of corporate people who work in the big offices and it was very flash," he said.
"They got straight into it, which was really good, so I got to find out if I won or not.
"They announced everyone's name before mine, so I didn't think I had won but I had my mates and partner patting my back like I did.
"Sure enough they announced me as the winner and even though they told us to have a speech prepared, I didn't have one because I didn't think I was going to win."
Since receiving the award, which is a piece of Indigenous steel art designed in Kuranda, he has received praise from the director general of TransLink, Kennedy MP Bob Katter plus new and returning Savannahlander passengers.
Wil began driving the Savannahlander 11 years ago, after finishing work as a zookeeper at the old Cairns Wildlife Safari Reserve in Koah.
Whilst searching for a new job, he met a man who worked for the Savannahlander and ended up getting a job driving trains.
"He asked me 'can you drive a train?' and I was like 'no!', and that moment was just as overwhelming as when I received the award," Wil said.
"Going from working in a zoo to driving trains was super different but the Savannahlander crew helped me gain all the qualifications to do it.
"Because of my background in the zoo, they asked me to bring that knowledge of native wildlife to diversify the trip."
Wil explained that the Savannahlander was once a trip for mainly train enthusiasts and since bringing in his knowledge of tradition Indigenous land, fauna and flora, passengers can experience every aspect of northwest Queensland.
While the main tourism drive for the Far North is the rainforest, Wil hopes he can encourage tourists to take a trip inland to learn something new.
"The rainforest is the savannah's pretty older sister that gets all the attention and even though it's a big tourism driver, there is so much to explore inland," he said.
"If there is an animal on the tracks like a monitor or a snake I try and pull up the train to go get it off the track and show the passengers.
"It's a very special little trip, not every town has a Savannahlander."
Most Popular