23 October, 2022
Tune in to electrical safety at free breakfast event
LOCALS wanting to hear about the importance of electrical safety are invited to attend a special breakfast at the Mareeba Turf Club on 2 November to hear from football legend and Queensland Safety Ambassador Shane Webcke.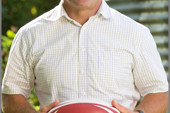 Running from 6-9am, the breakfast will give people the chance to learn more about how they can protect themselves when working with electricity.

The session is a joint venture between the Electrical Safety Office and the Mareeba Chamber of Commers and will cover things from electrical safety in homes and businesses to what to do after experiencing an electric shock or tingle.
Safety advocate Dan Kennedy will also be attending the session and recall his personal experiences with electrical safety.
Following the forum there will be a morning tea safety information session with the Queensland Country Women's Association starting at 10am.
The new Commissioner for Electrical Safety Keith McKenzie and Electrical Safety Office executive director Donna Heelan alongside an Electrical Safety Inspector will be talking about electrical safety, there will be interactive displays.
To book your spot for either event email ESO-Events@oir.qld.gov.au 
Most Popular