3 November, 2022
A new generation of Aboriginal warriors
Young Aboriginals have been given the opportunity to become great warriors like their ancestors with a local martial arts club empowering young indigenous Australians to connect to their culture by incorporating traditional aboriginal practices and weapons into karate.
By Rhys Thomas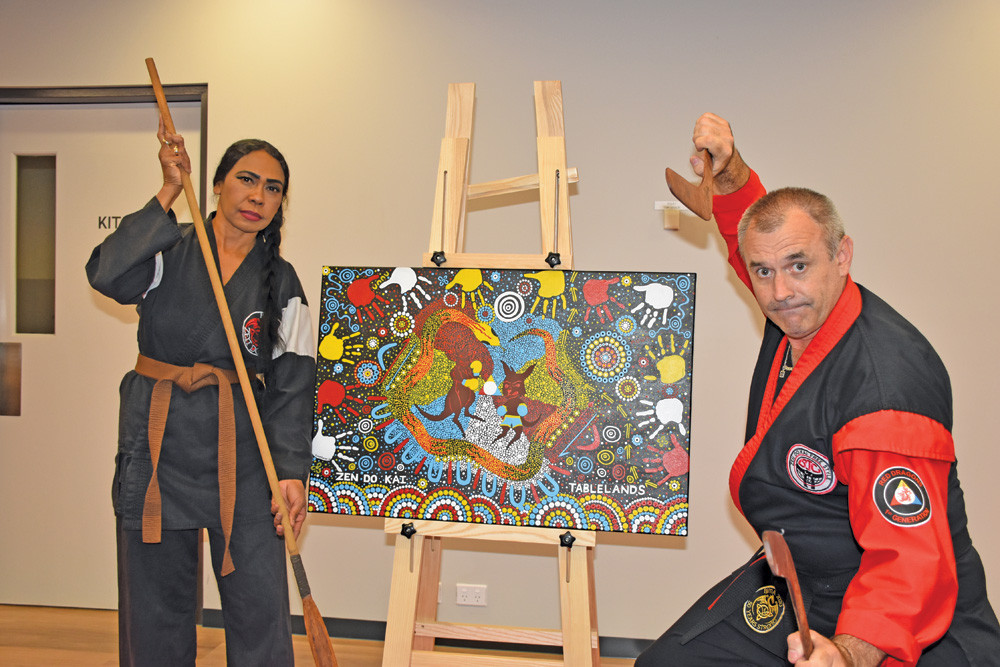 Kunguru Warriors is a form of Bob Jones Zen Du Kai and is the only standup martial art in Australia to incorporate traditional Aboriginal weapons into its system, all for free at Atherton's Midin Clinic.

Head instructor Tait Bragdon is a native American man himself, tracing his heritage back to the Micmac people and his fiancé, Carol Chong, is a member of the Muluridji tribe.
Being a man of native descent, Mr Bragdon feels an immense sense of pride and purpose in incorporating Aboriginal weapons, culture and practices into his system.
"I've seen it done in America with the Apache knife fighting system and I thought, why don't we have that in Australia for our indigenous mob here," he said.
"Zen Du Kai is still the backbone of Kunguru Warriors but we are just introducing Aboriginal weapons and other Aboriginal practices in our free form katas.
"This is opening up pathways so Indigenous people can do their own moves that are culturally appropriate for them."
Bob Jones himself has given Mr Bragdon special permission to open his club before becoming a third dan so he could get started as quickly as possible.
Students can learn free form movements which incorporate the Aboriginal short and long spear as well as boomerangs which while not traditionally seen as weapons, are a suitable substitute for a knife or sword.
"We can use it in our katas to demonstrate and preserve culture and ancestry," Mr Bragdon said.
The tradition of mimicking splashing water on the face and body to cleanse before class has also been changed to Aboriginal smoking ceremonies, while the cat stance has been adapted to the kangaroo stance.
The Kunguru Warriors system is new and will change and adapt as time goes on, incorporating new moves and stances that directly relate to Aboriginal culture.
One of the initial purposes for opening the club was due to the increased crime rate seen on the Tablelands over the past year.
"The whole principal is that we want to try and reduce the crime, get these kids off the streets and included into our martial arts and learn discipline, honour, respect, integrity and hopefully get them out of the anti-social behaviours they were engaged in," Ms Chong said.
Mr Bragdon said he is not teaching his students how to hurt people, but instead giving them another way to reconnect to their history.
"The students are still going to have to, as they would in their traditional customary way, go through their initiation process and levels to become a warrior," Mr Bragdon said.
"Learning the katas might prompt them to go back to their grandfather or one of the elders who may know some old moves or teachings and say, 'can you teach me' – that's how we want to preserve that culture.
"Rather than them being disconnected from their grandfathers or father now and running amok in the streets, we are hoping to encourage them to reconnect to their culture through martial arts."
For more information on Kunguru Warriors you can contact Mr Bragdon on 0423 677 895. 
Most Popular