5 October, 2023
Australian first at Malanda Bull Ride
"Big bucks" are guaranteed across the board at this year's Malanda Bull Ride with top bulls being offered for the Open Bull Ride.
By Brigitte Daley
In what will be a first for any bull ride in Australia, this year will feature a new event – Butchers versus Bullocks in which 13 butcher shops will have two members of their team ride a bullock.
Malanda Bull Ride president John O'Connor said the highly anticipated event will be drawing riders from all over Australia as well as some great local talent.
Last year's winner Luke Smith will be competing.
"The Malanda Bull Ride has attracted some of the top 10 bull riders in Australia," John said.
"Competitors will be coming from all over Australia with Sam Woodall coming from Victoria, Eli Bee from Darwin, Aaron Kleier from Yepoon and Cameron Southern from Wingalan in Queensland just to name a few."
Starting 10 years ago, the event has achieved phenomenal momentum, support and success.
Organisers are proud to have sourced bulls for this year's event from Colin Fry of CF7 Bucking Bulls.
"Colin's bulls have been at the Professional Bull Riding (PBR) finals in Townsville for the last two years and are drawing the 'best of the best' as far as competitors go," John said. 
CF7 Bucking Bulls is located just west of Townsville and is operated by Colin Fry, his wife Maree and family.
Colin has sent bulls to the Townville PBR finals for the last two years, Cairns PBR for the last two years and last year to the Brisbane Entertainment Centre for PBR.
He also took bulls to the Australian Professional Rodeo Association (APRA) finals in Rockhampton last year.
One of Colin's bulls, Lightning, won the 2022 PBR Rookie Bull of the Year award.
Another of his bulls, Supernatural has competed in Sydney, Brisbane and Townsville.
Also enjoying success is Alcatraz, who is currently in the top six ranked bulls in PBR.
Colin purchased his first bucking bull in 2008 and has been breeding the bovine athletes for the last 10 years.
His strong personal interest in them stemmed from when he was a child and used to ride poddy calves on his home property with his brothers for fun.
One of his older brothers later went on to ride bulls and Colin followed suit doing bull riding and also competing in bronc riding events.
It was in 2019, after he stopped bronc riding after Covid-19 struck, that rodeo bull breeding kicked in.
The bucking bulls which are bred on the property are their own stabilised breeds.
They are bred by both natural mating and artificial insemination (AI).
A bucking bull's career trajectory usually begins at around two to two and a half years of age when they do Junior Bulls, in which there is a specified weight limit.
At this point in their career they generally weigh around 350kg.  
In the Junior Bull Ride the bull size is matched to the competitor's size.
The bull then goes into the Open event at around the age of three to four-years-old and by this stage can weigh around 800kg or sometimes even more.
Although bucking bulls are generally around five or six years old when they hit their peak, some bulls can still remain competitive at nine and 10 years old.
Bull riding fans recognise the athletic prowess of these animals and understand it's one of the hardest sports around.
Good bulls are powerful but the great ones are also smart.
Some young bulls have a bucking pattern while others don't.
Bull riders prefer bulls with a bucking pattern and this attracts bull riders to events.
"As a contractor I have a very cowboy friendly line," Colin said.
"You want to see good bull rides with a high score, I get plenty of enjoyment out of it."
It takes both breeding and training to produce a top bucking bull.
"They need to have the right attitude, the right agility and be shaped right," Colin said.
"When they are young you just get a gut feeling about them, how they present themselves, how they move in the paddock.
"When the bulls get older it is all about their nutrition and keeping them fit."
One of Colin's elite bucking bulls Toy Boy was ridden only once until he was ten years old.
The bulls are scored as well as the competitors, and are scored on their ability to buck.
Colin will be bringing a sizable contingent of bulls for the Malanda Bull Ride, including Lightning, Supernatural and Blood in the Water which are guaranteed to be big draw cards attracting both competitors and spectators alike.
For further information, see CF7 Bucking Bulls Facebook, page or the Malanda Bull Ride Facebook page. 
The Malanda Bull Ride is on this Saturday at the Malanda Showgrouds with first buck at 4pm.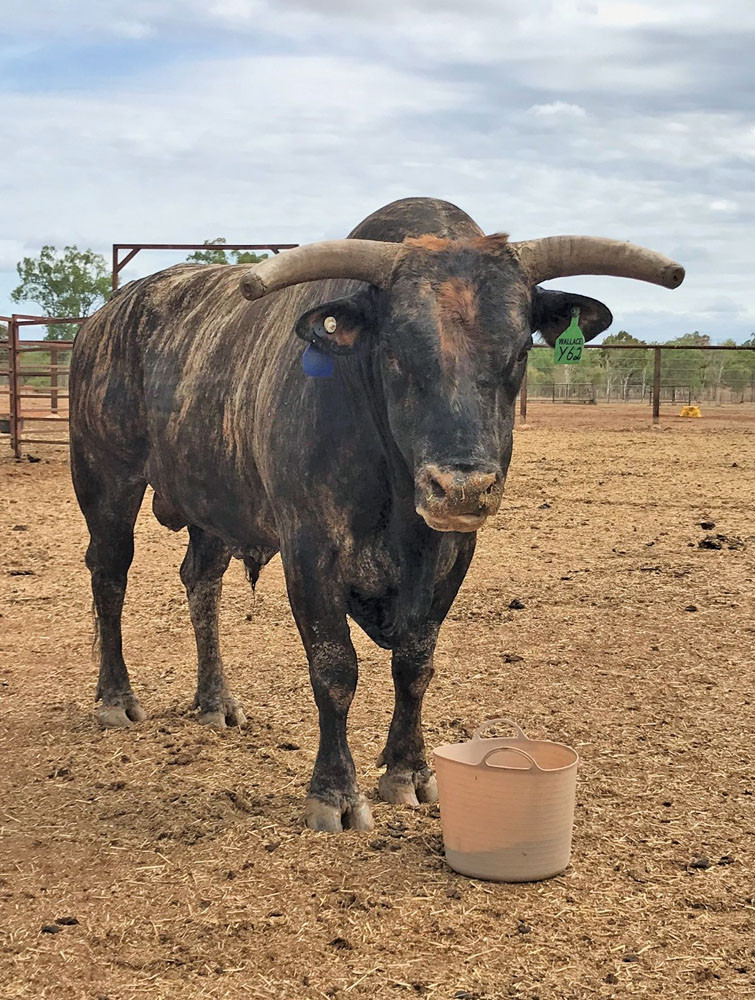 Most Popular