17 December, 2022
Authors capture bush history
THE bush has always been full of larger than life characters, and two ladies who have had a front row seat in the cattle industry have set about writing a book that has captured and recorded some of those "never to be repeated" events and individuals.
By Sally Turley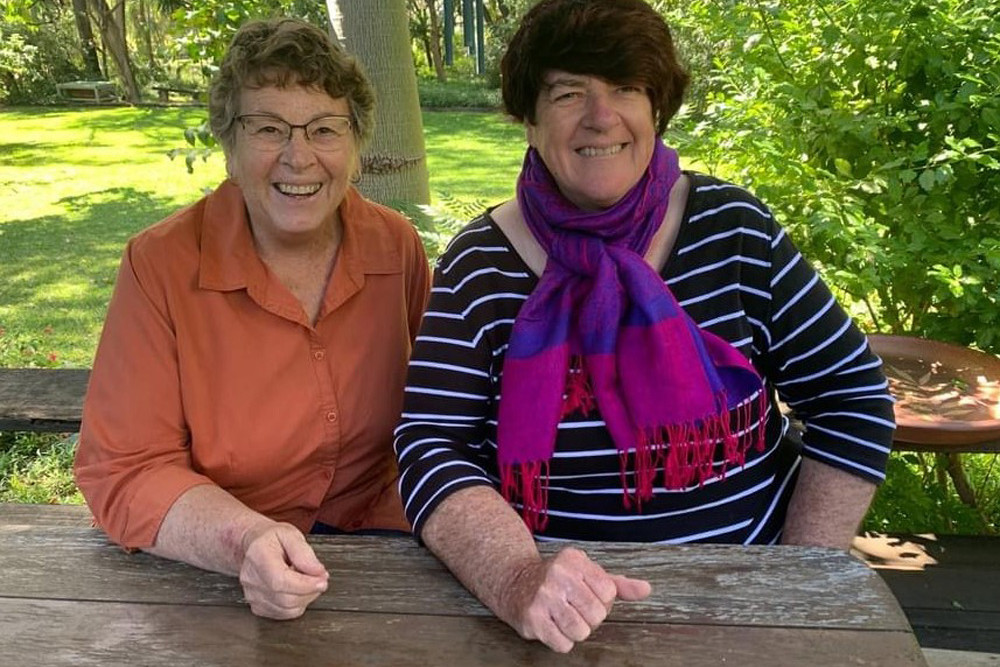 Kerry Brown of Kairi and Alison Ray of Emerald have just finished a "…wouldn't swap it for quids" 529-page historical mini memoir of the lives of 120 of the bush's finest pastoralists, cattle buyers and agents.

The book is brimming with authentic tales such as a runaway train carriage full of sale bullocks, a mad bull escaping into the path of an oncoming truck after Brisbane's Cannon Hill cattle sale, and a long-suffering rural wife who demanded a bath tub after years of living in a tin hut, only to have to end up sharing it with the horses that needed a water trough.
When asked what motivated them to write the book that took "many good bottles of wine", Kerry said it began with a love of listening to the stories of the older generation, from a time when people "just got on with it", without any fuss and got things done.
"We'd sit and listen to their dry humour, expressions and sayings as they remembered places, times and events from another era and felt the personalities and history of those stories needed to be recorded before it all just faded away with the storytellers," Kerry said.
"Throw in a Covid-induced lull that halted Alison's travel plans and she was soon on the phone to me suggesting this little project. She has read about five books in her lifetime and I have probably read four, but we loved Australian history, so I said to her that if she could chase up the people, I would help her with the office stuff.
"Alison has been involved in the stock and station agency game all her working life. Straight out of school, she started with Winchcombe Carson, Emerald, when I began with Dalgety's, back in the late 60s, early 70s.
"She married Dalgetys' man Terry Ray who only recently left the company after 55 years to start his own agency business, RBV Rural, with a couple of mates, at the age of 74, so she knows nearly everyone in the cattle industry in Central Queensland and beyond."
So that little Covid project soon developed a life of its own, immersing the authors in two-and-a-half years of interviews, data recording and entering, fact checking and permission gaining, as mates dobbed in mates who "just had to be in the book".
"Back in the day, there were eight agencies in Emerald, but no paid yardman working at the saleyards, so we all used to work together penning and drafting each other's mobs," Kerry said.
"We were all young and silly, drinking and partying together. Us girls usually had our eye on one of the fellas, so we'd be happy to swing a gate all afternoon and go out partying half the night, forming bonds that lasted decades.
"When we approached people about getting their story for our book, their reaction was nearly always the same – 'Oh, we haven't got anything worth recording!' Then four hours and three cups of tea later, we would still be listening to hilarious, irreverent stories, full of outback history and personalities.
"Once you got them talking they'd laugh, curse and remember places, times, mates and events that are just not here anymore. We would put the phone on record in the centre of the table and just yarn. That was the fun bit, the sitting down to write it all up was the time-consuming bit."
Dedicated to characters who worked hard and played harder, the book has been filled mostly with mates' stories about mates. Some are eulogies, some people have submitted written accounts of events and some have contributed poems about the life they knew.
Now, hundreds of hours later, with the book finished and about to hit stores, Kerry's husband, Owen is also celebrating for another reason.
"I'm pleased the bloody thing's finished, I might get my wife back now," he laughed.
Kerry and Owen's own life has been similar to many of the people in the book. Growing up one of six children born in eight years, at "Forest Home" at Capella, Kerry married Owen in 1976 and moved to his family's 8,100ha cattle block "Valeria" outside Capella to settle into their new residence – a caravan with a lean to.
Eventually the couple bought a Mary Kathleen mine house and while Owen and his brother Barry were busy running Valeria, Kerry worked for the Peak Downs Shire Council, later serving as a Shire Councillor there for some nine years.
Starting out in 1974 with a mob of run out old cows they paid good money for at the Gracemere sale just before the cattle slump, times were pretty tough for many years, but they battled through the challenges to gradually improve their herd and the property.
In 1994, they had a Gulf change, purchasing the 40,469ha "Double Lagoon" Station outside Normanton, one property back from the beach.
"Again, we improved the place up to run 6,500 breeders, pulling weaners off to sell and feeding wet and dry season lick. We loved the lifestyle at Double Lagoon, but staffing and cash flow were always a concern," Kerry said.
Selling to prominent Gulf graziers, Peter, Robert and George Hacon, they moved to Kairi in 2009. After searching from Gladstone to the Daintree for a retirement property, they stumbled onto their current home.
Kerry said as soon as they saw the place, they felt it was somewhere they both could imagine living.
Owen and their daughter, Kel, manage their Droughtmaster and Brangus cattle herd, moving them daily to maintain good ground cover and good quality pastures. Owen spends his spare time looking after his long-term passion, his quarter-horses.
Kerry said copies of their book would be available at Phillips Newsagency, Atherton and Tableland Fertilisers, Atherton and Mareeba, RBV Rural in Emerald and Mavericks Western Wear, Rockhampton from mid-December, or could be ordered online at wouldntswapit-forquids@gmail.com
The book retails for $49.95 and all profits from this book about the land, will go back to the land, to be shared between the QCWA and Inner Wheel organisations.
"We are pretty happy with how it turned out and hope the community loves it too," Kerry said.
Most Popular