25 October, 2023
Banks should compensate scam victims
AN elderly couple just one year away from retirement have put those plans on hold, after losing their life savings in a scam their bank won't take responsibility for – a trend which must change, Katter's Australian Party MP Bob Katter says.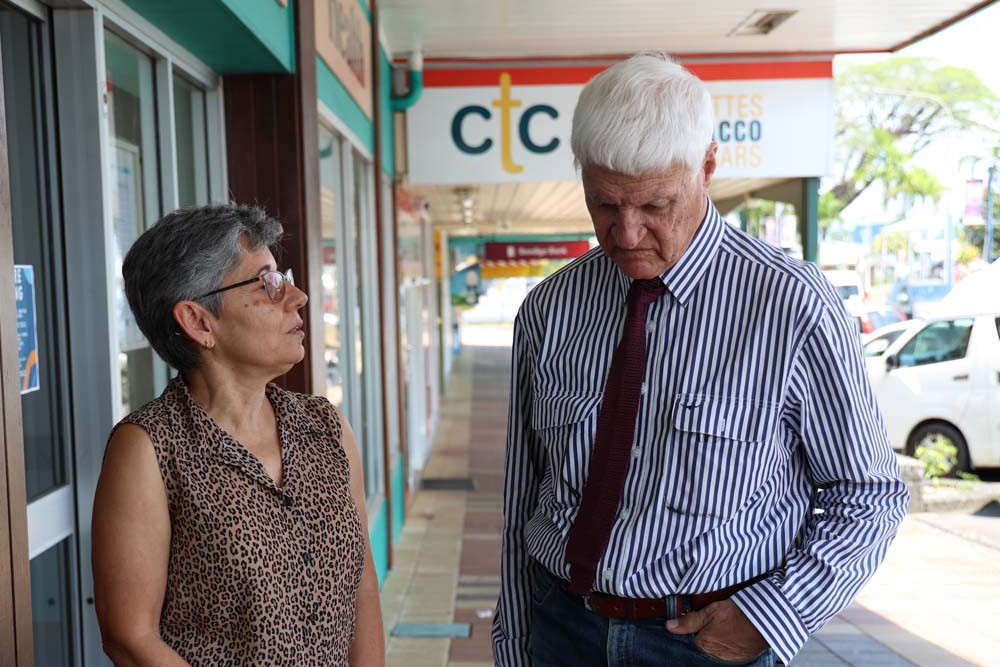 Innisfail couple Paula and Jose Canha E Sa were scammed for about $35,000 in July, with their provider, Bendigo Bank, managing to recover about $7000. 
Ms Canha E Sa, who is working three jobs to make ends meet under cost-of-living pressures said the ordeal had physically and mentally impacted her, and her husband. 
In July, Mr Canha E Sa received multiple calls from a private number, eventually he chose to answer. On the line was a man "speaking fluent English" telling Mr Canha E Sa he was from Bendigo Bank, before reciting his date of birth and some recent transactions, he already had access to. 
The scammer convinced Mr Canha E Sa he was a genuine Bendigo Bank employee and advised him that his accounts had been compromised and instructed him to transfer all his savings from his four accounts, into new accounts. 
Following the transfers, the scammer told the Canha E Sa's he would call back within five minutes after speaking with a "security team", however that call never eventuated, and the elderly couple realised their fears – they had now genuinely been scammed. 
"So we then phoned the 1300 number for scams at Bendigo Bank and the lady on the other side after 45 minutes answered and confirmed that we had indeed been scammed. Everything had been taken with just $4 left," Ms Canha E Sa said. 
"My husband was interviewed by the financial crime department and told to wait for two weeks. And we still heard nothing so I made an effort to come to the (physical) bank (at Innisfail) every week." 
Ms Canha E Sa said she complied with all the bank's instructions which included reporting to various departments, resetting cards and phone apps and multiple appointments in a desperate bid to recover her savings, but after about a month she was told: "According to their codes, they found there was no issue with the bank's proceedings and they were not liable for anything." 
"That's when I went to Bob Katter's office. But it's just totally unfair, there must be fall back, there is no way the bank can expect me to have the total know-how, to outrun these scammers. There is no way. 
"Digital banking is not easy, for anybody. And if that's where we're going, protect us. We put our money into the bank's trust - protect us, help us, but don't put the onus on us to know exactly what's going on, we can't know." 
Ms Canha E Sa said her husband was still struggling to come to terms with the incident, with the couple still out of pocket over $25,000, and now no longer on the verge of retirement. 
Mr Katter said he wrote to the Federal Finance Minister about Ms Canha E Sa's case, while urging the government to legislate banks to take greater responsibility when issues arise, "especially as they direct more customers towards digital banking".
The minister is yet to respond. 
Mr Katter said while banks continued to save costs and boost profits, the onus should be on the providers to protect and payout victims of scams. 
"It's not good enough for their bank to say 'a scammer got in and did this'. Because of your move to online banking, scams become easy," Mr Katter said. 
"In the case of Paula and her husband, that will become increasingly true – as the banks get rid of staff and make more profits for themselves. 
Mr Katter said a long-term solution was to endorse former Australia Post chief executive Christine Holgate's vision of a people's owned bank. 
"Now, if we move to a people's owned Australia Post bank, that huge volume of money being paid to banking executives – can instead be used to compensate the Paula and Jose's – and a people's owned bank will compensate victims."
Most Popular