12 August, 2023
Buffalo farmer extraordinaire
The recent sale of the last dairy buffalo animals of the Australian Dairy Buffalo Company (ADBC) marks the end of an era which spanned for almost 20 years.
By Brigitte Daley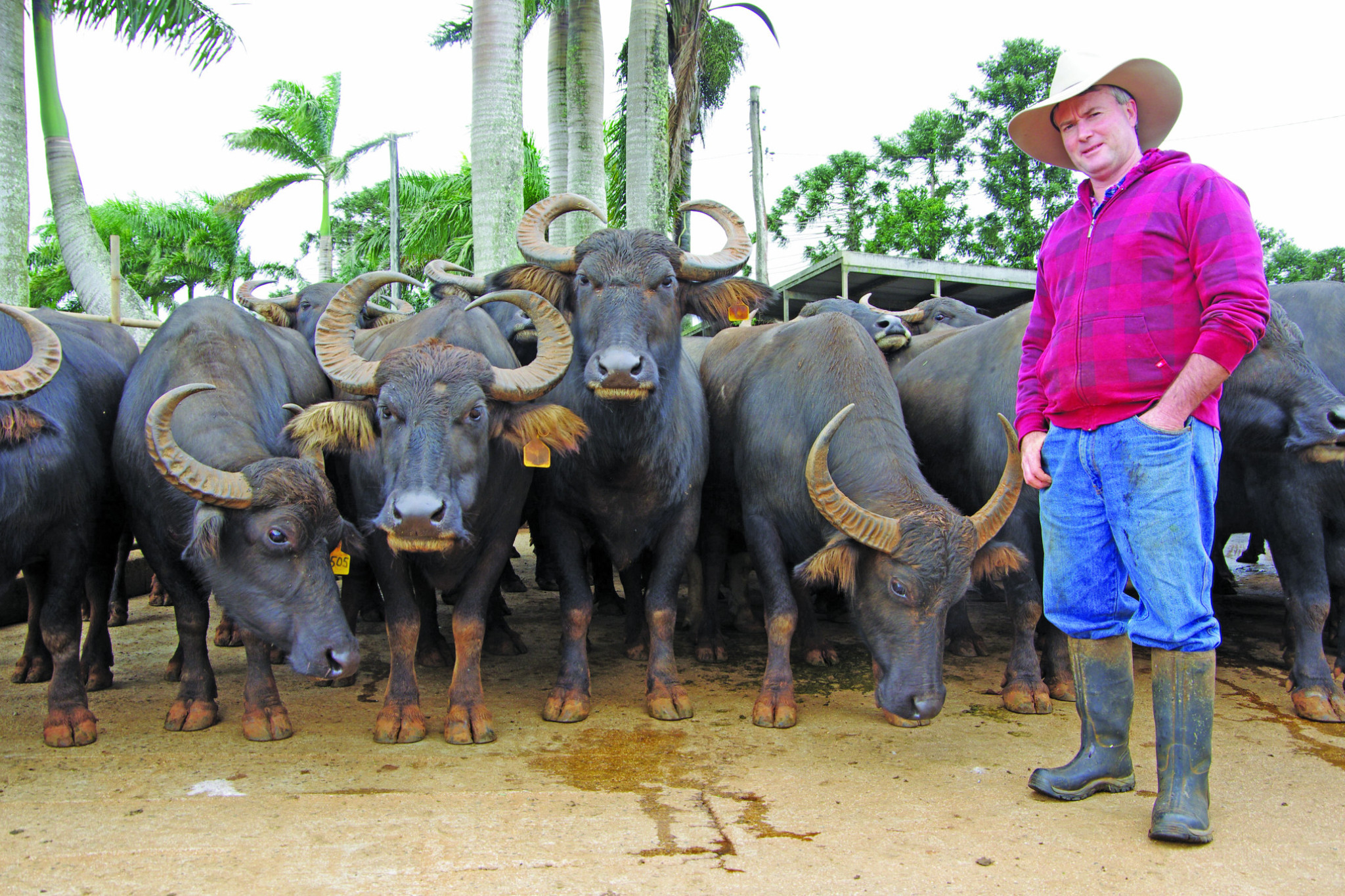 Local dairy farmers were heard to exclaim "Holy cow - it's a buffalo!" when Mitch Humphries bought the first consignment of dairy buffalo onto the Atherton Tablelands on 17 September, 2002.
Being involved in a conventional dairying operation, he wanted to position himself for future changes just before deregulation in the year 2000.
As a result of the oncoming changes, he completed several cheese making courses which culminated in him acquiring his Master Cheesemaker certificate.
It was during these courses that he discovered that genuine mozzarella cheese was made from buffalo milk.
He subsequently purchased 33 Riverine buffalo from the Northern Territory's Beatrice Hill Research Farm.
The Riverine buffalo originated in Europe and is highly prized for its milk production, particularly by the cheese industry.
These animals formed the nucleus herd of his new buffalo dairying operation and he went on to establish a buffalo dairy in Millaa Millaa, North Queensland which was the first in Queensland and only the second in Australia.
 ADBC director Mitch Humphries said that people should do thorough research initially if they want to diversify into the "exotic" animal industries.
"It's all about the longer term so you need to have a lot of perseverance, flexibility and deep pockets.
"A bank manager with a sense of humour works also."
The closest call that Mitch has ever encountered with a buffalo was when he was carried in the crook of the horns and forehead of a buffalo bull for several metres, but put back down on his feet without injury, to body at least.
He was one of the first people in Australia to successfully work buffalo with cattle dogs.
"They seem to be a cross between a dog (seeks human attention), a horse (cautious nature) and a cow," Mitch said.
In 2007 Mitch attended the 8th World Buffalo Congress which was held in Caserta, Italy, where he was greatly impressed by the high regard and regional pride of buffalo and mozzarella cheese which he experienced in the south.
He won countless awards for his own cheese making both at a state and national level.
His greatest achievement was having won a silver medal at a national level for his marinated silken Persian feta at the "Awards of Excellence" Dairy Industry Association of Australia product competition in Sydney in 2005, narrowly missing out on the gold by just one point.
Many prominent television shows have filmed at the Millaa Millaa buffalo dairy including Surfing the Menu with Curtis Stone and Ben O'Donoghue and the ABC's Landline and On the Land.
His operation also appeared in magazines such as Outback and Gourmet Traveller.
The Australian Dairy Buffalo Company was selected to be a finalist in the 2012 National Disability Awards.
His small Tableland dairy company was up against McDonalds and Telstra Corporation who had extensive programs and protocols in place for improving work opportunities for people with disabilities.
Mitch said that he now regrets not bringing up the topic of a McBuffalo burger with McDonalds.
At its peak the ADBC Millaa Millaa buffalo dairy milked 239 buffalo.
However, Mitch expanded his operation to Koroop in Victoria to be closer to markets and subsequently the Millaa Millaa buffalo dairy ceased operating in September  2020.
Celebrity chef Manu has visited his Victorian property at Koroop.
Mitch has been a member of the Australian Buffalo Industry Council for over 20 years, having also been a former federal vice president
His proudest buffalo achievement has been "keeping it all afloat" and having set up production capabilities interstate to see the fruits of his business develop into a national leader in the buffalo dairy industry.
Now involved in exporting dairy buffalo to China, Korea and Malaysia with business partner Daniel Leimgruber, Mitch recently purchased the Shaw River milking buffalo herd from Victoria.
"Utilising DNA genomic testing also adds value to the dairy buffalo for export," Mitch said.
The combined  40 years of breeding from both parties has generated significant export interest from countries such as China, Korea and Malaysia.
Most Popular