6 September, 2023
Chefs set to embrace Papaya in new dishes
CHEFS and wait staff at Cairns restaurants participating in Papaya Week, from 11-17 September, have been given the low-down on cultivating and preparing red papaya from the growers at Skybury Farms.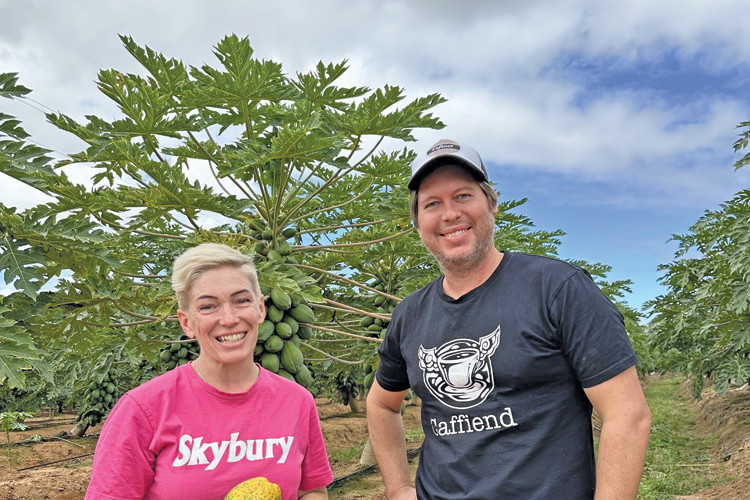 During the week, teams from Caffiend, Guyala Café and Ochre Restaurant tested their recipe concepts and discovered the versatility and nutrition benefits inherent in red papaya.
Restauranteur Oliver James, who owns and operates both Guyala and Caffiend, said his team embraced the opportunity to partner with the fruit farmers.
"We're excited to collaborate with Skybury Farms on the first-ever Papaya Week," he said.
"Our values are closely aligned, so we're especially enthusiastic to showcase their locally-grown papaya on our menus and introduce the health benefits to our community."
Skybury Farms began growing carica red papaya in 1989 and today supplies 60% of all papaya consumed in Australia, dealing with retail outlets up and down the eastern seaboard including Aldi, Coles, Woolworths and other retailers.
Brisbane-based fresh fruit wholesaler Jetbest Group has been marketing papaya from Far North Queensland farmers for several years.  
Chief executive officer Stephen Barnes said the pilot Papaya Week was an excellent initiative,  adding nothing evoked the tropics quite like luscious red papaya.  
"With their sweet flavour and refreshing texture, papayas are a luxurious but affordable everyday tropical treat," he said.
"Our marketing program positions red papaya as a quality consumer product available 52 weeks a year, which is extremely important to restaurants and the public alike."
Most Popular