26 November, 2022
Connecting families with culture at maternity ward
TO create a more welcoming space for expecting Indigenous and Torres Strait Islander mothers at the Mareeba Hospital, 16 beautiful photos will be displayed showcasing culture and the connection fostered between mothers and their midwives.
By Rhys Thomas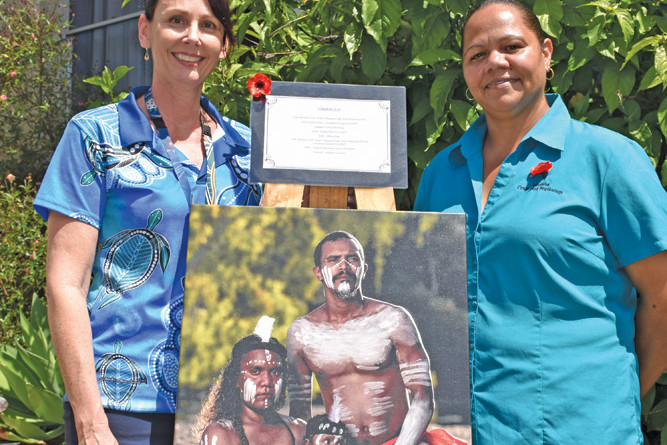 Christine Buckland and Tahnee Rapson from Mareeba Connected Beginnings sat down with mothers who had recently given birth or were about to give birth and asked them about their experiences in the Mareeba Hospital maternity ward.
While they spoke volumes about the value of service and the professionalism of the staff, many mothers felt the ward was not as welcoming as it could have been.
Taking this on board Connected Beginnings got to work on their new project, to make the Mareeba Hospital a more welcoming space for Indigenous and Torres Strait Islander peoples.
"A common theme was that mothers had really good relationships with the midwives but there was a deficit in cultural influence within maternity," Ms Buckland said.
"They were feeling isolated from culture, they were feeling lonely when they were in that space.
"Out of all that, pops out the photoshoot."
Connected Beginning then engaged with Brisbane based photographer Trent White and took a series of photos at Davies Creek, Emerald Creek and the Walsh River which focused on culture and the connection between mothers and their midwives.
Out of the hundreds of photos taken, 18 images were hand picked containing 16 community members and five midwives.
People used their traditional colours, attire and painting pat-terns of their tribes from across the Far North, the midwives were also invited out on country for the photo shoot and were fully involved in the shoot.
"The photoshoot was a sharing of connection, culture and the relationship that was built between the midwives and the families during the maternal period," Ms Rapson said.
The photos will be put up not just in the maternity ward, but across the hospital for people to enjoy.
Each photo also contains a biography of the parents, their culture and tribes history.
A video was made documenting the process of taking the photos which has been shared all across the world and been seen by people in Canada, America and England
The finished canvas print photos were handed over the Mareeba maternity ward last week and were put out on full display for the families, staff and locals to see, they will now be put up across the hospital.
Due to the success of the project, Ms Buckland and Ms Rapson showcased what they achieved at a national gathering in Brisbane last week in front of hundreds of people across Australia.
BELOW ARE THE IMAGES THAT WILL BE DISPLAYED AT THE MAREEBA HOSPITAL MATERNITY WARD.
PHOTOS BY TRENT WHITE
Most Popular