6 September, 2022
Cost cutting guard rails back on bridge
ANOTHER $113,000 will have to be spent to put guard rails on the Sluice Creek Bridge after Tablelands Regional Council admitted they had been deleted to save costs.
By Robyn Holmes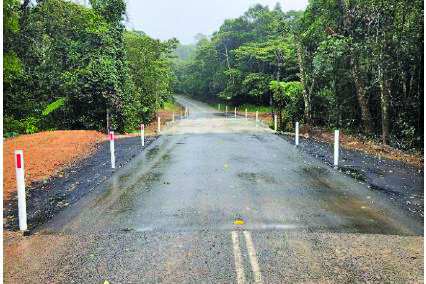 Council's chief executive officer Gary Rinehart was forced to explain why officers had deleted the items after Cr Peter Hodge questioned why another infrastructure project had blown its budget, this time by 27 per cent more than the contract awarded.

In the past six months, council has been asked to increase the budget of a number of road and bridge projects, mostly due to higher material and labour costs, but in some cases, due to a lack of proper investigation prior to going out to tender for the project.
Mr Rinehart admitted the original budget had been set at $500,000 but this was "not based on any particular design or investigations".
Council went ahead and purchased the decking for the bridge and then went out to tender to install the decking.
"At that point, we encountered significantly higher costs than what we had anticipated. The tender was $440,000, the purchase (of decking) was $180,000," Mr Rinehart explained.
"Given the higher tender prices, the decision was taken not to include the guard rails.
"They were deleted as a saving on the total project cost at that time – subsequently it has been determined that under Australian Standards, it wasn't right to delete those guard rails and they are, in fact, required un-der the Australian Standards.
"We got here by seeking to get as close as we could to the original budget – the decision taken was in good faith however subsequent information indicated the guard rails are required."
Deputy Mayor Cr Kevin Cardew acknowledged the council had been "getting a lot of these requests for extra money because of budgetary blowouts" and that the "design and costings of things perhaps have not been done as well as it should have been".
But he was hopeful that the establishment of a Project Management Office (PMO) with the organisation would mean the overspends on capital projects would stop.
"This is another one of these projects that was in place prior to the introduction of our project management office so hopefully, hopefully there's not too many more these," he said.
"I know there's one more coming but we must be getting to the end soon, and eveything's been changed to ensure that these anomalies will be significantly reduced in the future."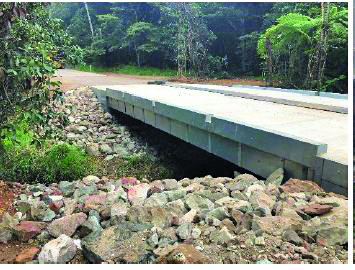 Mr Rinehart confirmed that once the Sluice Creek Bridge project was completed, a review would be done through the PMO and officers would report back to council with "the totality of our learnings".
But he noted that the additional costs that were being experienced by all councils could not have been predicted and were largely a result of government stimulus pro-grams throughout Covid to boost capital projects across the country which had, in turn, caused a labour shortage.
"The pricing of the tender is consistent with the pricing we are receiving and the pricing every local government across Australia is receiving," he said.
"Prices at the moment reflect higher de-mand for labour but also the rising cost of materials because of the delays with some materials coming into the country as a con-sequence of Covid as well.
"I don't think anyone foresaw the price shifts that occurred in the last 12-18 months," Mr Rinehart said.
"We have put controls in place that we can put in place but should we have an-other unforeseen global situation that drives prices, we can't control it – it's important to understand that this is a product of an old estimate and we want to make sure we up-date those, but it is also a product of unprecedented changes in price that council simply cannot control."
Council voted to approve the additional $113,156 to install the bridge guard rails and until that is done, temporary signage has been erected, 60km/h speed signs at both sides of the bridge approaches, guide-posts installed to define edges at both sides of bridge and approaches, raised reflective pavement markers until line-marking is ap-plied, and a "no overtaking" sign.
Most Popular