26 May, 2023
Donation helps preserve history
AS an open-handed act of generosity, the Mareeba RSL Sub-branch has received much needed funds from round one of the Great Northern Bullriding Series held at the Mareeba Rodeo grounds in April.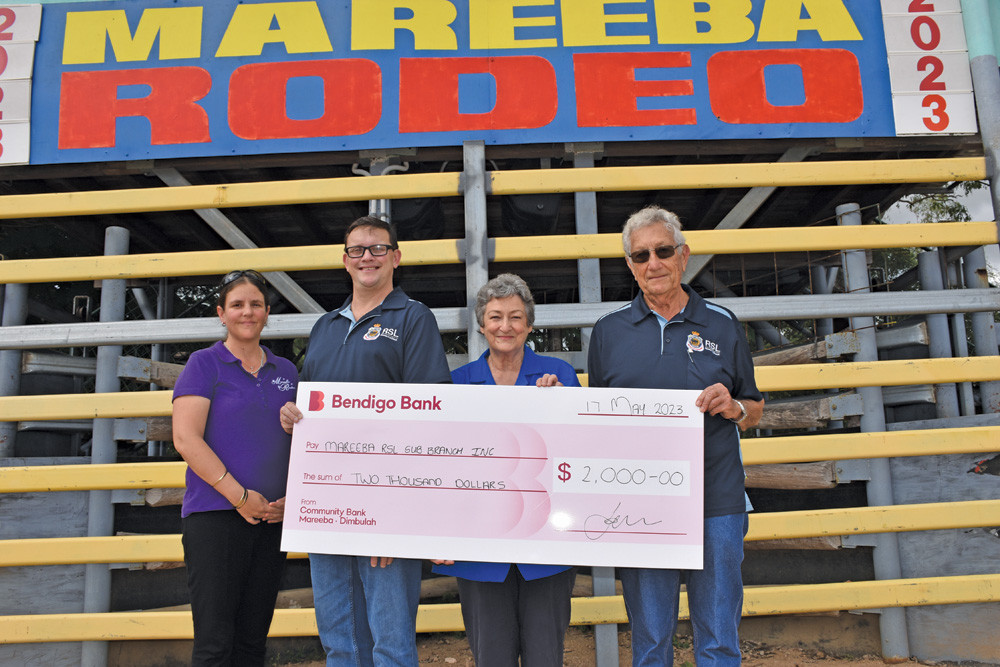 BY JAMES DICKINSON
The popular bull rides are not only the region's leading bull riding event but also provide aspiring bull riders the opportunity to showcase their skills and raise funds for select groups and charities with this year's chosen charity for the first round being the sub-branch.

The Mareeba round generated $2,000 which was donated last week and will support the functionality of the club and any future projects.
The RSL serves as a home to service men and women and as a reminder of the resilience and endurance they showed during and after their service.
The sub-branch is always expanding and currently has over 100 members, with the oldest being 98-year-old Bill Nielson and 97-year-old Gordon Powell.
Since the RSL building in Byrnes Street closed, the sub-branch has been tucked away and confined to a tiny shed at the back of the premises however just a few weeks ago, the sub-branch was
thrown a lifeline by the Mareeba Uniting Church congregation and was allowed to occupy their heritage-listed church on the corner of Walsh and Rankin Streets.
The opportunity to relocate arose after the sub-branch's secretary, Cheryl Powell Emmerson, drove past and noticed the church in a state of disrepair.
"Waste of a beautiful building," she said.
"You know, you would drive past and it would look all lonely… I thought 'what a lovely place for an RSL'."
After thorough discussion, the sub-branch negotiated with the church to establish a three-year lease at no cost in exchange for conducting simple mainte-nance tasks and as result, ensured a new base for the RSL in the heart Mareeba.
"We almost fell over backwards," president Ross Cuzzubbo said.
Works have begun to convert the church into a new home for the sub-branch and its members as well as a war museum and library that will be open to the public.
The new venue will feature both World War I and II artifacts, memorial plaques and information regarding locals who were involved in war with the hopes of educating visitors and preserving history
Most Popular