6 July, 2023
Dragon fruit QCWA's product of the year
A unique and unconventional fruit has been hailed as the Queensland Country Women's Association (QCWA) 2023 Primary Product of the Year.
By Brigitte Daley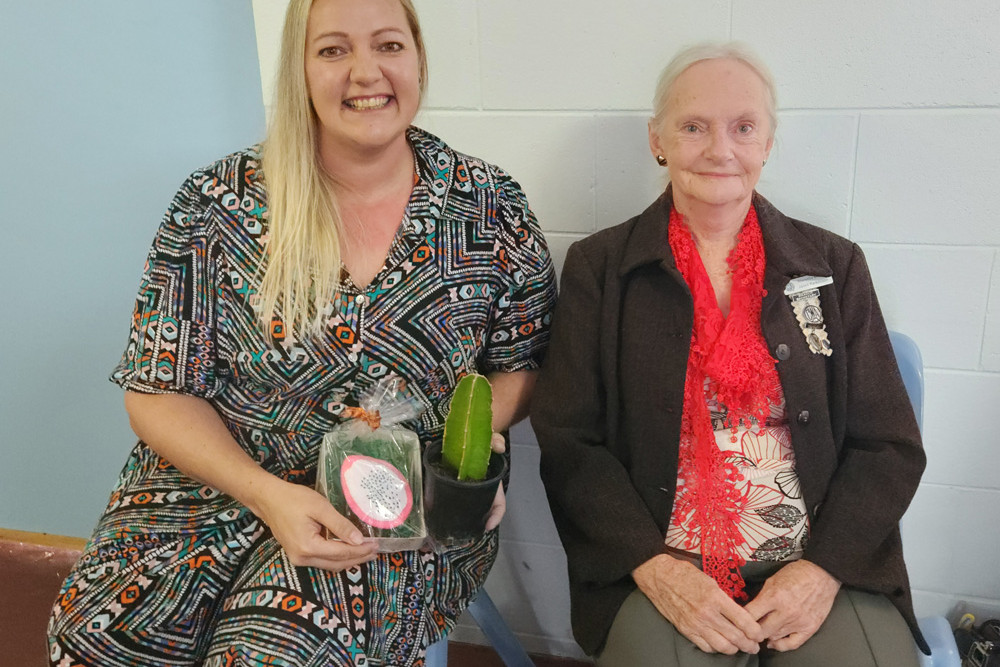 A unique and unconventional fruit has been hailed as the Queensland Country Women's Association (QCWA) 2023 Primary Product of the Year.
Dragon fruit originated in Mexico and is now being grown on the Tablelands. At the recent meeting of the Atherton Tableland Division in Mareeba, dragon fruit grower Angela Nason of Tablelands to Tabletop was guest speaker.
Angela's family started the business during the Covid-19 pandemic to encourage Queenslanders to consume local produce and told the audience about dragon fruit's startling nutritional attributes.
Since 2002, the QCWA has promoted a primary product each year. Malanda Branch member and past State vice president Dr Christine Reghenzani OAM said that any member could submit a proposal for the Primary Product of the Year with the decision being made at QCWA Council level by secret ballot as to which one gets selected.
"Over the years, primary products have included fruits such as bananas, apples, pineapple, tomatoes and citrus, root vegetables such as potatoes, beetroot and carrots, sugar and dairy of course, plus beef and sheep. This year we are promoting dragon fruit and next year, pumpkin," Ms Reghenzani said.
Part of the promotion will be to showcase the product on a tea towel, which is sold by branches around the State. Members also use the tea towel to make an article for the annual Product of the Year Tea Towel Competition.
At the conference, members select the winner through a gold coin donation, which raises funds for the association's community work.
"QCWA is a great supporter of those on the land. They are a reliable and trusted source of support during a crisis," Ms Reghenzani said.
"In 1991, the association established the Public Rural Crisis Fund (PRCF) to provide support for Queensland women and their families to ease the suffering from natural disasters or other crises.
"Every dollar raised by the QCWA goes directly to those in need and 100 per cent of all direct debit donations to the fund goes to recipient families. The association does not use these donations to fund their administration." Support is provided in the form of grocery vouchers, store vouchers or the payment of household bills such as a utility or a medical account.
"Last financial year, the Public Rural Crisis Fund processed 663 applications and distributed a total of $301,275.70," Ms Reghenzani said.
"We are currently assisting farmers and their families with household support in every part of Queensland, particularly in the north-west following the recent flooding in that area.
"The QCWA welcomes donations in support of their Public Rural Crisis Fund, which has deductible gift recipient status."
Each year the QCWA also offers a range of bursaries to assist secondary and tertiary students to continue their studies. Areas of study currently include agriculture and rural topics, medical, hospitality, photography, music and dance.
"The most generous of the bursaries is the Ruth Fairfax Memorial Bursary named in honour of our founding State president," Ms Reghenzani said.
"Two of these bursaries, worth $2500 each, are awarded annually to students under the age of 25 whose permanent home address is in Queensland, who have received an offer for tertiary study and who intend on pursuing a course with major rural content."
The QCWA is also concerned about landfill and to this end, the group's Agricultural & Environment Team coordinates a competition each year based on recycling clothes.
In 2023, members must showcase an old pair of jeans turned into a wearable garment of their choice. Extra fabric and trimmings can be added if needed to complete the garment.
"The creativity of members always astonishes me," Ms Reghenzani said.
Most Popular