15 November, 2023
Drilling down to prepare and respond to disasters
WITH the annual storm and wet season now officially underway, Tablelands authorities have been put through their paces to ensure everything and everyone is ready for the worst case scenario.
By Robyn Holmes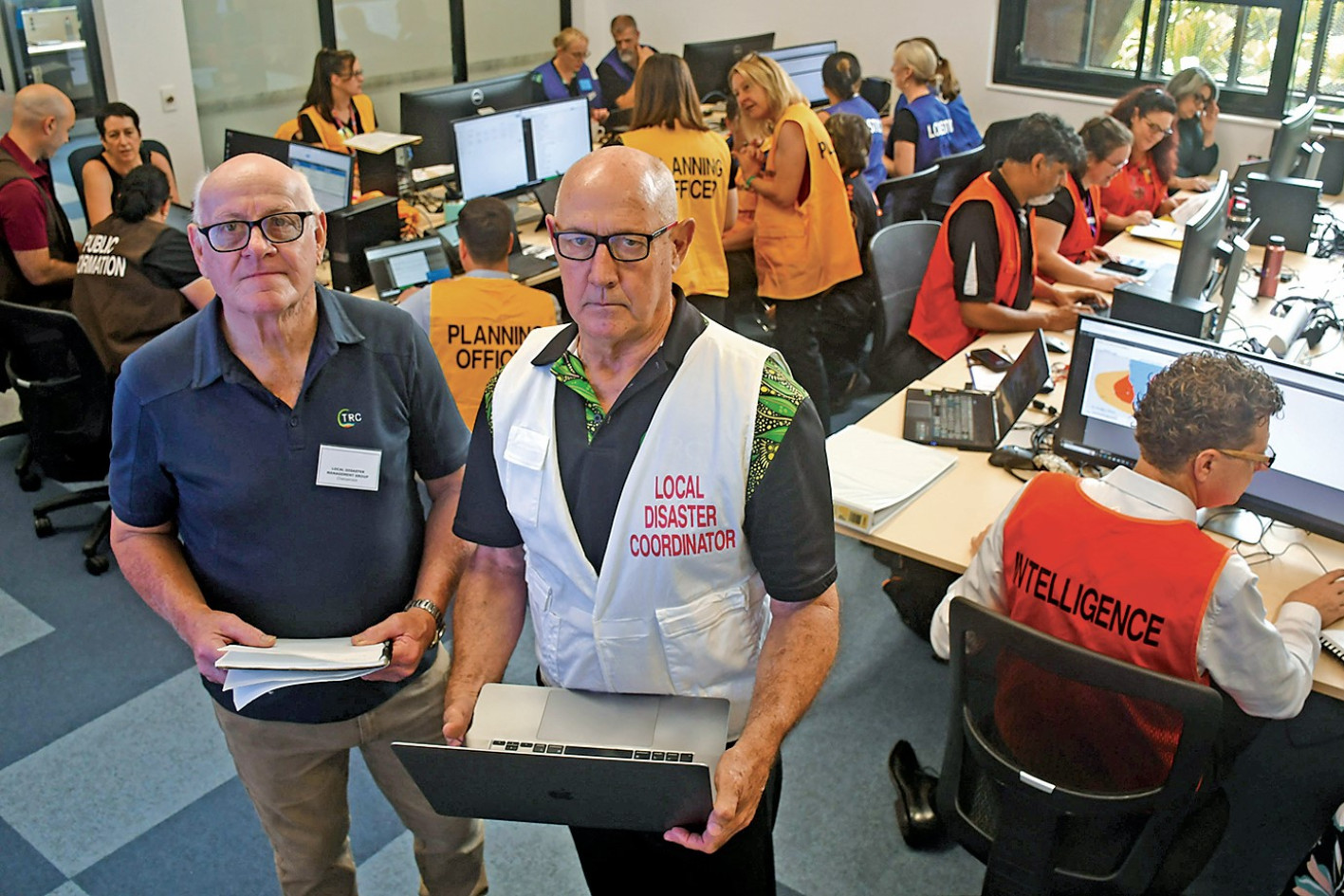 The Tablelands Local Disaster Management Group (LDMG) held its annual exercise last week, involving around 67 people including numerous council officers, police, ambulance, Queensland Fire and Emergency Services, Queensland Health, Red Cross, Telstra, Ergon and more to test their procedures in preparing for a tropical cyclone event. 
Under the scenario, Category 3 Tropical Cyclone Genesis was approaching the coast and anticipated to make landfall just south of Cairns, and with heavy rainfall and thunderstorms affecting the region. 
LDMG Chair Cr Bernie Wilce was front and centre during the exercise as was TRC chief executive officer Gary Rinehart who took on the role of local disaster coordinator.
"This exercise is to test the ability for our community groups to come together to basically prepare for a major incident," Cr Wilce said.
"It's aimed at really stretching the human resources to a point where we can look at our ability to cope.
"We're looking at what happens with these events such as disruption to normal facilities and infrastructure and localised flooding."
That usually meant the opening of evacuation centres and shelters but, as Cr Wilce explained, there's a lot of preparation required to open those types of facilities and even minute details were important to test.
"We're going into more detail today – so, say you want a bus to transport people to a shelter or evac centre, then we want to know where are they getting it from, who's driving it, how long will it take, and what people can bring on the bus," he said.
"Just to open an evac centre, it takes half a day to put the shutters on the windows and doors - you've got to get Red Cross there, have enough staff, you've got to get supplies, and police have to be there for security purposes."
Cr Wilce said they were also testing that if core operations such as water treatment plants and waste treatment plants were affected, how that information would be collated and quickly communicated to the public.
"The exercise will test our plans and see if they are any gaps – the big thing is the de-brief at the end and I expect we will take a lot of learnings from this," he said.
Cr Wilce said even though an El Nino was currently in play, which usually meant less cyclones forming, people should not become complacent.
"It does mean that we will have hotter than normal conditions and the Bureau of Meteorology is predicting the normal monsoon season will not really start until January," he said.
"But El Nino does not mean you won't get cyclones – a couple of the bigger cyclones that have made landfall have happened in similar weather conditions."
Cr Wilce said locals may mistakenly think they are safe from cyclones that cross the coast.
"But you have to remember that if a Cat 4 cyclone crosses the coast and comes up here, it could still be a Cat 2 when it reaches here, so we cannot be complacent," he said.
Cr Wilce urged homeowners to start preparing their properties now for the monsoon season.
"For example, check the condition of your roof – having been through a few of these things, to have a solid roof is so imperative to the structural integrity of your whole house so it's important to check it and get it re-screwed if necessary," he said.
"Get rid of what you don't need in your yard – when we had flooding in Tolga around 12 months ago it was quite extraordinary. A lot of debris got washed down and clogged on fence lines, and blocked culverts, so that debris in your yard could block things further down and cause flooding."
Cr Wilce said people should prepare an emergency plan, have supplies "like you're going camping for a week", make sure they know where they are going (and their pets) and to make decisions early.
"Make those decisions early because emergency services will not go out in the middle of 130km/h winds to rescue you," he said.
HOW TO PREPARE NOW
Keep gutters and down pipes clear so water can drain quickly

Trim trees and overhanging branches close to the house

Check and fix any corrosion, rotten timber, termite infestations and loose fittings

Ensure your home, contents and car insurance is current and adequate

Have bottled water supplies in case of water supply disruption

Make sure the car is fuelled up

Have cash on hand in case of power supply interruptions

Get medical scripts filled

Have non-perishable food, portable gas stove or BBQ, can opener and utensils

Check the first aid kit

Have a portable radio and spare batteries

Have a torch and spare batteries
For more information on getting prepared for storm season or any disaster event, go to TRC's website and download the Preparing for Disasters - All Hazards Guide.
Most Popular