30 September, 2023
Former award winners share stories
PAST local STEM Education Peter Doherty Award Winners from the Tablelands region were celebrated at the 20th anniversary gala event held in Brisbane recently.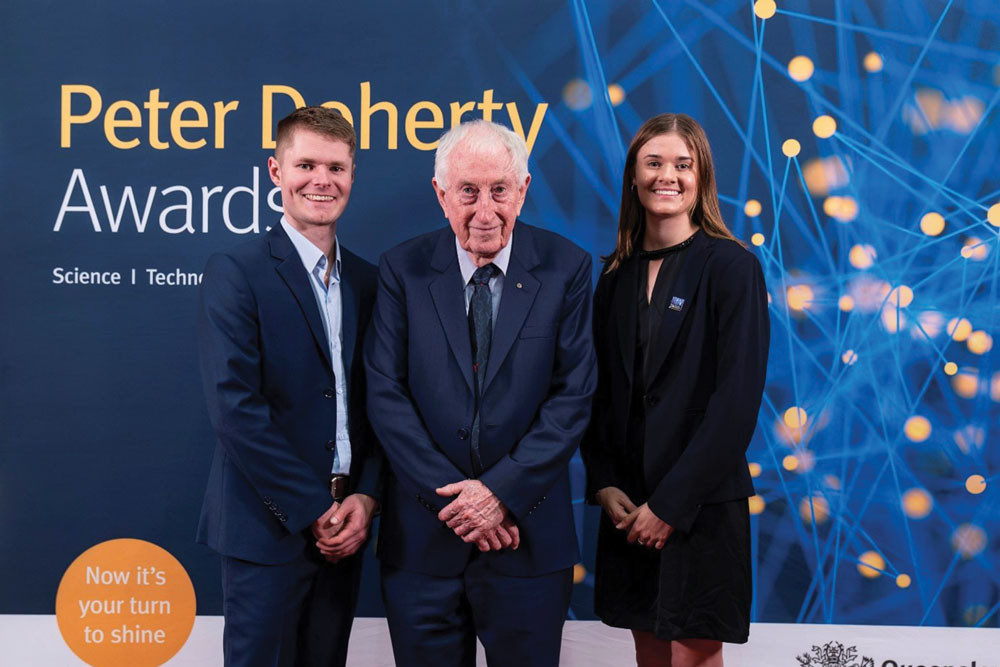 The awards are named after Queensland's Professor Peter Doherty AC and are a testament to the work done by the next generation of Grade 12 students, and the contribution of teachers, support officers, schools and educational partnerships.
Professor Doherty and his Swiss colleague Rolf Zinkernagel were awarded the Nobel prize for Physiology or Medicine in 1996 for their discovery of the nature of cellular immune defence. 
Professor Doherty is an advocate for innovation, liberal education and the role of STEM  (science, technology, engineering and mathematics) in society. 
This year, all past recipients of the awards were invited to attend the gala event.  
Former students of Kairi State School and Atherton State High School, Chris and Tahnee Dilger, were selected to deliver the vote of thanks and share their story after receiving awards in 2015 and 2021. 
In her speech, Tahnee highlighted the importance of making the most of what you have, when you're from a place where, "opportunities didn't just appear, you had to actively pursue them". 
This resonated with several recipients from as far as Mt Isa and Weipa, who appreciated the understanding of the distinct challenges students and teachers from rural areas face.
Chris shared his story of how he used the funds from the award to purchase a computer to run a web development business and complete a degree in Computer Science. 
During the degree, he used it to complete programming competitions, train machine learning models and host web applications – eight years later it continues to host websites from his garage. 
There have been many recipients from the Atherton Tablelands region during the past 20 years including: 
Malanda: 2021 Sahara Gobius – Outstanding Senior STEM Student Award 
Atherton: 2022 Billie Cummings - Outstanding Rural and Remote Senior STEM Student Award; 2021 Tahnee Dilger - Outstanding Rural and Remote Senior STEM Student Award; 2019 Nikolas Edsen - Outstanding Senior STEM Student Award; 2018 Michael Harris - Outstanding Teacher of STEM Award; 2015 Christopher Dilger - Outstanding Senior Mathematics and Technology Student Award; 2012 David Platz - Outstanding Teacher of Science Award; 2012 Benjamin Ruscoe - Outstanding Senior Science Student Award 
Mareeba: 2012 Brenden Crago, 2010 Lauren Leighton, 2005 Ewan Batchelor all for Outstanding Senior Science Student Award.
Most Popular