19 August, 2022
Froggy jams it out with music lovers
THERE is only one thing local band Froggy Le Blanc loves more than entertaining crowds with their quirky song selection – jamming out with like-minded live musicians at Tablelands Music Lovers.
By Rhys Thomas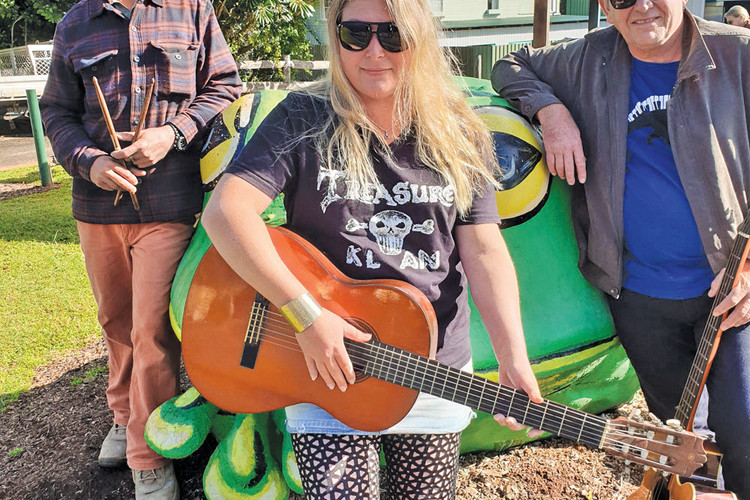 Froggy Le Blanc was formed just over two years ago and while there have been other band members come and go over time, the three core members remaining are Gabby as the main vocalist, Geoff and Adam. 
As many of the band members often chop and change instruments, there isn't a set repertoire the band follows but they do play a mix of keys, guitar, bass, drums and percussion. 
The band takes pride in their wide range of song selection with hits from artists like ACDC, Johnny Cash and Billie Eilish all part of their regular line-up, with some originals mixed in. 
Despite their array of songs, the band is very selective about what they choose to play as they don't like to follow what other bands are doing, instead choosing to be "quirky". 
"We don't use the same song that every other band in the world plays, we will pick something else from that artist that is still a hit but we will try that, it might be a little bit more challenging," Geoff said.
"Pokerface by Lady Gaga is a good example, tell me if you have heard of another pub band playing that.
"Bad Guy by Billie Eilish, Riders in the Sky by Johnny Cash – they may be a bit quirky but we like them and they sound good." 
The band plays at many of their venues for cheap because for them, it isn't about the money, it is about the love of music – making them feel right at home with Tableland Music Lovers. 
One of Froggy Le Blanc's latest gigs was at the Walsh Community Centre, where they volunteered their time to help raise funds for the local Rural Fire Brigade, band members would also often man the doors or help run the bar at Music Lovers events. 
They have an upcoming event at the Atherton Performing Arts centre in September with a date yet to be decided, it will start with an open mic night and finish with a performance from Froggy Le Blanc.
"Music Lovers gives us an opportunity and a venue, we have played at a couple of their really big gigs," Geoff said.
"Everyone is very welcoming as well, it all revolves around music so we often jam together and as a musician that is what you do together, get up and play with your friends. 
"We would go at least once a fortnight to jam and we would get up and play with Ben Wilson, finish the night as a duo, jump in with someone, Gabby would go up and play the drums for a new up and coming artists I would go up and play guitar for them.
"Not as Froggy Le Blanc, just as Tablelands Music Lovers members."
However, with Music Lovers recently losing their venue, the club is holding its jam sessions, open mic nights and other associated events less frequently.

Most Popular