25 July, 2023
[MEDIA RELEASE] FULL PROGRAM REVEALED FOR REGIONALITY CAIRNS 2023 PRESENTED BY AIDC AND SCREEN QUEENSLAND IN COLLABORATION WITH SCREENWORKS
AIDC and Screen Queensland, in collaboration with Screenworks, are pleased to reveal the full session program and speaker line-up for the second REGIONALITY CAIRNS documentary and factual industry event, happening at Cairns Performing Arts Centre on Friday 28 July 2023.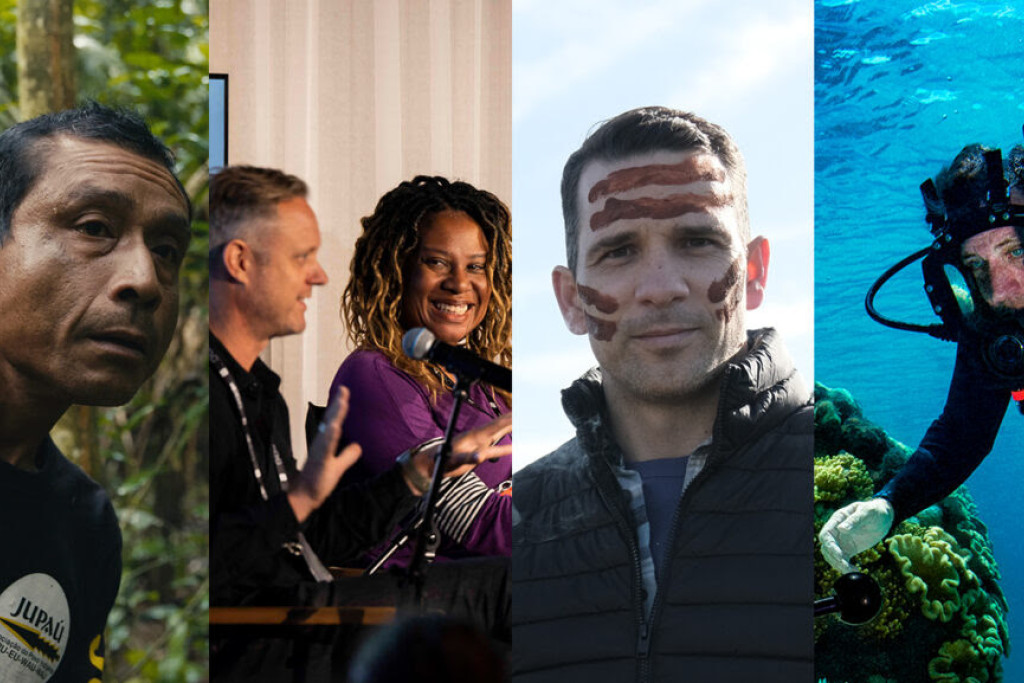 This year's packed one-day program provides exclusive insights into co-creation and impact campaigns, how to access film funds and ready projects for pitching, a masterclass on wildlife filmmaking, a focus on First Nations factual series, sector networking and curated 1:1 meetings with industry representatives - all designed with the needs of regional doc and factual practitioners in mind.
Leading the program is Co-creation and Impact with the team from The Territory, an exclusive session with director Alex Pritz and impact producer José Neto from the 2022 Peabody and Sundance Film Festival award-winning National Geographic documentary. An on-the-ground account of the tireless fight of the Indigenous Uru-eu-wau-wau people against deforestation in the Brazilian Amazon, The Territory has proven to be a game-changer in terms of authentic collaborative filmmaking and the generation of tangible, global impact and legislative change. Alex and Jose will reveal how a dynamic team of both local indigenous and international key creatives came together to take a local story to global audiences, creating one of the most powerful films of the year.
For those seeking inside knowledge of the latest developments in the natural history space, Natural Talent: A Masterclass in Wildlife Filmmaking brings together the production companies and cinematographers deploying new filming technologies in order to capture the lands, seas and skies of Far North Queensland. Richard Fitzpatrick of leading aquatic and natural history production company Biopixel, joins Phil Breslin, host of First Weapons and creator of Built to Survive, and Dr. Teresa Carrette of science communicators Scientific Synergy, to talk about new ways of capturing the unique natural landscapes of the region.  
Phil Breslin also joins the special panel Focus On: First Nations Factual Series, celebrating the First Nations storytellers who are working across multiple formats, genres and audiences to create some of this year's most highly anticipated series. Alongside Bacon Factory Films' Dean Gibson (Incarceration Nation, First Weapons) and Inkey Media's Dena Curtis (Back to Nature, Rebel With a Cause), the session will provide an essential deep dive into First Nations storytelling and craft.
For practitioners looking for industry insights and vital practical knowledge to help them get projects positioned for market readiness and ultimately funded, REGIONALITY CAIRNS presents two highly constructive sessions: Pitch Toolbox: The Must-Haves to get you Market-Ready, in which broadcasters ABC and SBS, streaming service DocPlay, and screen agency Screen Queensland, will provide insights into market trends, what they support, and how to pitch to them; and Industry Roundtable: Meet the Film Funds Making a Difference, featuring representatives from global organisations Doc Society and the International Documentary Association (IDA) revealing local and international opportunities for funding and mentorship.   
For filmmakers pitching a project, seeking direct knowledge or wishing to make new connections, REGIONALITY's Doc Chat 1:1 Meetings program returns, with all delegates eligible to apply for face -time with decision makers and special guests of the event. And to cap off the day, Networking Drinks will see all attendees invited to catch-up with industry peers, make new connections, and celebrate the talented regional and FNQ community of documentary and factual creators.
Screen Queensland Acting CEO Dr Belinda Burns said Screen Queensland is excited to partner on REGIONALITY CAIRNS for the second year in a row.
"We are delighted to bring this invaluable event with its stellar program back to Cairns for another year. REGIONALITY CAIRNS provides a unique opportunity for local practitioners to connect with national and international industry leaders in the factual space. It's also a great platform to showcase the flourishing North and Far North Queensland screen industry and its talented and diverse practitioners."
Screen Queensland is also offering practitioners based in Far North Queensland and North Queensland the opportunity to apply for travel support through their Market Grants program to attend REGIONALITY CAIRNS. More information can be found at https://screenqueensland.com.au/initiatives/aidc-regionality-cairns-2023-market-grants/
Proud to once again bring AIDC's world-class programs and opportunities to Far North Queensland, AIDC CEO / Creative Director Natasha Gadd noted the effort made to ensure the program is as relevant as possible for regional delegates:
"Following the incredible reception of last year's inaugural Regionality event in Cairns, AIDC can't wait to return with this year's stellar lineup of sessions, speakers and networking opportunities for regional Queensland doc and factual storytellers.
Thanks to our collaborating partners at Screen Queensland and Screenworks, we are thrilled to be able to bring this vibrant industry event to Far North Queensland to connect regional Queensland talent with local and international decision makers, inspire new creative ideas and connections and highlight the distinct and multifaceted storytellers in the region."
Tickets for REGIONALITY CAIRNS are on sale now through AIDC, priced at $80 inc GST, or $70 inc GST for AIDC and Screenworks members, and $55 inc GST for students, and provide access to all five sessions, Doc Chat sign-ups and networking drinks.  
REGIONALITY CAIRNS takes place Friday 28 July 2023 at Cairns Performing Arts Centre (CPAC). Visit aidc.com.au for more information.
Most Popular