14 August, 2023
Gladiators win to reach semi-finals
IN a nail-biting showdown that unfolded under the lights at Davies Park on Saturday night, the Mareeba Gladiators A-Grade team triumphed over Yarrabah with a final score of 36-28, securing their place in the finals for the first time since 2017.
By Ellie Fink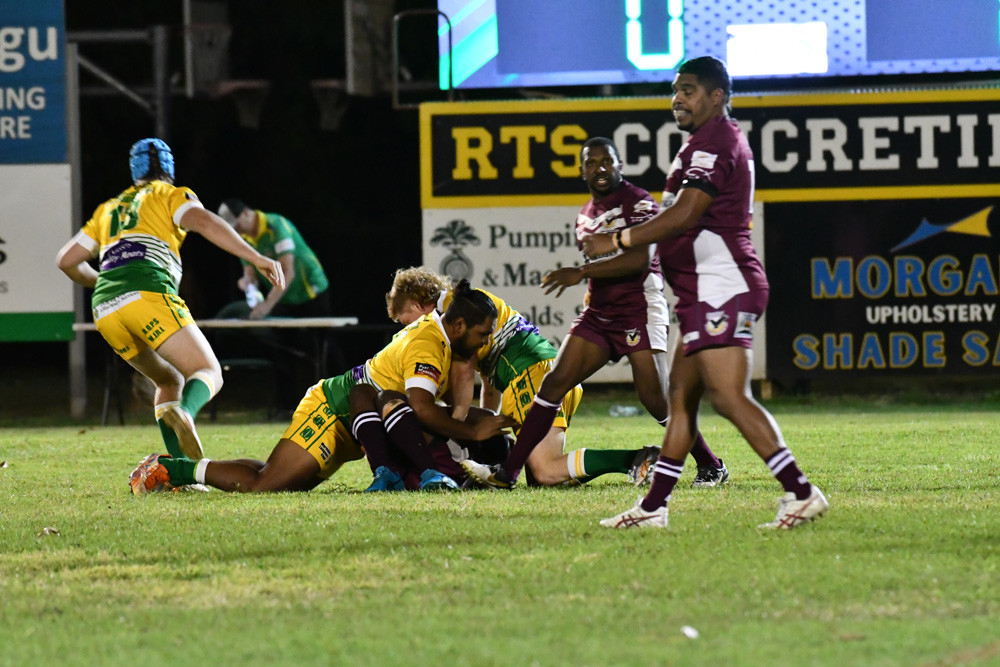 The "do or die" clash saw a bumper crowd, giving the team confidence to perform at their greatest. 
The momentum shifted back and forth in the early stages before the Gladiators took charge, establishing a commanding halftime lead of 26-12.
The second half witnessed a remarkable resurgence from Yarrabah, as they fought valiantly to narrow the gap to 32-28. 
However, the defining moment arrived in the 79th minute when Kyan Sheppard executed a crucial try, sealing their victory at 36-28 and thrusting them into the finals.
Coach Chris Sheppard said he was proud of his players for their efforts against Yarrabah, and was confident they will bring the club to victory in the semi-finals. 
"It was a very physical game that was pretty stop, start and I couldn't be prouder of our boy's discipline. I'm just glad we hung tough at the end there and then sealed the game late," he said. 
"Young Noah Blooranta was going well until we lost him about 20 minutes in, knocked unconscious after scoring a try and that threw our rotation a bit. 
"I didn't see the incident live, but our players were filthy, and the referee saw fit to dismiss the offender so it mustn't have been good. 
"We'll have a look at the video and see what it shows but our priority is getting Noah back to full health."
Sheppard also praised the efforts of key players Caleb Dally, Kurt Jackson, Ricky Shave, and Ryan Flegler for their outstanding performance.
Club president Darrin Hastie commended the team on the victory and their ability to match up against Yarrabah. 
"For Yarrabah, when it comes to semis or any other game, they're always up for it and so I have to give full credit to Sheppard for what he did last week to get the guys prepared both physically and mentally," he said. 
"It's worked great on his behalf… and he knew they'd be ready to play the whole 80 minutes."
In other divisions, the under 18's team secured a forfeit win, while the reserve grade capped off their season on a high note, clinching another victory with a close score of 38-36.
Mareeba's A Grade team will now face off against Cairns Brothers at 5.20pm on Saturday at Jones Park. The team is calling on the community to make the trip down the hill to support them. 
"You've done yourself and the town proud, so just continue doing that," Hastie said. "Stay focused, enjoy yourselves and hopefully we come home with a victory."
Mossman will lock horns with Kangaroos in what promises to be a riveting clash, with both encounters carrying the weight of sudden-death consequences.
Most Popular