14 May, 2023
History to be made in Malanda
HISTORY will be made at this year's Malanda Show when the Queensland State Finals of the Young Dairy Judges and Dairy Paraders are hosted on Friday 7 July 2023 during the annual event.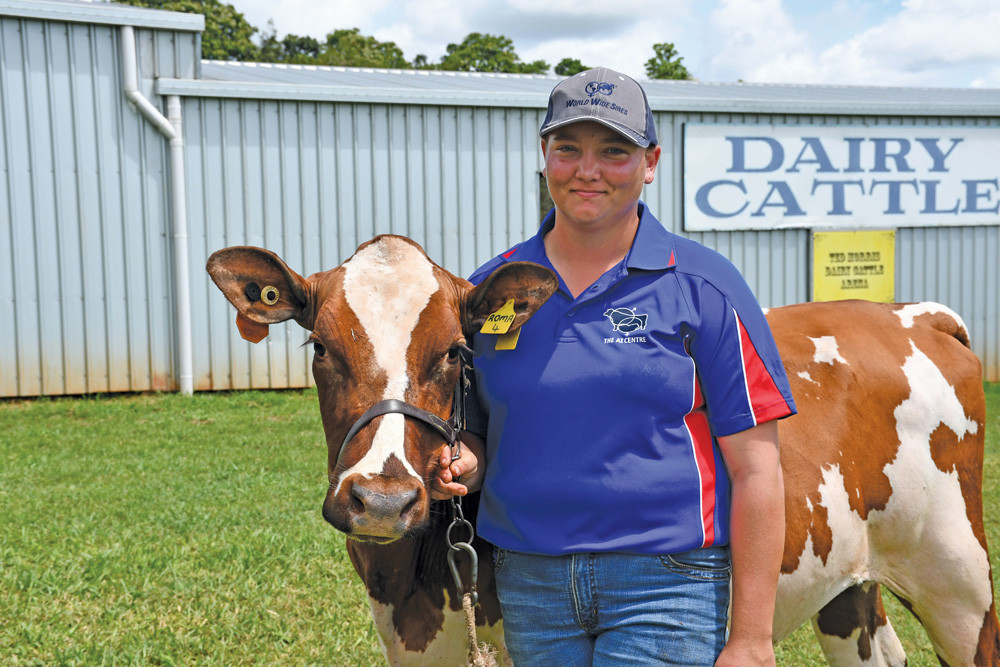 The dairy section of the Malanda Show is widely recognised as being one of the premiere dairy shows in Australia.

Malanda Show Society manager Kate Stokes said the show had never hosted this event before as it was generally hosted at the Brisbane Exhibition.
"However, Queensland Agricultural Shows recognise that our rural shows have wonderful dairy displays hence the moving of these competitions to other venues," she said.
"Recently Jerry English won the Queensland title and went to the Sydney Royal Show in 2022 where he competed in the National Finals.
"Another Tablelander, Terese Daley, represented our sub-chamber in 2022 at a State level and was placed second.
"The Malanda Show Society is honoured that our dairy exhibit has been recognised by Queensland Agricultural Shows and acknowledged in this way."
Malanda Show Society president Greg English said that to his knowledge, the finals had never been held outside of Brisbane before.
"It's a fantastic event for Malanda Show and for the whole region as a dairying community," he said.
The Queensland Agricultural Shows Young Dairy Judges and Young Dairy Paraders Competitions are conducted on a state-wide basis.
The competitions are held across three levels – Local Agricultural Show, State and National Finals.
"It is such a wonderful opportunity for our young people to compete at a state level in front of their own home crowd," Greg said.
The aim of the competitions is to develop the judging and parading skills of young people to ensure a selection of experienced judges for future Agricultural Shows. Competitors also benefit greatly by improving their communication and presentation skills.
The Young Dairy Judges and Young Dairy Paraders competitions offer significant personal and professional development opportunities for young people.
The ability to network with, and learn from industry leaders, while developing skills such as public speaking and personal confidence is a great opportunity for young people.
The criteria for judging Young Dairy Judges is based on developing the skills and knowledge of the entrants, so emphasis is placed on the ability of entrants to justify the reasons for placing the animals.
The skill required to justify the competitors' placements and to be able to articulate those in public are hugely beneficial in professional life and are highly valued.
Both these competitions provide a great platform for young people to become involved in the dairy stud industry.
"It is also a great opportunity for us to showcase our dairy show to the wider dairying community through Queensland and Australia," Greg said.
"It is sure to be a magnificent day and a historic one as well."
Due to the closing date for qualifying for the State Finals in both these competitions being 30 June 2023, it has been decided to hold a "local standalone qualifying competition".
The Malanda Young Dairy Judges and Young Dairy Paraders Selection Morning will be held on Sunday 4 June at the Ted Morris Judging Arena, Malanda Showgrounds with a 10am start time for the Young Dairy Paraders Competition with Young Dairy Judges to follow.
Spectators are welcome and light refreshments will be available.
The following conditions of entry apply:
Participant must be 15 years to 24 years (inclusive).

Animals for the Judging Competition will be supplied.

For the Parader Competition, participants must organise a dairy heifer for the day.

Participants do not need to own the heifer, but she must be registered.

Dairy Heifer to be Under two-year DRY.

It is not a requirement that the heifer be clipped.

Nominations close midday on Saturday 3 June.

Nomination Forms and Indemnity forms must be completed and returned to Anne prior to midday on 3 June 2023.
For more information, contact: Anne Daley on 0419 972 616 or email misty_glen@hotmail.com
Most Popular