20 April, 2023
Hotelier fires up over Mayor visit
ATHERTON hotelier Michael Nasser has warned Tablelands Regional Council that his business would be devastated if plans to reverse the direction of a one-lane road and remove a critical distribution shed at the back of his pub goes ahead.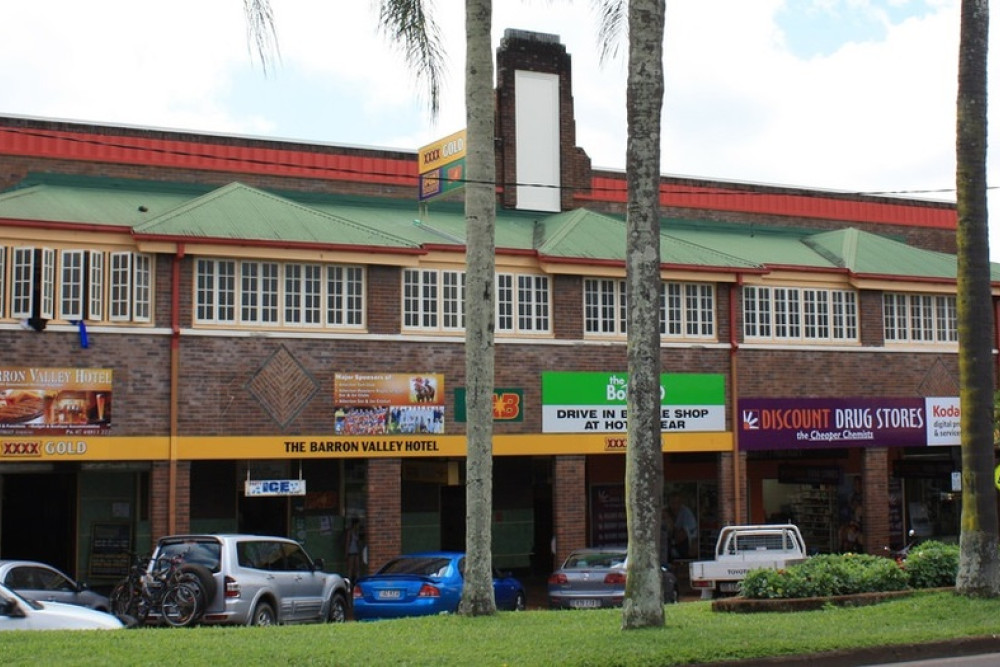 The well-known businessman and owner of the Barron Valley Hotel came out with both barrels firing when he attended last week's council meeting, accusing Mayor Rod Marti of turning up at his business unannounced to advise him that a storage shed at the back of the hotel would have to go as part of the Priors Creek redevelopment project and that the direction of traffic along the one-lane road would be reversed.

According to chair of the Priors Creek Steering Committee, Cr Peter Hodge, neither of those two components have been officially endorsed by council and are only part of a concept plan.
Mr Nasser was blunt in his advice to council, saying that if the shed had to be removed and the traffic direction reversed, "it would just about put us out of business".
He said losing the distribution shed would negatively impact his business by 75 per cent, while reversing the traffic direction would have such a great effect on the drive-through bottleshop that it would have to be closed.
He said the facility currently serviced an average of 1200 vehicle customers each week.
"The Mayor let me know that his engineers recommended the removal of the shed as it would be an eyesore for the development and the matter was final," Mr Nasser said.
"We use this shed to store maintenance equipment, a forklift and every Tuesday, receive 30 plus pallets of merchandise which are stored and distributed to our three bottle shops and over 10 local businesses, sporting bodies and farms.
He said the distribution shed housed alcohol on behalf of a number of sporting bodies because it was more secure than their own facilities.
"There's also two tonnes of ice which is our highest selling item," Mr Nasser said.
"I explained there was no alternative to accommodate this volume of distribution and the Mayor's response was 'I don't care', 'that's not my problem', and 'I have no choice in the matter'.
"The Mayor's attitude and responses during our unexpected conversation frankly left me feeling bullied, stressed and anxious. The Mayor's lack of empathy, flexibility and unwillingness to discuss the situation have given me deep concerns for the governance of our community."
Mr Nasser said the whole encounter had stressed him greatly and caused him such anxiety that it could impact upon his serious heart condition.
He said he was prepared to renovate the exterior of the distribution shed or it could even be an ideal space for a mural.
"Would the council be willing to discuss the 'eyesore' concerns?" he asked.
"Would the council be prepared to disclose the Priors Creek development's current plan along with the planning and approval process?"
He told council he wanted the matter resolved as soon as possible so the hotel had a clear direction.
"I can't relax until this is sorted out and can't wait two weeks (for the next council meeting)," Mr Nasser said.
But Deputy Mayor Cr Kevin Cardew, who chaired the meeting in Mayor Marti's absence, said council had sought legal advice and a decision would be forthcoming at the ordinary meeting on 27 April.
Cr Peter Hodge told Mr Nasser that the decision would be made by all seven councillors at the next meeting.
"I am here to represent the people of our town and I won't let you down," he said.
The Express emailed Mayor Marti for a response but he currently on leave and overseas and did not respond.
Most Popular