27 October, 2023
Innovative technology for regenerative farming in Far North
Terrain Natural Resource Management (Terrain NRM) will be bringing innovative soil technology to the Wet Tropics region thanks to a new project funded by the Tropical North Queensland Drought Resilience Adoption and Innovation Hub (TNQ Drought Hub).
By Brigitte Daley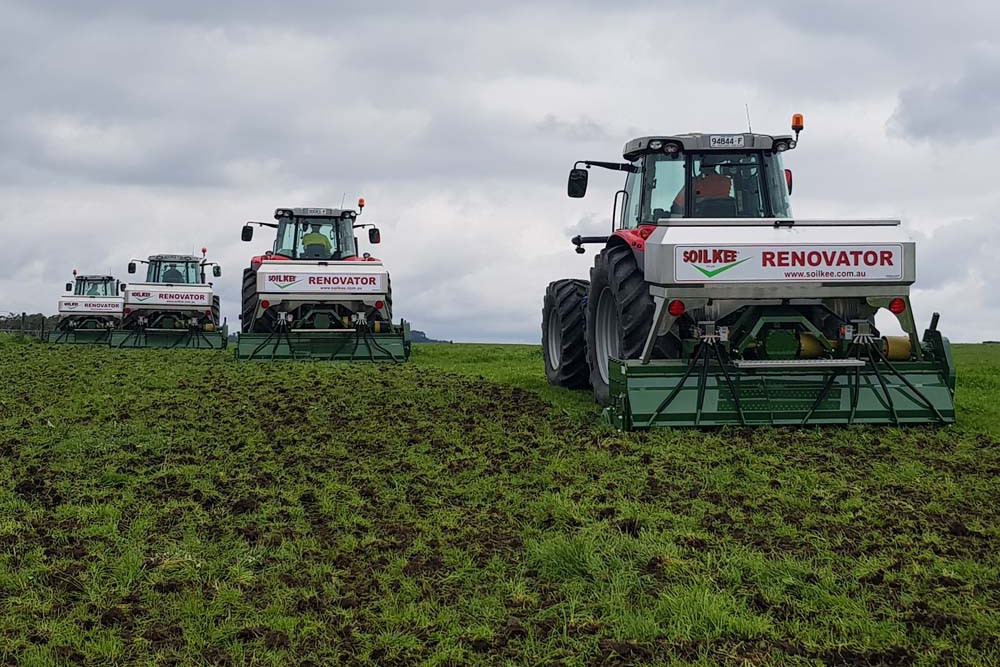 Atherton Tablelands agronomist Sally Fields said Terrain would create a demonstration site for the Soilkee Renovator on an Atherton Tablelands farm and would thoroughly assess the seed planter's potential to improve pasture quality, fertility and resilience in the Wet Tropics.
"This project is all about activating regenerative soil functions and fertility, increasing the soil's water-holding capacity and building stable soil carbon in pasture while eliminating the paddock downtime that's traditionally associated with pasture renovation,'' Sally said.
She said project staff would also work closely with Victorian farmer Niels Olsen, who invented the Soilkee Renovator.
A worldwide patented innovation, the Soilkee Renovator is a key component of the patented Soilkee System which earned the first carbon credits under the government regulated Emissions Reduction Fund.
It has been hailed as the one pass solution for productive, profitable, resilient soils.
Inventor Niels Olsen was a speaker at the highly successful Soil to Food conference held over two days at the Trimarchi farm in Atherton earlier this year.
The Soilkee Renovator is a pasture cropping system which enables producers to plant seasonal crop and pasture seeds into existing pasture to fill feed gaps.
It also enhances the growth of the existing pasture and builds a resilient topsoil.
The specialist seed planter can sow a diverse mix of seasonal seeds and seed sizes ranging from clover seed to faba beans with minimal paddock disturbance.
The Soilkee renovator works by creating a minimum till disturbance in spaced apart rows by means of rotating blades to create a competition free seed bed for successful germination, leaving around 80% of the pasture undisturbed.
The undisturbed portion acts as a cover crop which protects the soil from the elements and reduces erosion.
While creating the seed bed the Soilkee Renovator provides additional benefits of aeration and a green manure crop within the worked up portion, providing aerobic conditions and a food source that activates the soil fungi, bacteria and earthworm populations and the natural soil processes they perform.
The unique action of the Soilkee Renovator activates soil life.
This improves fertility and increases plant growth as indicated by independent trial results.
It allows producers to reduce their brought in feed costs and better utilise their fertiliser inputs and soil nutrient reserves by making them plant available.  
"Precision planting of winter annuals into tropical grasses increases diversity and resilience in slow-growing periods," Sally said.
"It also allows for slower rotation of cattle and gives graziers more options for stock movements and carrying capacity during the cooler months.
"And it can help to develop healthy soils, improving their capacity to retain moisture and activating the nutrient cycle."
The project includes monitoring to assess soil health and fertility, vegetation diversity and erosion control.
Terrain NRM plans to plant the demonstration site next April.
The Wet Tropics region's Natural Resource Management organisation secured a share of $350,000 in funding from the Tropical North Queensland Drought Resilience Grant Scheme, designed to boost the agricultural sector's resilience against drought and climate variability.
Other projects look at bare soil rehabilitation (James Cook University), silvopastural systems (Gulf Savannah NRM) and satellite-based water analysis for drought planning (Southern Gulf NRM).
The grants scheme is supported by the TNQ Drought Hub, through funding from the Australian Terrain NRM, one of 56 regional natural resource management bodies around Australia.
Terrain is a community-based not-for-profit organisation that works with local partners in the Wet Tropics region so that our soil, water, landscapes, plants and animals remain healthy and continue to support great communities.
Most Popular