30 September, 2023
Innovative vision for postcode 4885 area
MALANDA and surrounding districts are poised for some constructive times ahead judging by the keen attendance of 22 members at the recent Vision 4885 Annual General Meeting (AGM).
By Brigitte Daley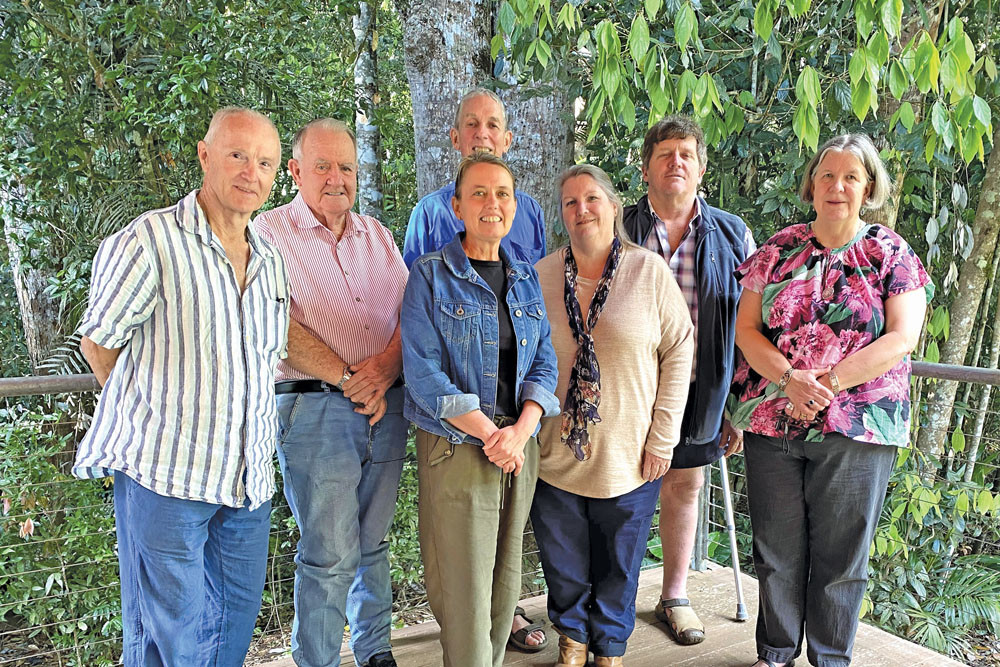 The 2023 newly-elected executive comprises of chairman Phil Slocombe, deputy chairman Robert Hamilton, secretary Julianne Parise and treasurer Lyn Cox. 
The culmination of an idea which was formed and discussed by community members over a period of about five years, some 76 people attended a public meeting conducted at the Malanda Showground supper rooms on 28 July 2021.
With the resulting formation of the first management committee, Vision 4885 was officially incorporated on 11 February 2022.
Vision 4885 exists to facilitate positive action, within its area, by liaising and networking with local groups and individuals to achieve commonly agreed goals and objectives.
It focuses on fostering and assisting community residents and organisations, who seek support for their initiatives and endeavours, especially where those initiatives and endeavours meet the hopes, aspirations and wellbeing of the residents of postcode area 4885.
This area includes Kureen, Peeramon, North Johnstone, Butchers Creek, Topaz, Towalla, Glen Allyn, Hillcrest, Jaggan, Tarzali and Malanda.
A search conducted by the initial steering committee for all the groups which existed in the area resulted in more than 80 being identified and collected.
Vision 4885 chairman Phil Slocombe said the committee would continue to work towards the stated goals of the organisation.
"Having done a lot of hard work in establishing and incorporating the group, we are now looking to expand our membership base," Phil said.
"In order to achieve goals focused on supporting, empowering and connecting the local community, the group needs the support of the community.
"Membership is invited from any individual or group living or operating within the 4885 area."
While there are a number of activities undertaken under the banner of Vision 4885, it is the group's role not to conduct projects but to provide facilitation and support for those who do or who see a need for a particular issue to be addressed in the community. 
Deputy Chair, Rob Hamilton has been appointed to a position on the Tablelands Regional Council (TRC) Agriculture Advisory Committee and will be keeping Vision 4885 informed on agricultural matters affecting landholders.
Recently, Vision 4885 alerted the community to the risk of government plans to divert water from the North Johnstone River to Tinaroo Dam.  
With some local landowners opposing the idea, Vision 4885 was able to facilitate the establishment of an independent committee headed by Ian Beck to look into the issue of the proposed diversion and to offer a much more realistic and sustainable outcome.
Vision 4885 has been providing some assistance to Landcare with the facilitation of meetings and connections in relation to a project they are currently focused on in the Malanda Falls/Johnstone River area.
It has also assisted the community in their efforts to delay the premature sale of the Malanda Caravan Park.
Vision 4885 secretary Julianne Parise said the organisation sought to foster connection between community members and groups. 
She said one of the highlights of the AGM was the attendance of community members who have not previously attended.
"We had a number of community groups represented as well as individual members of the community," Julianne said.  
"Attendees were invited to join us for dinner prior to the meeting and this proves to be a great platform from which connections can be made and 'community spirit' engendered." 
"We also welcome everyone to drop by our stall at the Malanda Chamber of Commerce Christmas Street Festival on Thursday 23 November 2023."
Asked for his comment, Tablelands Regional Councillor Dave Bilney said Vision 4885 provided a vehicle to assist residents to become connected to the community for a particular purpose or need.
"Some people or groups may not wish to be members of traditional community organisations with Vision 4885 providing that opportunity and filling a perceived void," he said.
Membership does not require a commitment to attend meetings, although it is hoped that social meetings can be held periodically to facilitate connection within the wider membership.
For further information, email info@vision4885.com.au or www.vision4885.com.au.
Most Popular