18 November, 2022
Lamont bulls put the buck into bull riding
While the cowboys were focused on relaxing before taking on the "most dangerous eight seconds in sport" and the spectators were selecting their showiest jeans and shirts to wear on the night, there was one group of people hard at work all the way through Atherton's big bull ride last week.
By Sally Turley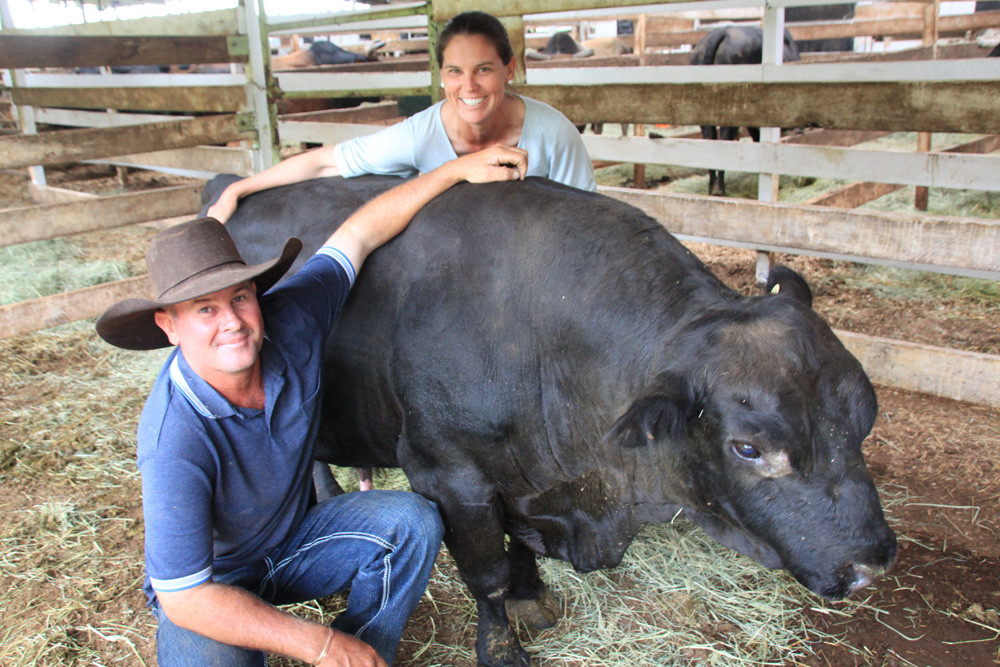 Leslie and Rebecca Lamont of the 106,000 hectare Hyde Park Station, 220km south of Charters Towers were flat out at the Malanda Showgrounds, feeding, watering and getting ready to reload the stars of that night's show.

The superior cattle facilities at Malanda, meant they had unloaded and rested their bulls there before carting them on to Atherton for Saturday's event. Unfortunately, their road train's electric winch on the ramp of their double decker crates had chosen that moment to chuck it in.
With just a couple of hours left to get their winch working properly and their team of bucking bulls loaded, shifted, unloaded and penned up ready for their night's work, it was action stations for the Lamont contracting team.
But as an ex-rodeo competitor himself, with his own "cupboard full of ABCRA All-Round Cowboy buckles" at home, Leslie is used to the pressure involved in the sport. A bit of bush auto-electric work soon had the crisis resolved and their team of bulls delivered in time.
Leslie and Rebecca started breeding rodeo bulls six years ago and their team of 43 bovine athletes now supply the big Mareeba Rodeo and the Great Northern Bullriding Series, including the event's Atherton 2022 final last weekend.
Established stars like "Blackjack", grandson of American star and three-time Professional Bull Riders (PBR) World Champion Bull "Little Yellow Jacket" and the never successfully ridden "Springloaded", have recently been joined by some new squad members.
Responding to the growth of popularity in miniature bull riding on the circuit for junior competitors aged 6-14 years of age, the Lamonts picked up three new bucking boys from the Malanda High School Lowline stud while they were in town.
Mini-bulls are usually Dexter, Lowline or Zebus and must conform to an industry height specification of no more than 122cm high. Other than their size though, they're just like normal bulls, displaying plenty of power and a wide range of temperaments and bucking styles.
Despite their fierce reputations in the rodeo ring, Rebecca Lamont said their Longhorn/Brahman cross bulls are a pleasure to deal with at home.
"They live in a paddock up against a mob of maiden heifers and we have never had any trouble with them," she said.
"Typically, regular herd bulls are difficult to muster because they are busy brawling each other to sort out who is boss but because these guys live, work and travel together all the time, they don't even waste their energy fighting amongst themselves."
Covid has been pretty bad for business and this is only the fourth rodeo the Lamonts have at-tended this year, but mustering Rebecca's parents' substantial herd of red Brahman cattle they breed and fatten on Hyde Park has helped keep them busy.
In her spare time, the entrepreneurial Rebecca has been busy breeding Speckled Park cattle for the Central Queensland market, breeding and selling Dachshund puppies and rearing poddied beef calves on a mob of dairy cows.
"I have developed a huge market for dairy cows amongst Central Queensland beef producers," she said.
I have about 50 milkers which I use to raise our own beef calves that have lost their mothers and I source milkers from Tableland farmers, train them up and on-sell them to other graziers who want them for their own calves."
Most Popular