21 August, 2022
Landowner defends closure of track
A YUNGABURRA landowner has defended his right to deny people access to his property after he erected biosecurity signs over a popular walking track, sparking unrest among some locals.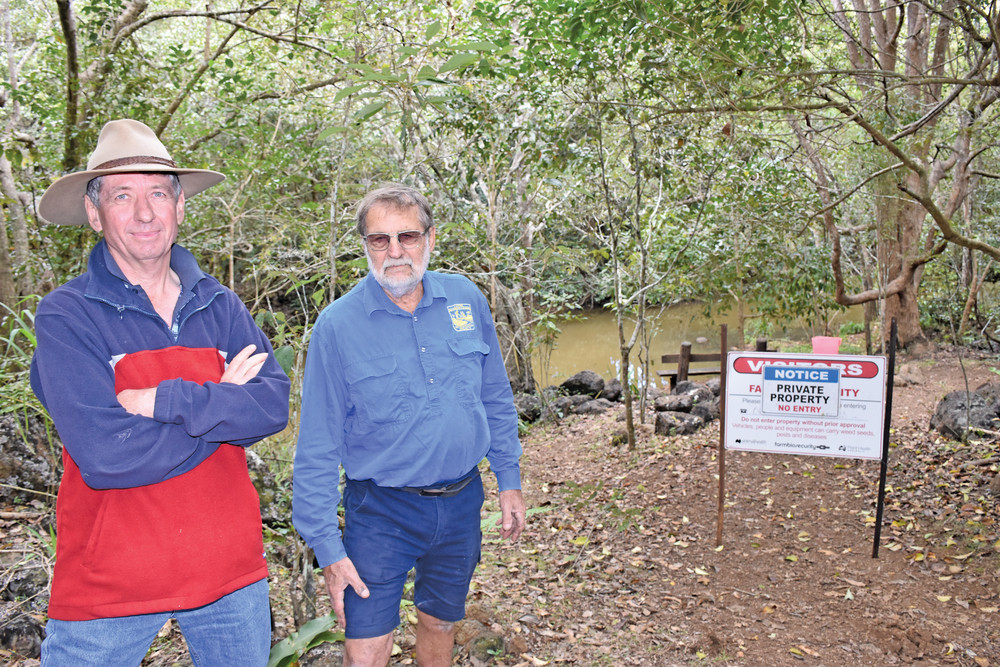 Petersen's Creek walking track in Yungaburra has grown in popularity as self-drive tourists return to the region. 

Some parts of the track cut through properties of adjacent landowners, one of whom has prohibited any more foot traffic coming through his property due to biosecurity concerns surrounding Foot and Mouth and Lumpy Skin disease. 
Alan Dowling has closed the track from the platypus viewing platform to just before the suspension bridge, an area he says cuts through his property – sections of the track past the bridge remain open for tourists to enjoy.
"At this stage this section is closed for biosecurity reasons, I hoped just putting the sign up would have been enough to deter people – any person who owns cattle is obligated to abide by biosecurity protocols," Mr Dowling said.
"I have allowed people to walk it and use it but now I must abide by biosecurity.
"I have put the signs up to deter people from my section of the trail and keep Foot and Mouth and Lumpy Skin Disease out."
The track is maintained by Yungaburra Landcare and president David Blair said there was nothing the group could do if Mr Dowling chose to close a section of the track on his property.
"We knew there were some issues with the track and we had known that for some time relating to biosecurity and other issues, and of course the extremely large volume of people that started using it," he said. 
"Landcare is a group incorporated to look after and revegetate this area to the extent that is possible, we operate with the explicit permission of landowners.
"We have no legal standing, no authority to do anything except by grace and favour of landowners and the council, so Landcare is not in a position to make any demands – we don't own the land, we don't lease the land, we just look after it."
However, local Rex Hutchison has raised the question if the land where the signs have been erected even belong to Mr Dowling, saying the bed and banks of all streams and rivers in Queensland below the high bank are State land and he has asked the State to send a surveyor to clarify the boundaries. 
The retired consulting surveyor says if the matter is not resolved quickly "many people may become distressed by what appears to be the unauthorised closure of public walking tracks on state owned land". 
But Mr Blair said it did not matter if the land was technically State land, because sections of the track cut through the landowner's property regardless.
Mr Dowling is currently in the process of erecting a fence as per biosecurity protocols to keep people off his land and protect his livestock.
Most Popular