1 April, 2023
Local legends set to star in adventure show
LOCAL mum and Moyamoya Australia founder Nicola Baker, alongside Tablelands Citizen of the Year Gail Barton, will be back on the screens for the third instalment of a special three-part television event - Adventure All Stars "Legends".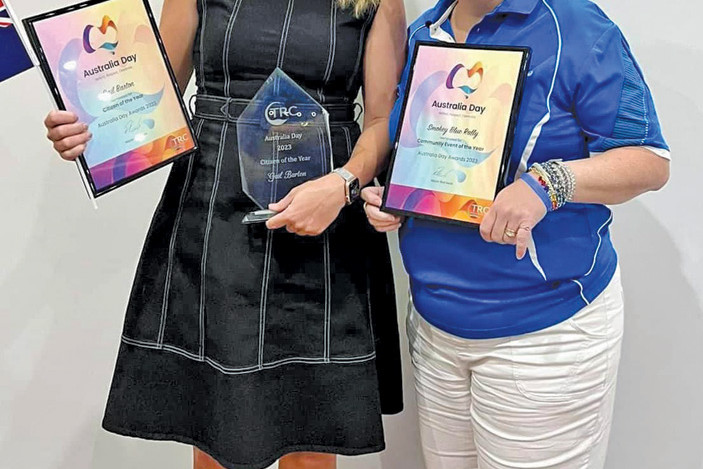 From Monday 1 May to Friday 5 May 2023, 12 authentic and philanthropic cast from across Australia will experience the best of Vanuatu.

Filming of part three of Ad-venture All Stars "Legends" involves the 12 cast members travelling to Vanuatu to par-take in jungle ziplining, cultural village experiences, visiting a marine sanctuary, off-road ad-ventures as well as a volcano walk and swimming in tropical water holes.
This isn't Gail and Nicola's first time on the show, taking a team of Moyamoya advocates to Darwin last year where they got down in the mud to feed crocodiles, jet skiing, air boating and sailing into the sunset.
"A number of participants from late year were invited back to be 'legends' and it was exciting to have been called on again," she said.
All net proceeds from the Adventure All Stars "Legends" series will be gifted to the following Australian charities - Animal Welfare League QLD, Blue Tree Project, Charlie Teo Foundation, Cystic Fibrosis Australia, Freedom Hill Sanctuary, Friends of Mithra, Great Lakes Women's Shelter, HAS Foundation, headspace, KIDS Foundation, Kulture Break, Love, Hope & Gratitude Foundation, Mindfull Aus, MND and Me Foundation, Moyamoya Australia, Myeloma Australia, Pet Medical Crisis, RAISEducation, RizeUp Australia, Ronald McDonald House Charities, Royal Society for the Blind, Samaritan's Purse, StandbyU Foundation, The Haven - Nepean Women's Shelter Incorporated, Therapeutic Dog Services and This Strong Mum.
Adventure All Stars "Legends" will air later in the year.
Most Popular