6 March, 2023
Local skiers make waves at worlds
LOCAL barefoot water skier Lindsie Jack has returned from the 2023 World Barefoot Waterski Championships, coming third overall, achieving a top five position in each event and even smashing some personal bests.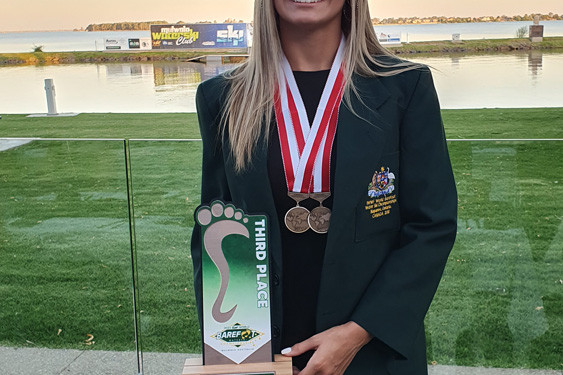 The World Championships had 93 competitors from Australia, America, New Zealand, Finland, Canada, Germany, and the Netherlands.

Lindsie competed for the Australian team in junior girls division which was eight skiers in total, consisting of girls from Australia, America, and New Zealand.
Members of her club, Northern Region Barefoot Water Ski Club, also competed including Justin Molford and club president Katina Davis.
Molford achieved two personal bests in trick and slalom, a massive achievement for the young skier as he had to go up a division and compete in the junior boys category instead of his usual sub-junior boys.
Davis was on track to make waves in the finals before a fall in the slalom event halted her progress, however she was still happy to compete on the world stage with some of the best skiers in the world.
During a tough and often close competition, Lindsie achieved third overall, crowning her the third place 2023 Junior Girls Overall World Barefoot Champion.
Lindsie successfully scored in all three events, placing fourth in tricks, third in slalom and fourth in jump.
She also achieved a personal best in both the tricks and slalom event which was felt was very exciting and amazing considering the nature of the competition.
Lindsie said the whole experience of competing at worlds was amazing and she is looking forward to returning.
"It was an amazing experience being with people from all over the world that pushed my limits in the comp, but were my best mates at the same time," she said.
"I had so much fun and felt motivated the whole time and even more so now.
"I am so ready for the next states and national competitions in the next two months."
Lindsie's parents, Melissa and Darryl are extremely proud of their daughter for her commitment to her passion which has seen her begin to realise her dreams on the water.
The next World Championships for open and junior barefoot skiers will be held next year, then every two years after that.
Most Popular