17 October, 2023
Mackenzie on top in schoolgirls comp
COMING home with gold around her neck, Mareeba's Chloe Mackenzie made herself known in the Australian Secondary Schools Rugby League Under 16s girl's competition, dominating the field in every game.
By Ellie Fink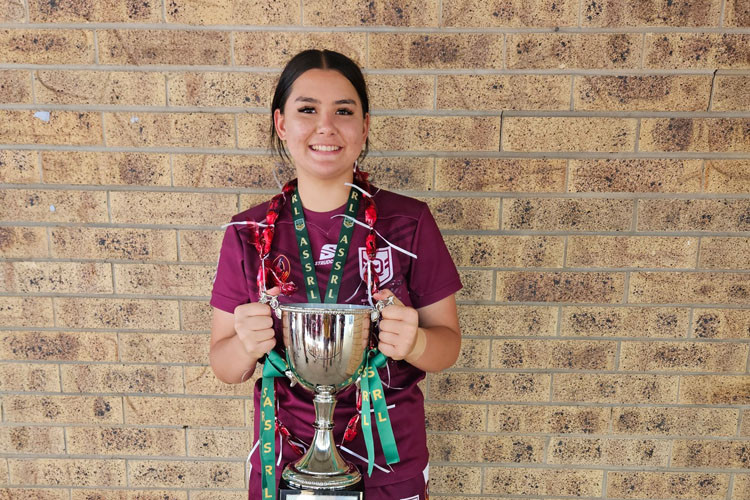 In a game that she believes replicated the NRLW State of Origin, the Queensland girls took on New South Wales in the finals, taking home the win 28-16.
In their first matches against Victoria and South Australia, Mackenzie felt confident, with each win coming easily. 
But the New South Wales CHS team was as hungry as they were, scoring the first try for the game. 
"We recouped ourselves after that, and we ended up scoring four tries before they scored on us again, and it was very close," Mackenzie said.
"You could feel the tension between us two teams when we shook hands.
"It was such a good feeling, especially to make history, and I am so grateful for the opportunity."
As there is no Australian team for the Under 16 girls, Mackenzie will have to wait to join the Under 18s in next year's schoolgirl competition to compete on an international level.
In the lead-up to the big game, Mackenzie trained harder than ever before, with the community supporting her every second of the way.
"Andrew Ford from Mareeba Toyota really helped me out a lot by giving me some money and Coles gift cards," she said. 
"So did Henry from TGT, who helped with a few fuel vouchers and Miss Duffey from the high school, who worked so hard to get us some donations.
"And my dad. Without him, I wouldn't have gone as far. He is my number one supporter and my best friend."
Most Popular