20 February, 2023
Mareeba run riot over premiership hopefuls
MAREEBA'S second grade travelled down the range to take on second-placed Barron at Trinity Beach and dealt the home sides' hopes of a minor premiership a blow after a determined effort from the Bandits.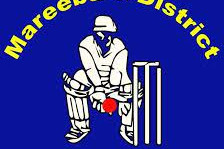 Rain again threatened to put a dampener on another post-Christmas game however through the efforts of Barron a full game of cricket was played.

Barron won the toss and elected to bat first and under the gloomy skies of the northern beaches, Mareeba's opening bowlers Brendan Payne (2/17) and Jayden Kruss (3/6) decimated Barron's top order after 12 overs Baron were struggling at 6 for 25.
Mareeba's dominance continued after drinks with Brett Stallan taking 2 wickets and spinners Brandon Green, Rowan Foxwell and Ben Jones all taking a wicket each.
The Barons innings ended with a whimper after being bowled out for 89.
The Mareeba innings got off to shaky start after losing a wicket in the second over however the leadership team of the Brendan Payne and Brendan Falvo steadied the ship and combined for a solid partnership of 49.
Payne showed his power by dispatching a Baron spinner into a nearby backyard while Falvo tickled the ball into the gaps.
It wouldn't be a game of cricket for Mareeba without a little middle order stumble and with Barron fighting back, four quick wickets fell to have Mareeba 5 for 63.
With a minor premiership in sight for Baron they upped the pressure on the Mareeba middle order batters.
With 27 runs to get and the rain starting to fall, Mareeba young gun Tristan Lopez and old hand Grant Hanlon went for the jugular.
The pair looked to avoid a repeat of the heart breaking round six game between these teams where Barron stole victory in the final over of the game.
The pair flipped the pressure and took on the Baron bowlers and their run a ball partnership was enough to steer the team victory and move the Mareeba into seventh place on the ladder.
Mareeba will play at home next weekend with all three senior teams, locals are urged to come down and cheer on the Bandits.
Most Popular