30 October, 2023
Maximum effort pays off at awards
A BUSINESS that has provided pest management services for two decades was named Business of the Year at a gala dinner on Saturday night to celebrate Mareeba Chamber of Commerce business excellence awards.
By Robyn Holmes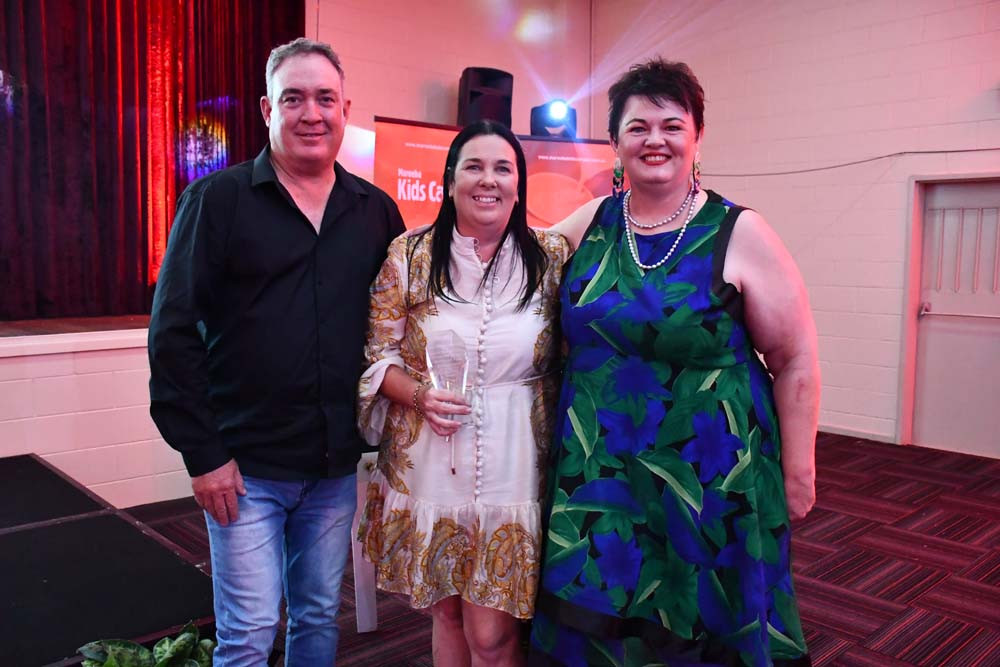 Nine awards were presented during the evening which culminated in Maximum Pest Management being given the top award as well as winning the Excellence in Service Industry category.
Owner Jodie Turner said she was genuinely shocked to win the award 
Earlier in the evening, emcee for the night and chamber vice-president Peter Apel spoke of how the Mareeba business community was "powering along reasonably well" despite downturns in other towns in Australia.
He told the crowd of a morning when he had been in Byrnes Street and had stood there just taking in just how bustling the main street was, saying the "place was heaving – it was terrific to see".
"Then I came back into my office and heard on the news that the Australian economy was limping along – but not here," he said.
"You have to trust what you see with you our own eyes, what's happening in your own businesses – Mareeba is pumping."
Best New Business went to Sweet n Sanity, a family business specialising in desserts highlighting local produce, with owner Sareeta Zandbergen operating out of her property for some time before opening her shop in 2022.
Savannah in the Round took out the Excellence in Tourism Award, with event organiser James Dein telling the crowd it was an honour to receive the accolade and acknowledged the role partners such as the Queensland Government, Mareeba Shire Council and the town's Rodeo Association played as critical in making the event the success it was today.
"This year, we had 18,500 come through the gates, with 45% of those coming from outside the Tropical North Queensland region," he said.
"We feel very welcome in this town and we are already booking acts for next year's festival.
"I've been in the event industry for 35 years and I've never had one if these – it really means a lot to us."
Mareeba Yamaha won the Best Revitalised Business, after Lucy and Kevin Dunn had to re-establish the business after the building it was housed in on Byrnes Street was burned down by arsonists in July 2021. The business operated out of the old ice works building in Hort Street before finally settling into a building on Walsh Street.
Excellence in Retail went to Circuit Tree Mobiles and Technology in Atherton Street, taking to Facebook on Sunday to say: "To say that we are stoked is an understatement and the shock is still setting in that we actually won this award-especially when our fellow nominees were just as deserving.
"We wouldn't have gotten to this point without our dedicated staff and we can't thank them enough for all of the things they do for us."
Excellence in Rural/Agriculture went to Skybury Farms, with Business and Brand Development manager Paul Fagg receiving the award and telling the audience that agribusinesses were doing it tough at the moment and facing some of the most challenging times with input costs and compliance demands.
PCYC won the People's Choice – Community Service award, while Rosanna Avolio of Bellezza Beauty Bar in Byrnes Street won the People's Choice – Excellence in Customer Service award.
The major sponsor of the Mareeba Business Excellence Awards was Mareeba Kids Campus, with other sponsors being Amaroo Estate, the Rotary Club of Mareeba, Ergon Energy, NBN Local, Sunwater, QITE, Millar Teitzel Accountants and Advisors, and the Mareeba and Dimbulah community branches of Bendigo Bank.
Most Popular