17 October, 2022
May May keeps dream alive
ONE of Mareeba's finest female rugby league players, Aerielle "May May" Hobbler, has made her country proud as her team dominated the field in Fiji, putting up a 48-0 masterclass during the Australian Secondary Schoolgirls tour.
By Ellie Fink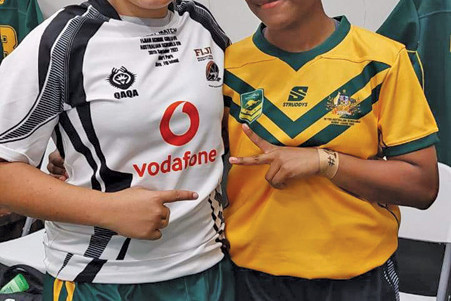 Being the only girl north of Townsville on the team, the 17-year-old proudly sported the green and gold colours as she followed her team to the South Pacific island for the match.

Despite battling a groin injury she suffered during the Indigenous Women's Academy in Canberra only weeks before, May May was at the front of the pack in the front row, setting up tries for her teammates throughout the whole game.
"There was a part there when one of the Fijian girls knocked it in, so I kicked it, chased it and got it there, that was a pretty big highlight of the game," she said.
By half time, the sun was showing no mercy and the score was sitting at 38-0, with May May turning up the heat to set up the first try in the second half.
Although the weather and her recent injury threatened her performance, May May fought hard and drove her team to the top of the leader board.
"Coming off a groin injury, I did some extra training on the side like sprinting to build it back up," she said.
"Originally when I saw the doctor in Canberra, she told me I probably couldn't play but when I saw her again after extra physio, she said I could go."
Mareeba State High School principal and Australian Schoolgirls manager Scott Whybird followed May May to Fiji and watched her power through, no matter the circumstances.
He said that although she was the star on the field, she also stood out as a role model to the other women from both teams.
"There is no question about May May's mental toughness and personally I think she is one of the best talents to come out of the Mareeba area," he said.
"I think it is truly remarkable the efforts that May May has put in with her footy. From the sideline I have watched her grow more and more and become a role model to many young girls."
When she was not training or playing on the field in Fiji, May May spent time getting to know the locals, visiting a local school and participating in song and dance.
"At the end of the game, the Fijian girls started singing to us and everyone was in tears after that," May May said.
"It was a really fun experience."
As May May heads into her final exams for Grade 12, she hopes to maintain a balance between study and sport but is putting her grades as highest priority.
Next year, she will be joining the North-ern Pride and hopes to eventually make it to an All-Stars team.
Most Popular