8 November, 2023
Merry Mareeba
The festive spirit will be taking over Mareeba this December, with one of the biggest Christmas celebrations yet coming to town.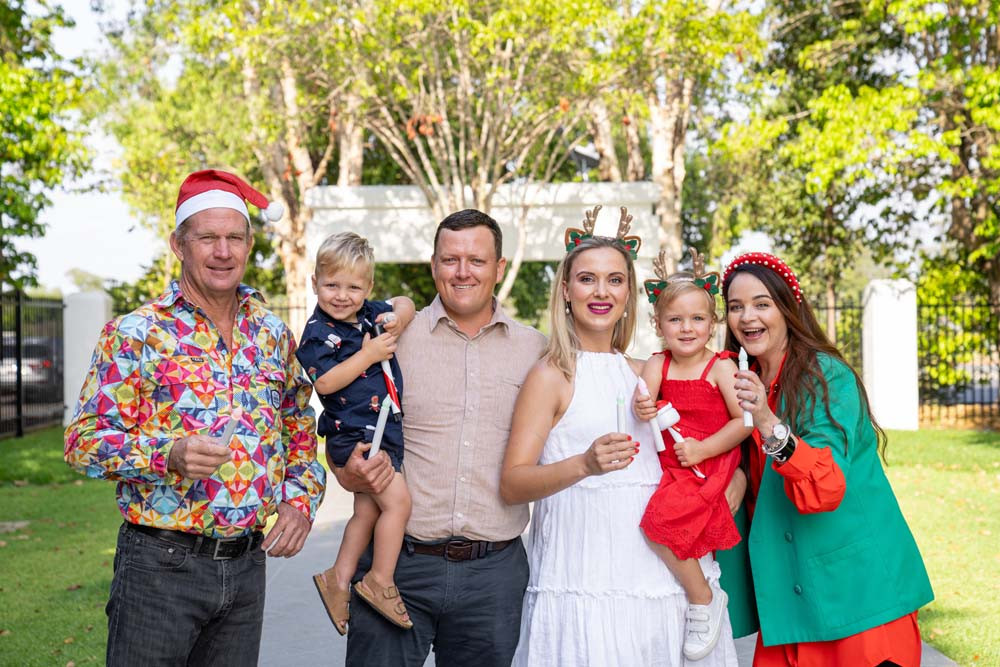 Mareeba Rotary's Carols by Candlelight will be moving to the centre of Byrnes Street this year, opening the town up for a Friday night of excitement. 
The Christmas lights competition is also well underway, with businesses taking advantage of a $100 incentive by Mareeba Shire Council while residents are dressing up their front yards for the annual "Light up Mareeba" competition.  
Excited ahead of the family event is Rotarian and Mareeba Shire Councillor Kevin Davies with locals Janus and Lindie Boonzaaier, their children Jacob and Lidia, and Rotarian Natasha Srhoj, keen to celebrate Carols by Candlelight in Byrnes Street this year. 
The magic of Christmas will be brighter than ever across Mareeba Shire this year, with new trees, lights competitions and a main street celebration kicking off the festive season. 
An exciting shift in tradition will see the annual Carols by Candlelight move from Arnold Park to Byrnes Street, putting a spotlight on a brand-new Christmas tree and local businesses.
When hearing of Mareeba Shire Council's plans to install a new Christmas tree, Mareeba Rotary quickly jumped at the chance of bringing the annual festivity downtown.
"When council announced the new lights competition, tree and displays in town, we thought this was the perfect year to change things up for our community and create an exciting event for everyone to enjoy," said Rotarian Natasha Srhoj. 
"With Friday being 1 December, it was the perfect date to kick off Christmas in Mareeba! It's all about spreading the Christmas spirit and supporting and shopping local. 
"Rotary is thrilled to bring this event to downtown Mareeba this year, and we can't wait to see the community come together for a night of Christmas joy and community cheer.
"We have had amazing support from local businesses and organisations who have come on board to sponsor the event for our community and a great line-up of local performers ready to entertain on the night." 
With a goal to keep money in the Mareeba economy this festive season, Chamber of Commerce president Joe Moro said events like these were what the community thrived on.
Bringing celebrations to Byrnes Street will allow businesses to stay open longer, with more visitors able to have a look at what businesses have to offer. 
"We see it as a great way to revitalise the shopping aspect pre-Christmas, and there has always been a desire by the community to have a night before Christmas somewhere where shops are open a little later so people can come in and have a look," he said.
"By moving the Christmas Carols from a traditional Sunday night to a Friday night and having it during working hours, I think it will allow people to come in a little bit earlier and stay a little bit longer to enjoy the carols and see Father Christmas.
"It is these things that bring out good community spirit in our town."
Mareeba Shire Council has been looking at many new ways to make Christmas more exciting across the region, with two new initiatives alongside their Christmas lights competition set to take off this festive season. 
They have also begun installing five new trees in Mareeba, Kuranda, Mt Molloy, Chillagoe and Dimbulah to kick off the festivities. 
The all new Christmas themed augmented reality (AR) treasure hunt is set to encourage residents to shop locally by visiting participating businesses and scanning the sticker floor decal. From there, they can record a video and publish on the council website.
The two winners will be picked at random from the entries and will receive a hamper valued at $500 each.
Although nominations are closed for the Lights Cash Incentive for businesses, the annual "Light Up Christmas" lights competition is still open.
Mareeba Shire businesses and residents are encouraged to enter the competition and display their festive creations. There are four categories in the competition: Residential, Street, Business and Rural, with $150 cash up for grabs for the best decorative houses. 
Mayor Angela Toppin said Christmas was  an important part of every year and she was keen to see it bigger and better than ever in 2023.
"When Rotary approached council with the idea of holding the Carols in the main street the Councillors and I thought it a really good idea and have agreed to jointly fund the costs of the road closures etc," she said.
"The Carols by Candlelight hosted by the Mareeba Rotary is a wonderful community event and one I thoroughly enjoy attending. It is set to be a beautiful evening with great entertainment for families and visitors to enjoy and I would like to encourage residents to come out and support this special event.
"Christmas is a wonderful time of the year for us as a community to get together with family and friends to celebrate the year that has been. I look forward to the installation of five new Christmas trees across the shire, and I commend the council staff who has been working behind the scenes assembling the trees."
The Mareeba carols event will kick off on 1 December from 5.30pm in the centre of town, with market stalls, entertainment, face painting, story reading, Christmas photos and more.
From 6.30pm, the carols will commence, with a variety of local talents taking centre stage.
In Dimbulah, the Dimbulah Community Centre is getting excited to host their annual Christmas Under the Stars event on 25 November. 
It's all about spreading Christmas spirit and with Friday being 1 December, it was the perfect date to kick off Christmas in Mareeba! 

– Natasha Srhoj
The event will start at  5.30pm at the Dimbulah Memorial Hall and Park, with market stalls, performers, a bar and raffles on offer. 
Most Popular