3 May, 2023
People power saves town caravan park
PEOPLE power has forced Tablelands Regional Council to re-think selling off the Malanda Falls Caravan Park, with councillors inundated by hundreds of emails, texts and messages over a 48-hour period last week in a desperate bid by the community to keep the facility in public hands.
By Robyn Holmes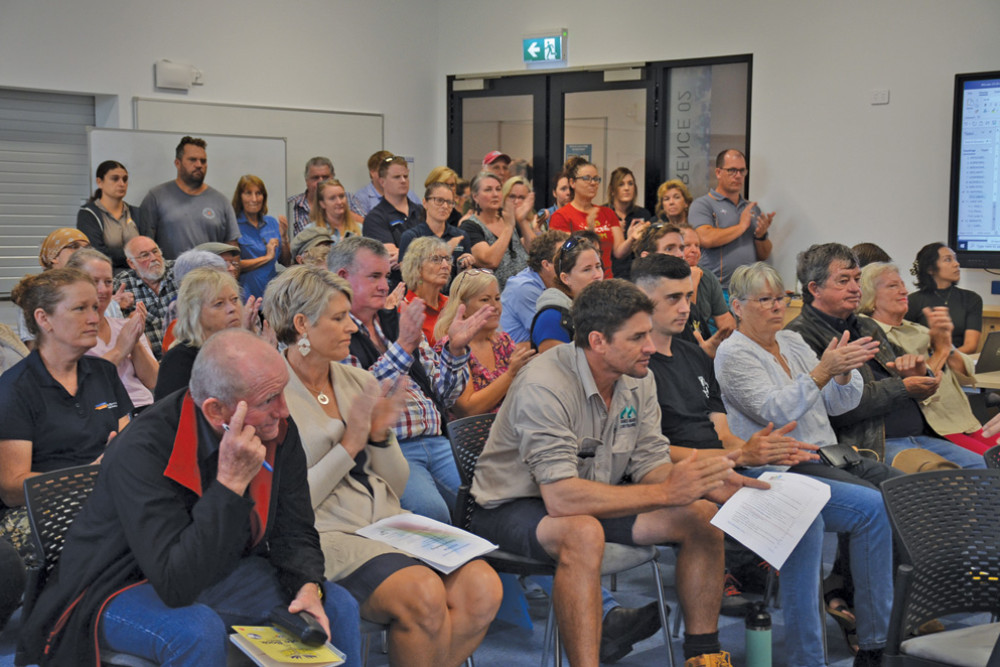 Council officers had recommended caravan park be sold off as part of a late agenda item, but when members of the Malanda community became aware of the issue on Tuesday, social media was flooded with posts calling on locals to lobby councillors before their meeting on Thursday morning to decide the matter.

After being inundated by locals and from people outside the region, councillors moved an alternative recommendation to call for expressions of interest in a 30-year lease of the caravan park.
Before the start of the meeting, which had a packed public gallery, Malanda Chamber of Commerce representatives Greg English and Jeanette Suffield pre-sented their case as to why council should not sell off the popular facility.
Describing the move by the council to bring the item forward as a "late agenda item" as underhanded, Mr English made it clear the Malanda community had not changed its position on keeping their car-avan park from more than two years ago when council had initially proposed to sell the facility.
"This has further reduced the commu-nity's trust in council officers. As I have said before through this whole process the goal posts have been continually shifted," he said.
"Originally, the catch phrase from TRC was 'we would be happy with a park that was revenue neutral' which changed to 'we would like to make some money from this' which has now become 'let's sell the park'."
"We, as a community, elect you seven people to govern on our behalf, but you, as councillors, can only work with what's been put in front of you.
"We do not elect officers who put forward some weird and wonderful recommendations such as selling the caravan park which has been a community asset for the region since 1959."
He said Malanda now boasted 11 eating places which relied on the tourist dollar and the park was critical in attracting visitors and providing a good "base" for them to explore the region.
"The community have never been in favour of selling the caravan park and at a public meeting held in 2020, council said 'we have listed to the community of Malanda and we know that we must consult with the community' – well, now would be a very good time to remember that," he said.
"So, councillors, now is the time to listen to your moral compass and ignore this ludicrous proposal. We want this mess cleaned up once and for all."
Glen Allyn resident Matt Lachlan also spoke passionately of the importance of retaining the caravan park in its current format, rejecting any suggestion that it be a "chain" park because its "appeal would irrevocably be diminished".
He reminded councillors that a petition containing 2400 signatures was generated in 2020 when the initial proposal was made to sell the park.
Cr Dave Bilney, whose division includes Malanda, led the charge to retain the park, immediately moving an alternative motion to keep the caravan park and call for expressions of interest in a 30-year lease to enable council to determine if there was an interested party.
"The original tender that went out for lease was a 10-year term and the net was widely cast based upon this term and as a result, there was only one tenderer realised," he said.
"After some discussions, it was agreed by council to amend the term to 30 years but this variation to the lease was not test-ed in the commercial world for its appetite other than the existing tenderer therefore I would argue that the next appropriate path forward is to re-engage under the EOI process to retest the commercial interest for a 30-year term.
"This, in my opinion, would incentivise a potential operator to invest in the park over a term that could present an accept-able financial return to them."
He reminded council that the land was gifted to the community by James English post-war, with the intent to establish a caravan park on the land to economically benefit the town and the wider region.
With the land being able to be sold off as freehold, Cr Bilney also warned there was no guarantee it would continue to be used for a caravan park by a potential buyer.
Cr Peter Hodge made it clear where he stood.
"I was elected to look after the people in my division and all the people in TRC so there's no way in the world that I let the businesses down in my town or your town," he said.
Councillors voted unanimously to call for EOIs for a 30-year lease, with officers to come back to council by July with recommendations. The council also called for a report to provide options "on how the land on which the Malanda Falls Caravan Park is situated remain in council owner-ship as a caravan park".
Most Popular