5 August, 2023
Phenomenal success for Gadgarra
IMPECCABLE genetics from all over Australia and the winning combination of the expertise of John Contarino and Terry Leary have resulted in the phenomenal success of the Gadgarra Murray Grey stud.
By Brigitte Daley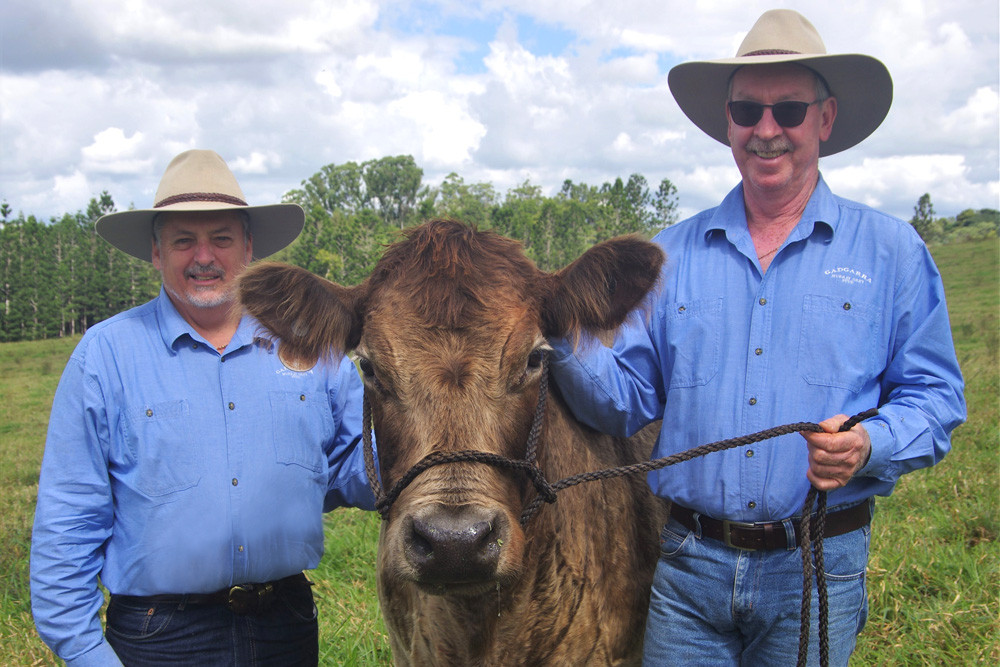 Their legendary cow, Gadgarra Jeanette (Gadgarra Eclipso / Woodbourn Jeanette), remains unbeaten at any show she has ever attended, including winning Grand Champion Murray Grey Female at BEEF Australia Rockhampton 2009 and the Brisbane Royal Show 2010. 
The epitome of longevity, she is currently 17 years old and due to have her next calf in three months' time.
She has been used in two embryo programs and has had 16 calves, 13 natural and three embryos.  
Six of her heifers have been retained (most of them now being cows) as part of the Gadgarra breeding herd.
Gadgarra's most recent purchase has been Monterey Snowstorm who was the top priced bull at the Monterey Murray Grey Bull Sale, Western Australia, in March this year.
He will introduce exciting new genetics into the Gadgarra herd.
Stud co-owner John Contarino said it would be Gadgarra's third year of participation in the Tablelands Better Beef Open Days.
He enjoys meeting like-minded cattle people who appreciate all breeds of purebred cattle and is looking forward to the event.
"The Better Beef Open Days is without a doubt one of the best avenues for us to showcase our breed of cattle," John said.
"Since its inception it has grown each year to the point that it now is run over two days to allow producers enough time to visit more studs.
"This year, a record 15 studs will be showcasing quality seedstock of 11 different breeds of cattle.
"In my opinion, the Better Beef Open Days is the premier stud cattle event on the local calendar that showcases multiple breeds at the same time." 
The Gadgarra Murray Grey stud began in 1998 with just six registered purebred Murray Grey heifers purchased from Windwood Murray Grey stud owned by the Martin family from Woodford in Queensland.
Murray Grey cattle were chosen because of their temperament, ease of calving, strong maternal traits, fertility, carcass quality and because they are naturally polled.
"We also purchased a magnificent Murray Grey bull called Chief from Todrina Murray Grey stud owned by the Mason family in Dayboro in Queensland," John said.
"These seven animals formed the foundation of our herd.
"Over the years, elite genetics have been carefully selected and sourced from Murray Grey studs from all over Australia from as far away as Western Australia, South Australia, New South Wales and Tasmania."
Terry has fond memories of working with Murray Grey cattle on his uncle's farm on the Murrumbidgee river just outside Canberra in the very early 1970s and loved their colour, docility and "doing" ability.
Now in their 25th year of breeding purebred Murray Grey cattle, John and Terry feel that the stud's most notable achievement has been changing the mindset of local cattlemen towards Murray Grey cattle.
Buyers of Gadgarra animals are impressed by and comment favourably on the temperament and weight gains they witness.
"Most of our bulls are sold to return buyers who are extremely happy with the hybrid vigour our bulls have put into their calves from a large number of different breeds of cattle," John said.
"The most rewarding thing about breeding purebred Murray Grey cattle is their beautiful nature, they treat us as part of the herd.
"Our most memorable moment for Gadgarra was when we exhibited at Beef Australia Rockhampton and our cow and calf was placed in the top three animals for Supreme Female Exhibit of all breeds.
"She then went on to win Supreme Murray Grey Female at the Brisbane Royal the following year."
Progressive in nature, John feels that DNA Testing, particularly the focus for parent verification and Livestock Production Assurance standards improving cattle husbandry across all segments of the industry, have been the major advances in the stud beef cattle industry in recent years.
He also sees a focus on moving away from dehorning by breeding naturally polled cattle to be on the horizon for the industry.
John offers sage advice for any young or new breeders who would like to enter the stud beef cattle industry.
"Always research the pedigree, look at what the lines have done particularly around retained or progeny that has also gone on to breed well," he said.
"Buy quality cattle with good temperament and that are well structured.
"And never, ever buy sight unseen and keep a sharp razor blade close to hand (to cull substandard cattle)."
Gadgarra is looking forward to doing more embryo programs using their proven matrons in the future.
A proven winning combination, John and Terry have exhibited and won Grand Champion of breed awards with Murray Grey cattle and poultry at the Atherton, Cairns, Townsville and Brisbane Royal Shows.
"We believe that our success comes from our strong focus on structure, maternal traits, fertility, high milk figures, low birth weights as well as 'true to type' of the breed while maintaining carcass traits that have industry relevance, that has never wavered.
"And the fact that we just love breeding and working with purebred Murray Grey cattle."
Most Popular