15 December, 2022
Pulse cafe beating strong
MAREEBA'S Arnold Park was full to the brim recently with hundreds of young kids playing sports, sharing stories, eating food and more as they attended the PCYC Pulse Café.
By Rhys Thomas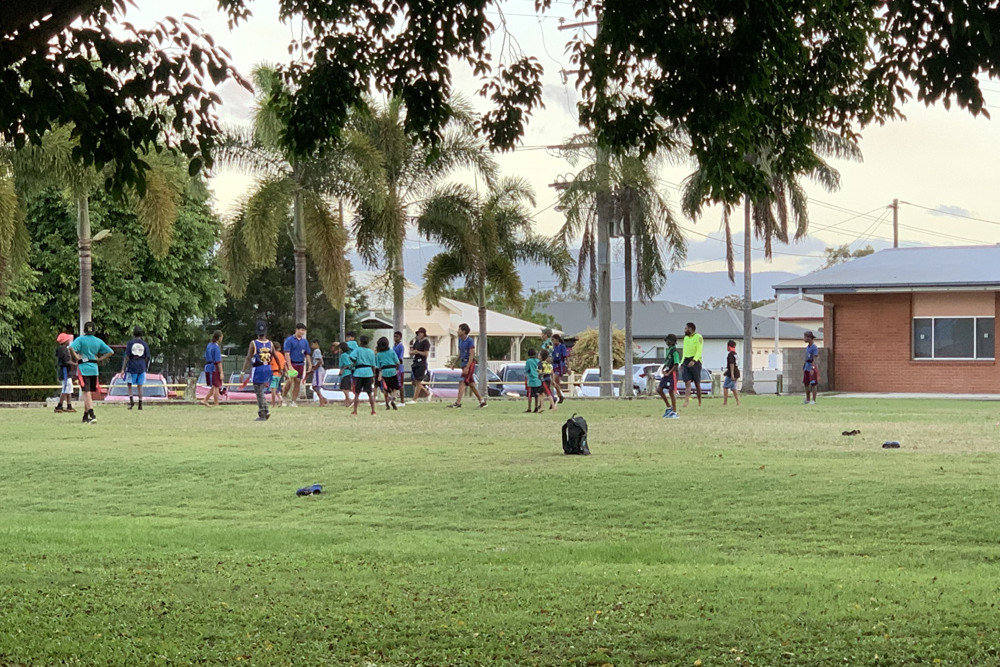 Typically, the Pulse Café is held at the PCYC Hall on Walsh Street but due to the recent good weather and ability to play more sports, it has temporarily relocated to Arnold Park.

One of the recent sessions at the park saw hundreds of kids and their families play a range of sports and hang out at the skate park under supervision.
According to Pulse Café organiser Sergeant Mary-Anne West, there were 50 kids playing touch football, 30 playing basketball, eight playing hockey and 20 waiting their turn, 20 playing volleyball with more waiting their turn and an uncounted number of families and children using the skatepark.
"We've found since we've been holding Pulse at the park the numbers do go up and down, but we have noticed a shift in more young people coming with families also which is really nice to see," Sgt West said.
"Several families have come and asked what we're doing at the park and when we explain what Pulse Café is, they all comment on what a fantastic program it is for teens in our area."
Sgt West said the number of youth attending the Pulse Café does fluctuate however they get a regular number of around 30 to 50 kids attending.
New sports have even been introduced over the course of the Café to better involve some of the kids who have not been participating as much as others.
"We have introduced some new activities including a modified hockey and volleyball," Sgt West said.
"We started with just basketball and kicking the footy around and found that the girls weren't getting involved, so we bought a volleyball net and ball and that's been a hit with the girls.
"The young people love being in the park, even they comment that it's just so nice to be outdoors.
"On Friday night just past, they were asking about the ring around the moon, which caused us to google and explain what was occurring.
"It was refreshing to see they notice things like that and more importantly want to learn."
Just a few months ago the Pulse Café was in danger of closing for good due to misbehaving youth and a break in to the PCYC building.
However it received some official funding that has helped keep the café alive and given Sgt West a chance to offer casual and paid permanent part-time positions in the Café.
Currently only one of the casual positions has been filled but the two permanent part-time paid positions will be ad-vertised soon and Sgt West is hoping to get more passionate community members involved with the Café.
Sgt West believes the Café is working and is keeping kids off the streets and doing some-thing productive instead of aimlessly wandering and possibly doing the wrong thing.
"We believe Pulse is having a positive impact on the community as we are engaging with a range of young people many of whom would be otherwise disengaged and potentially wondering around town with little to do," she said.
"They come to Pulse, play some sports, have something to eat and then we transport them home.
"Hopefully, this is preventing the previous large amount of anti-social behaviour that our community was seeing earlier this year.
"We won't get every young person but with the current numbers we are getting a lot of engagement."
Sgt West is hoping to have the remaining positions for the Café to be advertised shortly and have them filled by early January.
Meanwhile construction is progressing smoothly on the new Youth Justice and Child Safety office that was an-nounced for Mareeba in early March this year.
The building required some modifications before the internal fitting could begin and the office is slated to be open in mid-2023.
Youth justice officers and case workers focus on holding young people accountable for their actions by working with them to fulfil a range of court orders and bail conditions, such as community service, restorative justice, probation orders or conditional release orders.
They deliver programs aimed at changing the behav-iour of young offenders, such as controlling their emotions and reducing aggression, while also working with other services to address issues that can contribute to young people's offending.
Most Popular